Legit News
Micron Launches P400m SSD For Data Center Servers
Micron Technology today announced its next-generation solid state drive (SSD) for data center servers, appliances, and storage platforms that manage the volume and velocity of big data. The new Micron P400m SSD is a high-endurance SATA caching and storage solution that was designed to handle the amassing petabytes of structured and unstructured digital information that is created, stored and accessed every day in data centers. The P400m comes in 100, 200 and 400 gigabyte (GB) capacities and a standard 2.5-inch 7-millimeter (mm) form factor to serve a wide range of markets. The drive is currently in production and is sold direct to OEMs and through Micron's extensive distribution network.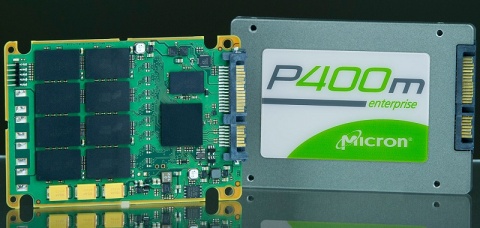 Data reliability and system uptime have always been primary concerns for data center managers, but the accelerating influx of data and massive demand spikes add new pressures that require different, more responsive storage systems. The Micron P400m was designed precisely for this environment. It offers the high reliability and high endurance that is critical for high-performance storage tiers, accelerating throughput, and responding to the peak demand periods that these new applications create.
"The growth in big data is placing tremendous pressure on IT administrators. Users require fast, on-demand access to data. This means data centers must deliver more data, faster than ever before—in an environment that has zero tolerance for data loss," said Ed Doller, VP and general manager of Micron's Enterprise SSD division. "Integrating flash storage into the data center is the preferred way administrators can meet these growing demands. The Micron P400m delivers the endurance, reliability, and performance critical for data center storage."
Posted by | Tue, Jan 22, 2013 - 09:43 AM
---
---