Legit News
ASUS Prepares New Tablets For Windows 8 - Prices Leaked
ASUS appears like they are preparing several hybrids for the Windows 8 launch this holiday season and a marketing slide has leaked out that shows pricing. This is interesting to see as not much has been said about pricing on the tablet/hybrid market for these new touch friendly Windows 8 devices. Microsoft chief executive Steve Ballmer told the public back in August that the Microsoft Windows RT Surface tablet will be $199, but it appears that will only be possible with heavy subsidies. Ballmer told The Seattle Times this week a different story, "If you look at the bulk of the PC market, it would run between, say, probably $300 to about $700 or $800," he told the newspaper. "That's the sweet spot." Ballmer wrapped up the Microsoft Surface RT and Surface Pro pricing mystery when he said they would cost between $300 and $800 at the time of launch. This means that Microsoft is clear pitting the Surface RT against the Apple iPad at approximately $450-500, while the higher priced Surface Pro will take on ultrabooks.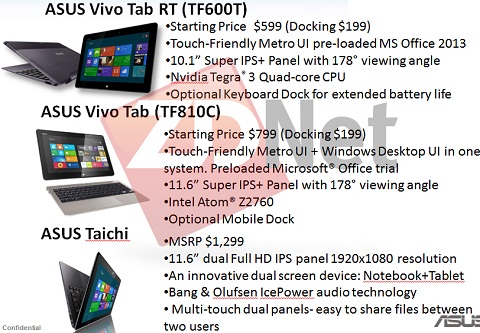 ASUS Tablet Prices For The Windows 8 Launch Time Frame:
ASUS Vivo Tab RT: 10.1-inch Windows RT tablet $599 + keyboard dock for $199
ASUS Vivo Tab: 11.6-inch Atom powered Windows 8 tablet $799 + keyboard dock for $199
ASUS Taichi: 11.6-inch dual panel full HD tablet, innovative product at $1299 RRP
The slide shows that ASUS is aiming to enter the market with a 10.1-inch Windows RT tablet at $599 and an optional keyboard dock for another $199. This base price is more than twice the entry level price point mentioned by Steve Ballmer. Pretty soon Ultrabooks will all be touch enabled, so seeing the ASUS Taichi hitting $1300 means that it will be competing with nicely loaded Ultrabooks!
"Asus isn't a business brand yet it is pricing its Windows tablet as if there were some enterprise secret sauce. Asus roadmap only highlighted upcoming products not the big sales pitch to differentiate these tablets. Also included in Asus' roadmap are details about 12 and 13-inch laptops. What's truly odd is that one laptop is $549 and the next-gen Transformer is $1,399. The Transformer Book is billed as "one device for two personalities between tablet and notebook."" - ZDNet
Posted by | Tue, Sep 18, 2012 - 08:06 AM
---
---