Legit News
LG Reveals Optimus G Smartphone w/ Snapdragon S4 Pro 1.5GHz CPU
LG Electronics revealed its new flagship mobile device this morning with the announcement of the Optimus G, a high-end smartphone that offers powerful performance, an elegant and sleek design, and an innovative user experience. As the first LTE device featuring Qualcomm's Snapdragon S4 Pro Quad-Core 1.5Ghz processor, Optimus G will set the foundation for every future premium smartphone from LG. The Optimus G also sports a 4.7-inch WXGA True HD IPS+ Display with 320ppi high pixel density (1280x768 pixels) and Stripe RGB IPS Panel with 15:9 aspect ratio.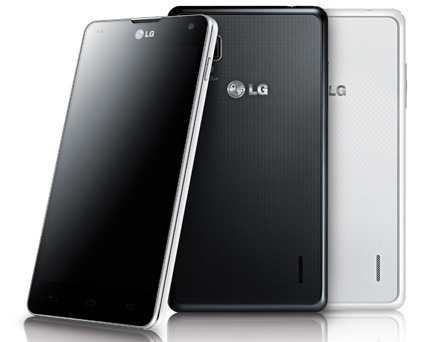 LG Optimus G Key Specifications:
Chipset: Qualcomm Snapdragon S4 Pro Processor with 1.5GHz Quad-Core CPU, Adreno 320 GPU with 4G LTE
Operating System: Android 4.0 Ice Cream Sandwich
Network: 2G / 3G / 4G LTE
Display: 4.7-inch WXGA True HD IPS+ (1280x768 pixels) / 15:9 ratio
Memory: 32GB
RAM: 2GB DDR
Cameras: 13.0MP rear / 1.3MP front
Battery: 2,100 mAh
Size: 131.9 x 68.9 x 8.45mm
Weight: 145g
Other: Bluetooth 4.0, Wi-Fi, USB2.0 HS, A-GPS, MHL, DLNA, NFC
The Optimus G will be the first commercial and global smartphone to offer the Snapdragon S4 Pro (APQ8064) processor with a Quad-Core Krait CPU, LTE supported capabilities, and the newest generation Adreno 320 GPU. The Snapdragon S4 Pro runs at 1.5GHz and features Asynchronous Symmetric Multiprocessing (aSMP), which enables each core to power up and down independently, for maximum performance with better battery life. Furthermore, the Adreno 320 is over three times faster than the Adreno 225 found in previous Snapdragon processors for an enhanced gaming experience with faster frame rates, smoother play and support for higher HD resolution displays.
Posted by | Tue, Aug 28, 2012 - 08:15 AM
---
---