Legit News
Prolimatech Announces New PK-2 & Pk-3 Thermal Compounds
Prolimatech, well known for their massive coolers with exceptional cooling potential, are now bringing users a brand new choice in thermal compounds, PK-2 and PK-3. The PK2 Nano Aluminum thermal compound is a smooth and easy to apply paste, due in part to its low viscosity, which allows users to apply the thinnest layer possible while still offering great performance. Add in the fact its electrically non-conductive and non-corrosive with low dryout and long-term stability make it an appealing choice for those wanting ease of use without sacrificing performance.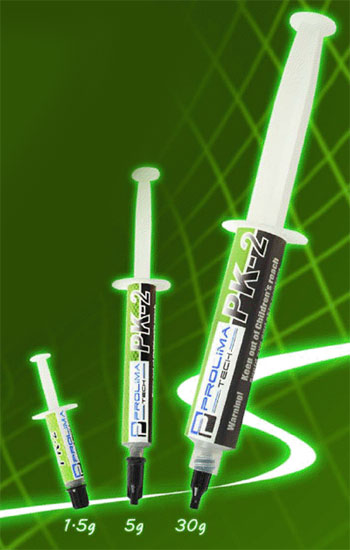 PK-3 on the other hand is an enthusiasts product offering up specially designed nano particles which help fill the microscopic gaps better than other brands. These nano particles, by filling in these small gaps, help eliminate the problem of thermal insulation which is caused by tiny pockets of air. This helps increase heat transfer and by extension helps improve cooling performance. PK-3 features high thermal conductivity, no burn in time, low thermal resistance and more.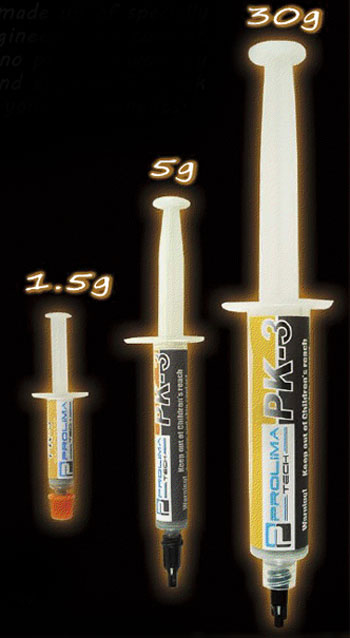 Prolimatech's new thermal compounds certainly look interesting. Keep an eye out as they should be available soon.
PK-2 Features:

Easy Application
Electrically Non-Conductive
No "Burn-In" Time Required
Non-Corrosive
Long-Term Stability
Low Dry-Out

PK-3 Features:

High Thermal Conductivity
Low-Thermal Resistance
Long-Term Stability
Low Dry-Out
Non-Corrosive
Electrically Non-Conductive
No "Burn-In" Time Required
Posted by | Tue, Jun 12, 2012 - 01:19 PM
---
---