Legit News
ASUS's AMD AM3+ Motherboards May Receive Intel Thunderbolt Support
In an interesting twist, it would appear ASUS plans to bring Intel's Thunderbolt to their AMD AM3+ motherboard lineup. Apparently the ASUS ROG Crosshair V Forumla-Z, which is a refresh of the current Crosshair V Formula, has a Thunderbolt expansion header (TB_HEADER).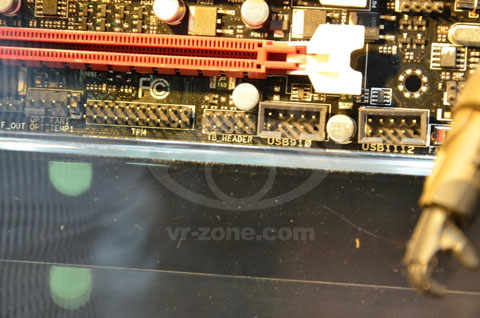 This header is for use with the new ThunderboltEX add-in card from ASUS. The TB_HEADER is of course used for power and the sending/receiving of signal information between the card and motherboard. The ThunderboltEX add-in card itself, which was announced this week, will offer certain ASUS Z77 motherboards the ability to use Thunderbolt, however the expansion card will require a PCIe x4 expansion slot. The expansion card will most likely make use of a Catcus Ridge 2C host controller, which adds one Thunderbolt port. A full-sized DisplayPort interconnect cable will also be supplied in order to encapsulate DP signals from the GPU with Thunderbolt data streams.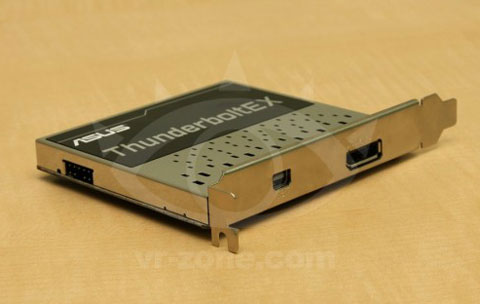 That said, ASUS doesn't seem content to use this new product with just their Z77 boards. Will this be of use to AMD users, will Intel even allow it? We do not know for certain, as AMD is not part of the Thunderbolt group and has gone so far as to criticize the technology while showcasing their very own "Lightning Bolt" alternative earlier this year at CES. In the end, with Intel being the only one supplying Thunderbolt chips and development kits, it might not be possible for ASUS to pull this off, only time will tell.
What makes this discovery controversial is the fact that AMD is not part of the Thunderbolt group and has criticized the proprietary standard in the past, demonstrating their alternative "Lightning Bolt" at CES this year. Intel is also the only one supplying the Thunderbolt chips and has kept a tight leash over who or what gets the development kit and certification. Not to mention the tedious BIOS and nightmare O/S driver integration for the current handful devices to work on Windows.
Posted by | Sat, Jun 09, 2012 - 12:34 PM
---
---