Legit News
Spire Launches TMEIII CPU Cooler
Spire corporation today introduce the TMEIII CPU cooler, which is an evolution of the companies TherMax Eclipse CPU cooler series. Spire said they improved the cooler by increasing the number of heat-pipes and also the density of dimpled fins. With five 8mm direct touch copper heat-pipes and 45 aluminum dimpled cooling fins it looks like it should cool pretty well. Spire has set the MSRP for this cooler at $64.95 in the United States and €48.99 over in Europe.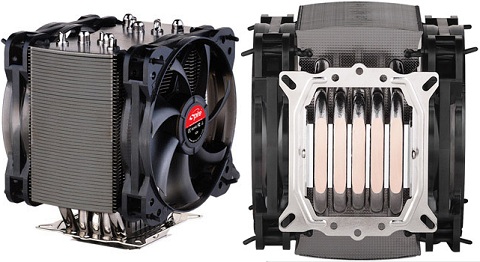 Spire TMEIII Features:
Five (5) 8mm all copper U-shaped sinter-powder heat-pipes
Heat-pipe base direct contact with all of the processor area
Straight lined heat-pipes allowing air to easily pass through
Stamped aluminum wide fins for best surface area
Dimpled surface fin for increased heat transfer rate
All black-Nickel coated heat-pipes to preserve looks from oxidation
Two (2pcs) 120mm BlackStar 7 blade DC fan included
High Quality, Long MTBF precision Nano-Bearing fans
Supports AM2/AM3 socket 939/940/ 775/1155/1156 & 1366/2011
Best cooling performance on hot CPU's up to TDP 150W
PWM fan speed control, 4 Pin Mainboard Connector
Five (5) U-shaped 8mm all-copper heat-pipes are in direct contact with the CPU heat-spreader (heat source), rapid heat transfer to the 45 aluminum dimpled fins providing a larger surface area for optimum heat dissipation. The TME III is supplied with two (2) 12cm BlackStar 7 blades, high quality precision Nano-Bearing DC fans, providing high airflow and sufficient cooling. These fans are PWM controlled to provide the best sound / cooling ratio possible. Compatibility is guaranteed with multi-platform mounting for all current Intel and AMD micro-processors. The TME III brings cooling power to an all-new level.
Posted by | Tue, Feb 21, 2012 - 10:52 AM
---
---