NVIDIA GeForce GTX 460 768MB and 1GB Video Card Reviews
By
Video Card Test System
All testing was done on a fresh install of Windows 7 Ultimate 64-bit
with all the latest updates installed. All benchmarks were completed on
the desktop with no other software programs running. The Corsair
DOMINATOR memory modules were run in triple-channel mode at 1866MHz with
8-8-8-24 timings. The ATI Radeon HD 5000 series cards were all tested
using CATALYST 10.6 drivers and the NVIDIA GeForce cards all used
Forceware 258.80. The ASUS P6T Deluxe V2 motherboard was run using BIOS
1003 with the processor running stock settings and Turbo enabled.
Windows 7 Drivers Used:
Intel Chipset Inf Update Program V9.1.1.1014
SoundMAX 2000B Audio Driver V6.10.2.6585 for Windows 64bit Windows 7.(WHQL)
Marvell Yukon Gigabit Ethernet Driver V11.10.5.3 for 32/64bit Windows 7.(WHQL)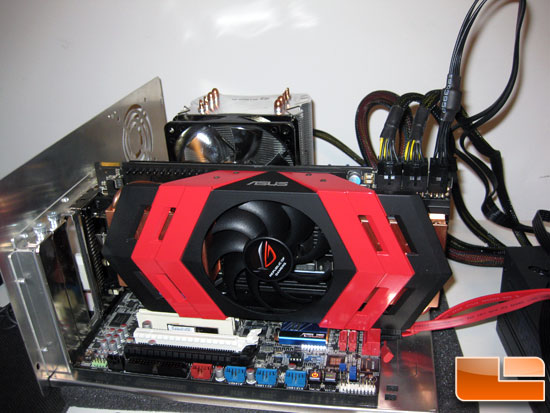 Here is the Intel LGA 1366 Test platform:
Intel Test Platform

Component

Brand/Model

Live Pricing

Processor

Intel Core i7 975

Motherboard

ASUS P6T Deluxe V2
Memory
6GB Corsair DDR3 1866MHz
Video Card
See Below
Hard Drive
Western Digital VelociRaptor
Cooling
Titan Finrar
Power Supply
Corsair HX850W
Chassis
None (Open Bench)
Operating System
Windows 7 Ultimate 64-Bit
Video Cards Tested:
ASUS ARES 4GB – 850MHz Core / 1200MHz Memory

ATI Radeon HD 5870 1GB – 850MHz Core / 1200MHz Memory

ATI Radeon HD 5850 1GB – 700MHz Core / 1000MHz Memory

ATI Radeon HD 5830 1GB – 800MHz Core / 1000MHz Memory

NVIDIA GeForce GTX 480 – 700MHz Core/1401MHz Shader/1848MHz Memory

NVIDIA GeForce GTX 470 – 608MHz
Core/1215MHz Shader/1674MHz Memory
NVIDIA GeForce GTX 465 – 608MHz
Core/1215MHz Shader/1608MHz Memory
NVIDIA GeForce GTX 460 768MB – 608MHz
Core/1350MHz Shader/900MHz Memory
NVIDIA GeForce GTX 460 768MB- 675MHz
Core/1350MHz Shader/900MHz Memory
NVIDIA GeForce GTX 260 Core 216 – 626MHz
Core/1350MHz Shader/1053MHz Memory
NVIDIA GeForce GTX 460 768MB GPU-Z 0.4.4 Details: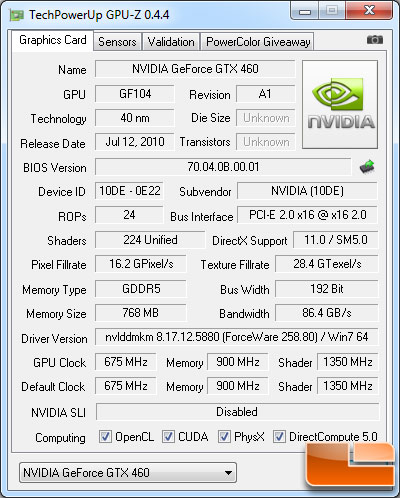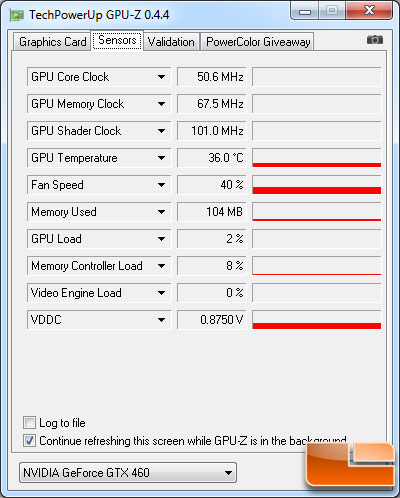 NVIDIA GeForce GTX 460 1GB GPU-Z 0.4.4 Details: