NVIDIA GeForce GTX 460 768MB and 1GB Video Card Reviews
By
GeForce GTX 460 Brings NVIDIA DX11 to $199
NVIDIA was late to the DirectX 11 party, but they have been bringing out DX11 video cards based on the Fermi architecture as fast as they possible can. The NVIDIA GeForce GTX 480 graphics card hit the streets on April 12, 2010 and at $499 and is the flagship video card for NVIDIA right now. NVIDIA also launched the GeForce GTX 470 video card at the same time using the same GF100 core, but with some features disabled and lower clock speeds for $349. A little over a month went by and then NVIDIA released the GeForce GTX 465 graphics card that used the same GF100 core, but stripped down even further at a lower price of just $265. Today, NVIDIA is releasing their first DX11 graphics card below the $200 price point, which is a very big deal. This is the sweet spot for the graphics card industry as most gamers are willing to pay $199 for a gaming graphics card that is able to play the latest game titles.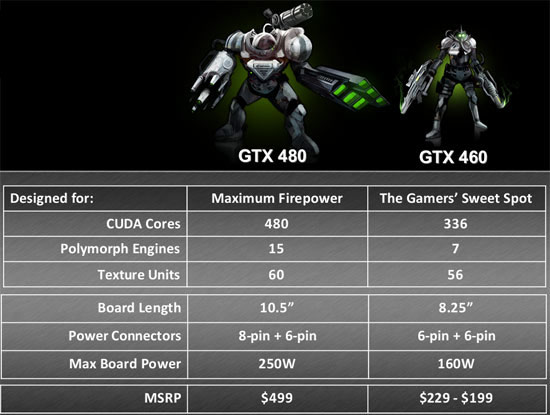 What do you get for $199? We'll for starters the GeForce GTX 460 is based off a brand new 'Fermi' core that goes by the name of GF104. This is the second core that uses 'Fermi' architecture by NVIDIA for desktop graphics cards. The GeForce GTX 480/470/460 all share the same GF100 core, but as you step down model numbers, the features become disabled and your performance and cost goes down. Some people like to refer to this as fallout from the top sku, but that is essentially what it is. It's not really cost effective to do this due to wafer sizes, so at some point you need to ramp up a smaller wafer that is more affordable to produce.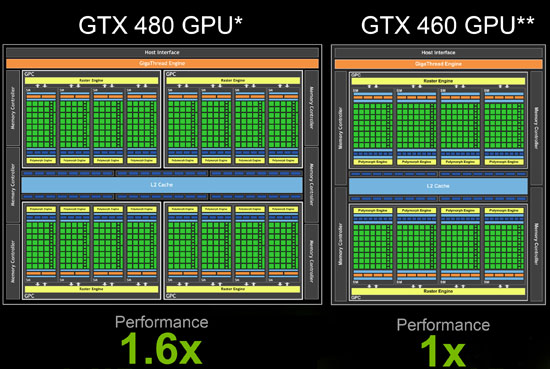 This is where the GF104 comes in and is the GPU that the GeForce GTX 460 graphics card uses. The core that the GeForce GTX 460 is using is the GF104. The GF104 is still manufactured at TSMC using their advanced 40nm processor. The GF104 features 1.95 billion transistors, which is far less than the 3 billion found in the GF100. The GF104 has just two graphics processing clusters as you can see above. This is still enough to pack inside 7 streaming multiprocessors, 336 CUDA cores, 56 texture units, and 24 (768MB card) or 32 (1GB card) ROPs. Not bad and since the die size is smaller it should use less power, cost less to make, use up less real estate on the PCB and still perform as you'd expect a mainstream $199 video card should.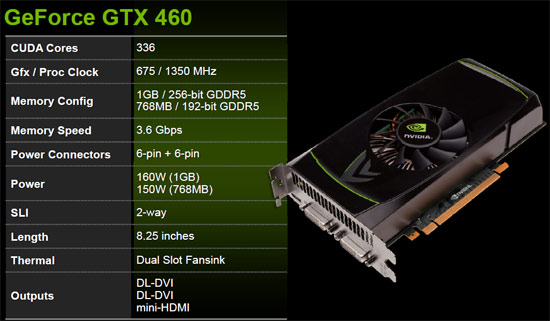 NVIDIA will have two SKUs for the GeForce GTX 460 and they only differ in the amount of GDDR5 memory that they use. This is not entire true though as having additional memory increases the power consumption and the memory bus of the GeForce GTX460 graphics card. The entry level GeForce GTX460 will feature 768MB of GDDR5 memory on a 192-bit bus with an MSRP of $199, but for $229 you can get 1024MB (1GB) of GDDR5 memory on a larger 256-bit bus. Is is worth the extra $30 in order to get an extra 256MB of frame buffer and a larger bus? We'll figure that out when we run the benchmarks.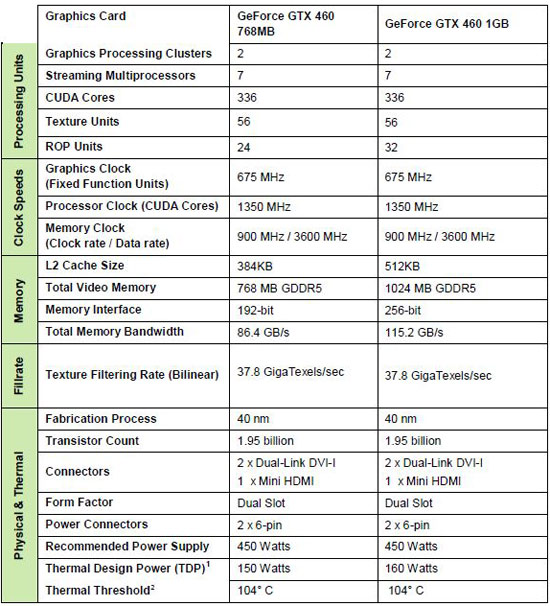 Looking at the detailed specifications we can see that the GeForce GTX 460 graphics card with 1GB of GDDR5 memory has 115.2 GB/s of total memory bandwidth versus the 86.4GB/s of bandwidth seen on the GTX 460 768MB. This means that the 1GB card has 33.3% more memory bandwidth thanks to the larger 256-bit memory bus interface and the 512KB L2 cache size. The GeForce GTX 460 768MB had just a 384KB L2 cache size, so that is also another limiting factor. If you play games at say a resolution of 1920×1080 or 1920×1200 these little differences will really start to impact performance, so be sure to pick the right card for your needs.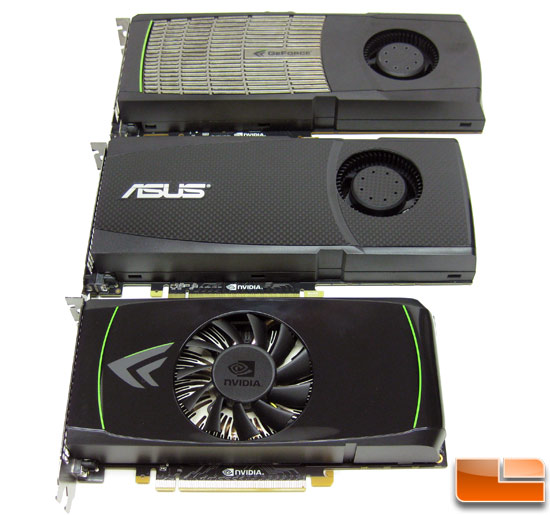 Before we move on to taking the GTX460 apart, let's make sure we are all clear on pricing for NVIDIA's DX11 video card lineup. Prices may vary depending on the region, but expected MSRPs for our GTX 400 GPUs as of GTX 460 launch are as follows:
NVIDIA GeForce GTX 480 – $499
NVIDIA GeForce GTX 470 – $329
NVIDIA GeForce GTX 465 – $249
NVIDIA GeForce GTX 460 1GB – $229
NVIDIA GeForce GTX 460 768MB – $199
We have all five of these NVIDIA cards benchmarked for you on the very latest NVIDIA Forceware 258.80 drivers, so it should be interesting to see how they compare when put to the test!