NVIDIA GeForce GTX 750 Ti 2GB Video Card Review – Maxwell Architecture For Under $150
By
ASUS GTX750Ti-OC-2GD5 and MSI N750Ti TF 2GD6/OC
In addition to the NVIDIA GeForce GTX 750 Ti reference card we'll be taking a look at to partner boards.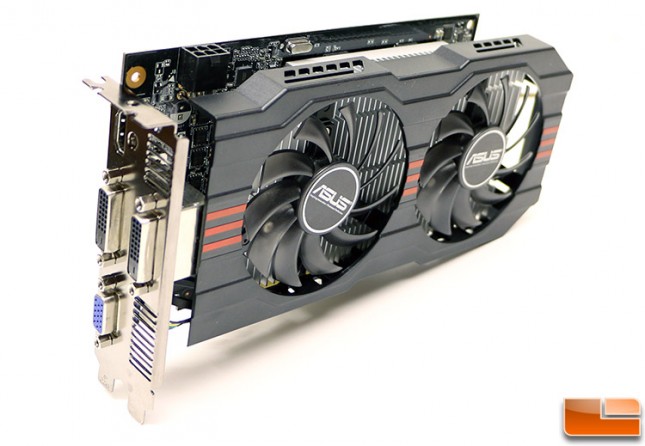 ASUS sent out the GTX750Ti-OC-2GD5, which will retail for $154.99 shipped and it is a fully custom card with a factory overclock. The ASUS card has dual fans for improved cooling and Super Allow Power (SAP) components to ensure long lasting performance. ASUS set the core clock to 1072MHz instead of 1020MHz, which is 52MHz faster than the NVIDIA GeForce GTX 750 Ti 2GB reference card. ASUS did not overclock the memory and left it at 1350MHz.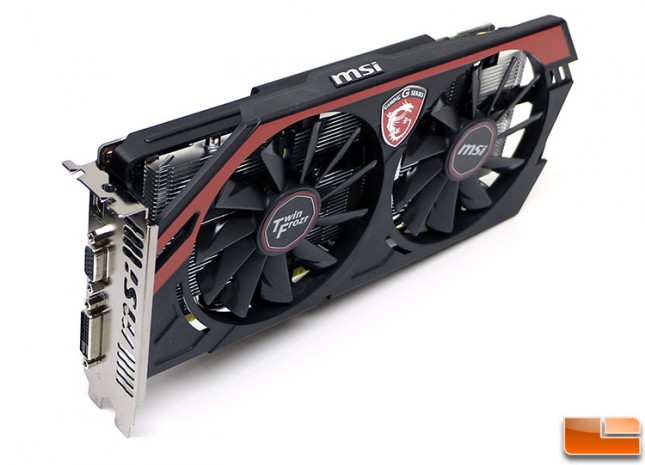 MSI sent over the N750Ti TF 2GD5/OC Gaming for use to take a look at and it retails for $169.99 shipped, but there is currently a $10 rebate on it. This is a fully custom card that is also factory overclocked. MSI went all out on this card with a TwinFrozr GPU cooler that has twin fans and a heatink with two heatpipes. The clock speeds on this card are 13MHz higher than the ASUS card above, so you are looking at 1085MHz on the core clock. The memory is set to 1350MHz, so all three of the GeFroce GTX 750 Ti cards that we are looking at today are running the same memory speeds.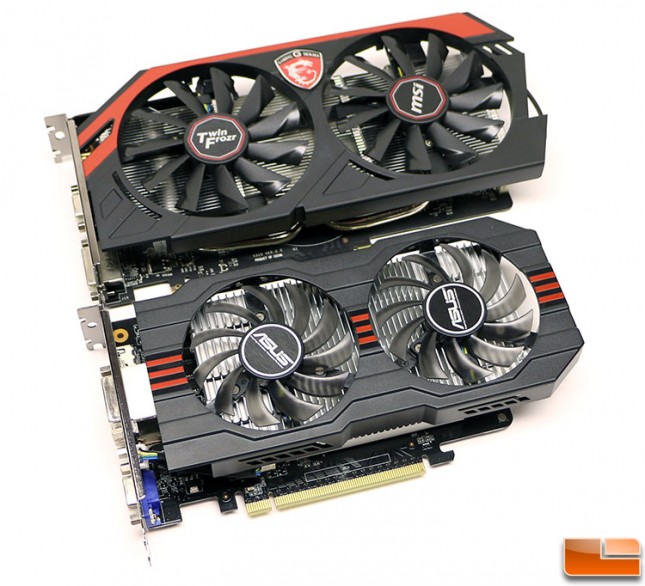 Both ASUS and MSI are going with a red and black color scheme, so in terms of appearance they are very similar. The main difference between the cards is their length.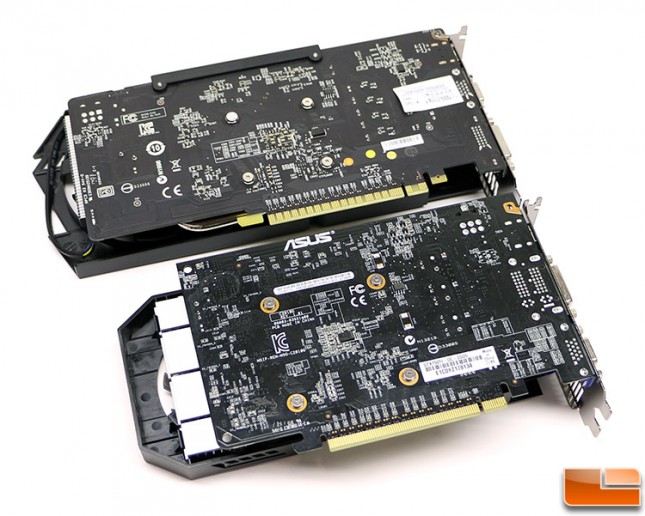 Flipping the cards over we can see how drastically different the PCB lengths are. The ASUS GTX750Ti-OC-2GD5 is 8.5-inches in overall length, but the PCB is just 7-inches long. The MSI N750Ti TF 2GD5/OC Gaming graphics card is 10-inches in overall length with an 8.75″ PCB.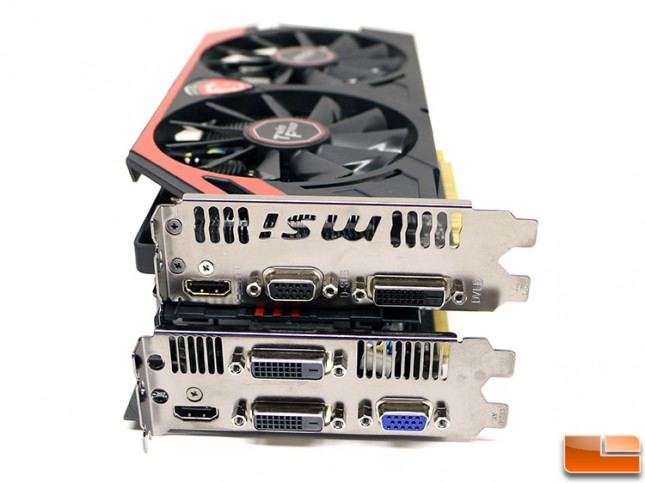 When it comes to video outputs there are some minor differences. ASUS has two DVI, a mini-HDMI and VGA (D-Sub) output, whereas MSI went with DVI-D, VGA (D-Sub) and a mini-HDMI connections. Not a huge difference, but if you wanted to run two displays with DVI connectors the ASUS card is the way to go. We are shocked that neither card has DisplayPort 1.2 support. This means of the three NVIDIA GeForce GTX 750 Ti cards that we have in our possesion will support NVIDIA G-Sync displays. Where is the DisplayPort love? Putting VGA video outputs on $159 graphics cards in 2014 doesn't make much sense to us, especially when there are more features to be had if DisplayPort was added instead. The board partners are missing an opportunity here to differentiate themselves.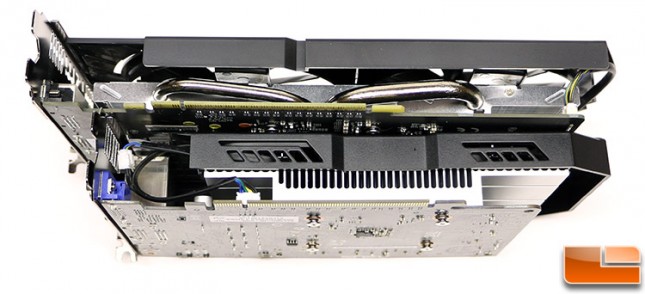 One of the major differences that is worth talking about is the GPU coolers. MSI went with with their full fledged Twin Frozr GPU cooler that has heatpipes and nice cooling fin arrays. It is a really nice looking GPU cooler for a 60W TDP card. ASUS on the other hand didn't use their full DirectCU cooling solution and opted to use something called DC Lite, which is basically a large aluminum block that has no heatpipes and rather large chunky cooling fins. There will most certainly be a difference in cooling performance between these two cards and that likely means there will be a performance difference as when one card is drastically cooler than the other it can run at higher core clock speeds thanks to NVIDIA GPU Boost 2.0 technology. Sure there might be a 13Mhz clock difference on the cores, but that likely won't be the case when gaming.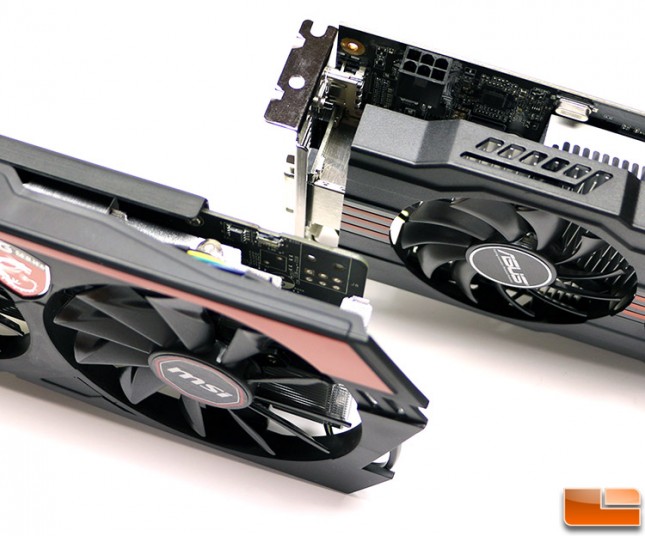 The last difference that we wanted to point out between these cards is that ASUS went with a 6-pin power connector whereas MSI skipped the plans for that (even though the PCB supports it) and went with a dual-BIOS design.
These cards have the same price and color scheme, but there a number of key design differences between them.