NVIDIA GeForce GTX 750 Ti 2GB Video Card Review – Maxwell Architecture For Under $150
By
NVIDIA GeForce GTX 750 Ti Overclocking
We installed the EVGA Precision X v4.2.1 overclocking utility to see how the NVIDIA GeForce GTX 750 Ti 2GB video card could be overclocked! You can use whatever software utility you like for overclocking, but this is the one we used today.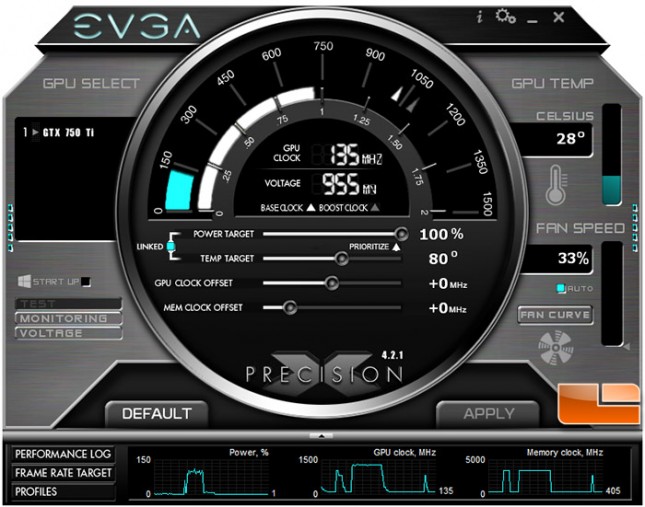 In case you forgot, the NVIDIA GeForce GTX 750 Ti card is clocked at 1020 MHz base and 1085 MHz boost and the memory is clocked at 1350MHz (5400MHz effective). Let's see how much higher we can get a fully enabled GM107 Maxwell GPU with 640 CUDA cores!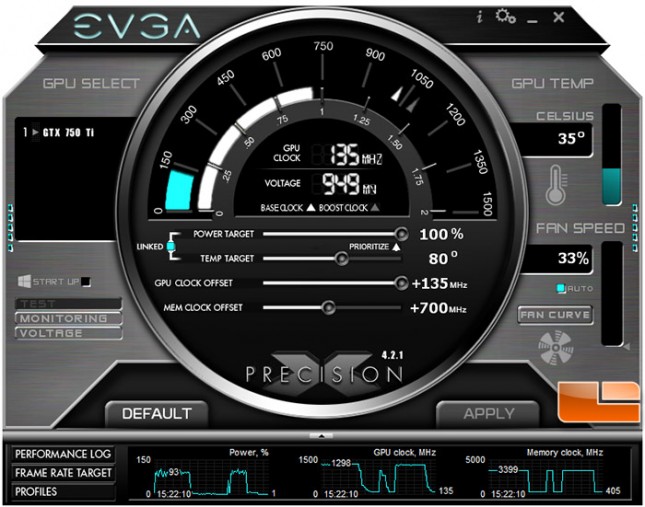 The NVIDIA GeForce GTX 750 Ti is pretty locked down when it comes to overclocking. There is no way to increase the power target beyond 100% and all the cards are currently limited to a +135MHz GPU clock offset. We won't be showing you all the cards being overclocked today as they can ALL easily run with the GPU clock offset at +135MHz. We then slowly increased the memory clock offset to see how far we could go before the card would become unstable. We left the temperature target at 80C as this card is far from reaching that.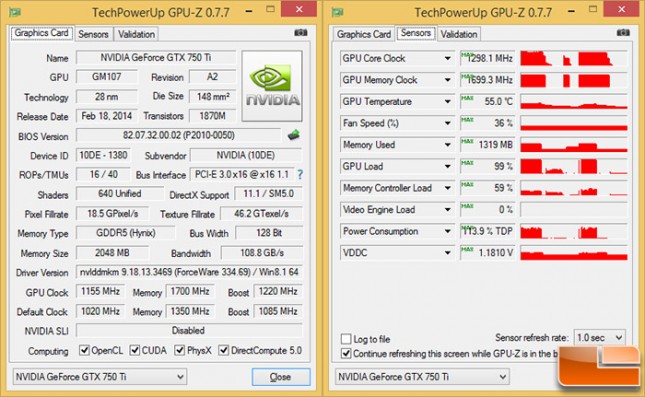 We ended up with a GPU clock offset to +135MHz and the mem clock offset to +700MHz before we started to get encounter some stability issues due to the memory clock frequency. This overclock meant that we were running at 1298MHz at times thanks to NVIDIA Boost 2.0 on the core and 1700MHz (6800MHz effective) on the 2GB of GDDR5 memory. Not bad and it looks like Maxwell should be pretty good when it comes to overclocking!
NVIDIA GeForce GTX 750 Ti Stock:

NVIDIA GeForce GTX 750 Ti Overclocked:

By overclocking the NVIDIA GeForce GTX 750 Ti 2GB reference card we were able to take the score of 4029 and raise it up to 4555. This is a 515 point increase in our overall 3DMark score, which represents a performance gain of 12.7 percent. Not bad for cranking up the core clock as high as the cards BIOS will allow and raising the memory up just shy of where it starts to artifact.