NVIDIA GeForce GeForce GTX 980 Maxwell Video Card Review
By
GeForce GTX 970 and 980 Retail Cards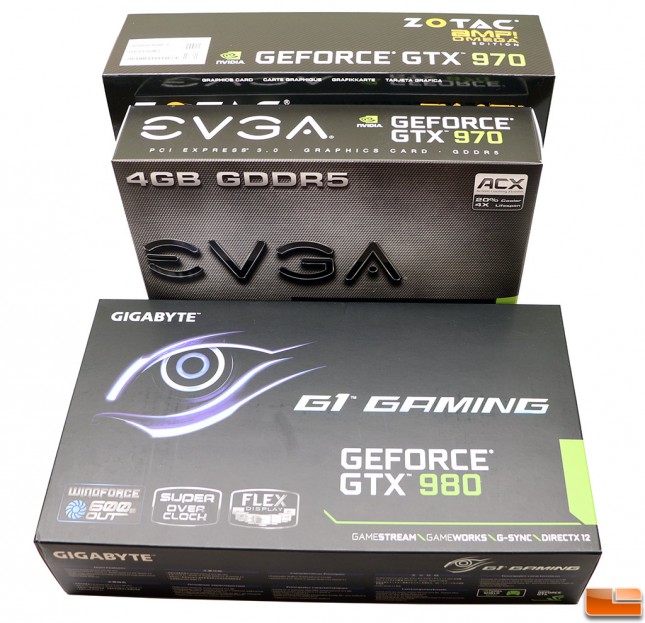 NVIDIA didn't give us any GeForce GTX 970 video cards to try out, but luckily our friends at EVGA and Zotac were able to send us over retail GTX 970 cards to try out. Gigabyte also sent use out our first retail GeForce GTX 980 video card, so we'll be including that in the performance testing as well.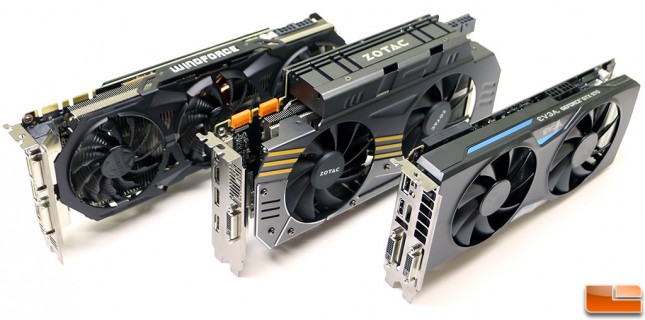 The card Gigabyte sent over is the GV-N980G1 GAMING-4GD. This card is factory overclocked and features a base clock of 1228MHz, a boost clock of 1329MHz and the memory is kept stock at 7000MHz. The GM204 Maxwell GPU is kept cool by a Gigabyte WindForce 3X 600W GPU cooler and requires a 600W or larger power supply with two 8-pin PCIe external power connectors. This dual-slot card measures in at 312mm x 129mm x 43mm (LxWxH), so at 12.28″ in length it is pretty long.
The next card is the ZOTAC GeForce GTX 970 AMP! Omega Edition that is sold under part number ZT-90102-10P. This card is ZOTAC's mid-range model for the GeForce GTX and it features a base clock of 1102MHz and a 1241MHz boost clock. ZOTAC also overclocked the memory up to 7046MHz, so this is one of the few cards that we have seen so far that has both the CUDA Cores and GDDR5 memory overclocked out of the box. The ZOTAC Geforce GTX 970 AMP! Omega Edition is kept cool by the dual-fan IceStorm w/ ExoArmor GPU cooler and it is big and beefy looking. It also features customized Power+ circuitry and OC Plus real-time performance. ZOTAC OC Plus is an exclusive power regulation controller module that communicates directly with the GPU via internal bus and the new ZOTAC FireStorm real-time overclocking software via internal USB interface to bring detailed real-time monitoring intelligence and overclocking capabilities. FireStorm features an all new easy to use interface featuring quick overclock presets, precise overclocking adjustments. The This card has two 8-pin PCIe power connectors and needs a 500W or larger power supply for proper operation. The ZOTAC GeForce GTX 970 AMP! Omega Edition is 10.5-inches in length and takes up 2.5 PCI slots due to how thick the fan is.
Last, but certainly not least is the EVGA GeForce GTX 970 with part number 04G-P4-0972-KR. This card comes with the NVIDIA GeForce GTX 970 reference card clock speeds of 1050MHz base and 1178MHz boost, but is topped off by the EVGA ACX 1.0 GPU cooler. This card doesn't have many frills and as a result is just 9.5-inches in length. EVGA went with the standard configuration of two 6-pin PCIe power connectors on this card as that should be plenty for this 145W TDP card.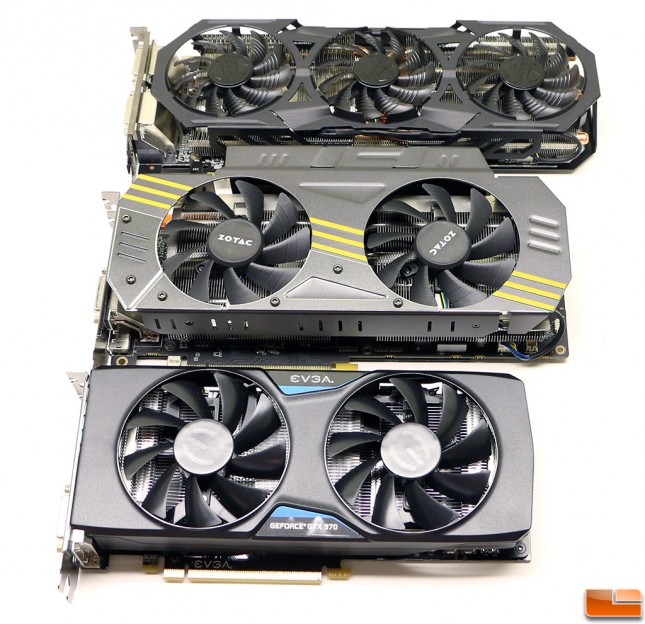 All three of the cards feature custom GPU coolers and just happen to have black fan shrouds with differing accent colors.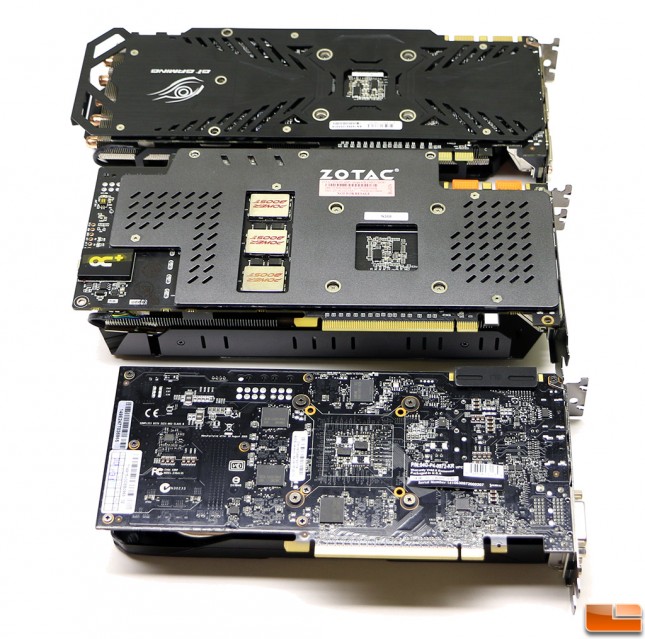 The Gigabyte and ZOTAC cards have back plates, but EVGA does not include one on this particular GeForce GTX 970 model.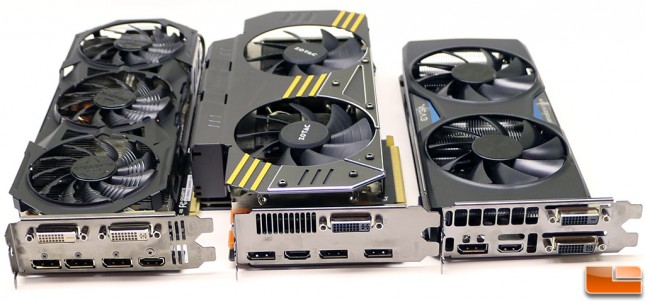 When it comes to the display outputs, only ZOTAC kept the original NVIDIA configuration for Maxwell. EVGA went with a familiar design as it is the one they used on the Kepler series, which means you get a pair of dual-link DVI outputs, a single DisplayPort and a HDMI 2.0 port. Nothing wrong with this, but you won't be able to run a triple G-Sync configuration on this card. Would you want to run that on a single GeForce GTX 970 though? Gigabyte went with a the most robust design of the bunch and has three DisplayPorts, two dual-link DVIs and a HDMI 2.0 port. The downside to all those connectors on the Gigabyte card means that there is hardly any room to exhaust hat air from the system.
Let's take a quick look at some more Maxwell features and get on to testing!