NVIDIA GeForce GeForce GTX 980 Maxwell Video Card Review
By
Temperature & Noise Testing
Temperatures are important to enthusiasts and gamers, so we took a bit of time and did some temperature testing on the NVIDIA GeForce GTX 980 video card.
NVIDIA GeForce GTX 980 Idle Temps: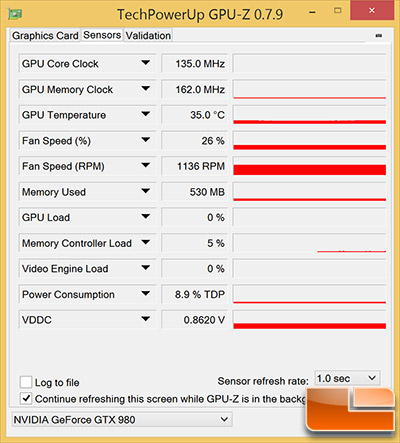 At idle we found the GPU core temperature was 35C we were hoping to see some VRM temperatures, but we were told by W1zzard over at TechPowerUp that the voltage controller has no support for VRM readouts.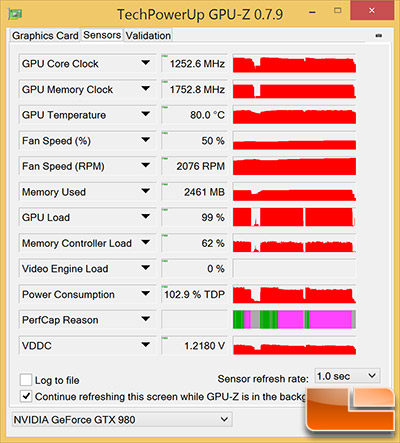 When gaming we hit 80-81C, which is the default GPU temp target for the GeForce GTX 980, so the performance was capped there. Our room temperature was 70F (21C), so we were a bit dissapointed to find out that the temp target was limiting performance.

For example with the card at all default settings we fired up a game title and ran it for 90 seconds. When the game started the GPU clock speed on the GeForce GTX 980 was running at 1252MHz, but after about 20 seconds the clock speeds started to slowly decline and then it stabilized at 1138.7MHz as you can see above. We tried out best to benchmark all the game titles and benchmarks that we tested today in an 'active' or 'hot' state as that is the performance you'll be seeing when you game for more than a minute or two.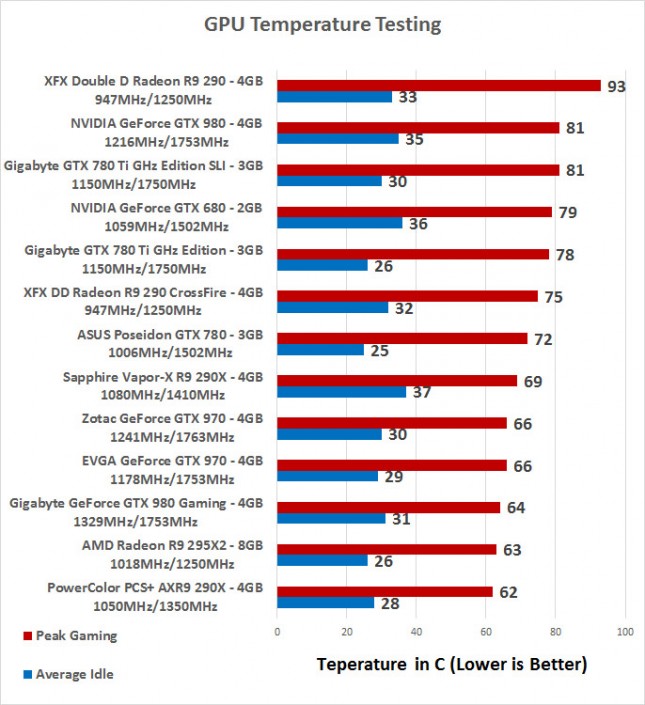 Sound Testing
We test noise levels with an Extech sound level meter that has 1.5dB accuracy that meets Type 2 standards. This meter ranges from 35dB to 90dB on the low measurement range, which is perfect for us as our test room usually averages around 36dB. We measure the sound level two inches above the corner of the motherboard with 'A' frequency weighting. The microphone wind cover is used to make sure no wind is blowing across the microphone, which would seriously throw off the data.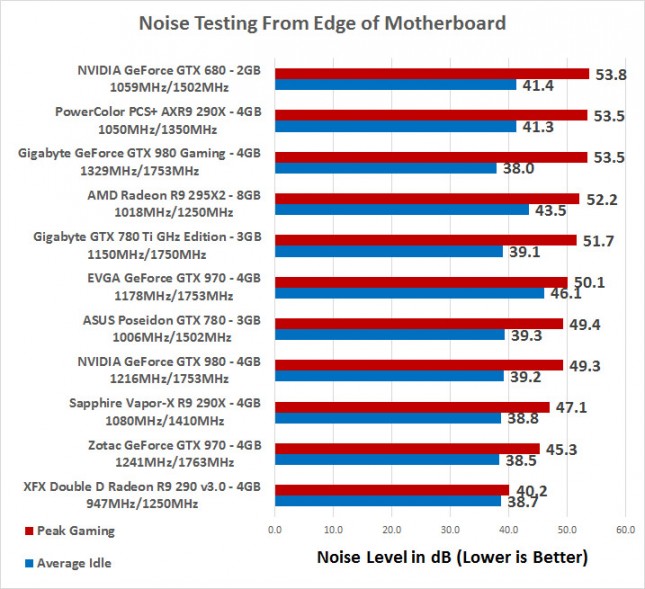 The NVIDIA GeForce GTX 980 is a pretty quiet card, but it is bittersweet as we were performance capped due to the card running at the default thermal threshold when we were gaming. If you were to increase the temperature target the gaming performance would increase, but so would the temperature and power consumption.