NVIDIA GeForce GeForce GTX 980 Maxwell Video Card Review
By
GeForce GTX 980 4GB Reference Card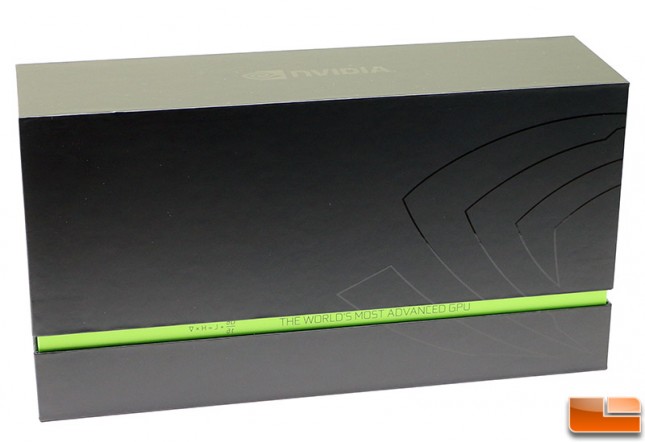 NVIDIA could have just sent us a reference card, but rather than being boring, they sent us some killer retail packaging to help launch what they are calling "The World's Most Advanced GPU."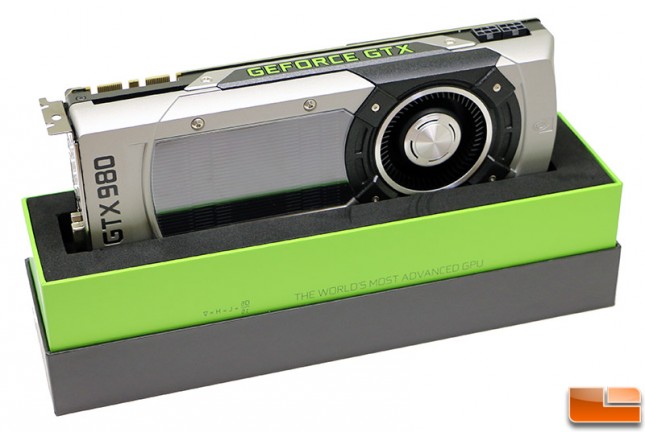 The product packaging was designed to lift off from the top and reveal the GeForce GTX 980. The end result was basically a display showing off the GTX 980 in an upright position. NVIDIA is certainly known for their showmanship and this is a heck of a way to open up and see the most advanced and arguably one of the best looking graphics cards that we have ever seen.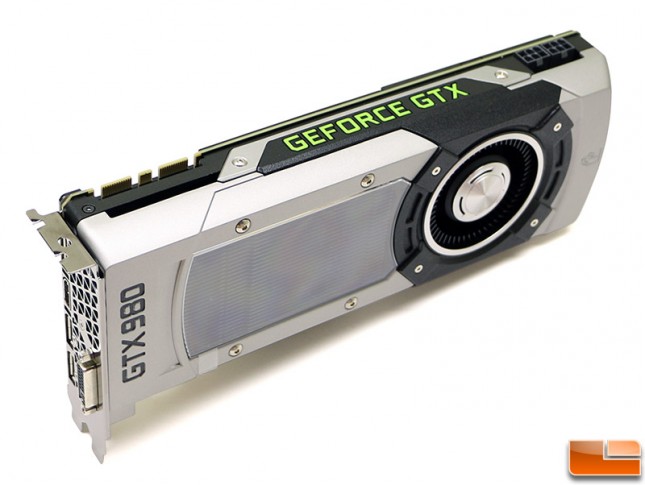 The NVIDIA GeForce GTX 980 reference card uses a similar design to that of the GeForce GTX 690 that came out in 2012 and was later seen on cards like the GeForce GTX Titan. NVIDIA appears to have fallen in love with this overall look and the styling on the GeForce GTX 980 reference card is very similar to that of the GTX 690 from two years ago. You have the magnesium alloy fan housing with an aluminum frame that was trivalent chromium plated and the GeForce logo is still LED backlit and glows NVIDIA green.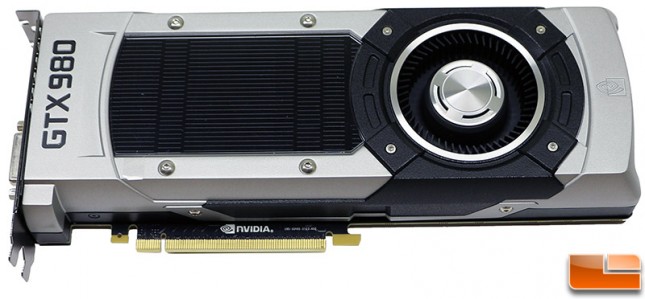 The NVIDIA GeForce GTX 980 reference card measures 10.5-inches in length and takes up two PCI slots. This card is not big and if you are running a GeForce GTX 580, GTX 680 or a GTX 780 you'll be able to drop it in your current gaming system without any issues since the size is no larger than what we have seen in years past and the power requirements are actually lower.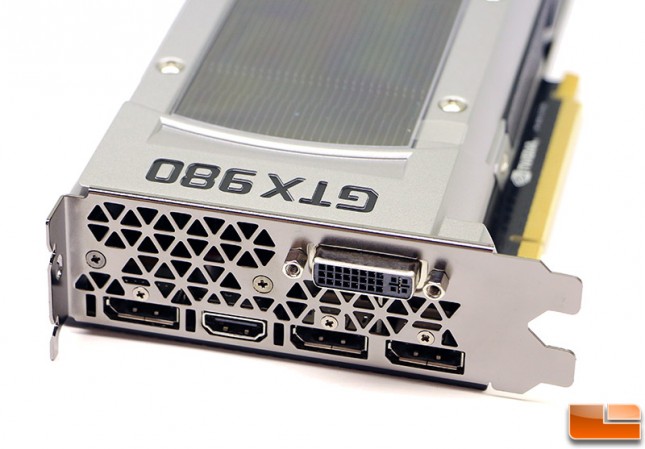 When it comes to the video outputs on the GeForce GTX 980 reference card we can see that NVIDIA has gone a new direction with the I/O bracket design and connector choices. NVIDIA went with three DisplayPort connectors, an HDMI 2.0 connector (supporting [email protected]) and a single dual-link DVI outport. This means that NVIDIA now offers a total of five video connections, but only four can be used simultaneously. This new video output arrangement means that you can run three NVIDIA G-Sync enabled displays off of one GeForce GTX 980 video card if one desires to do so. If you want to run a multi-panel setup and don't want to sacrifice any image quality, you'll likely still need to run a 2-way or 3-way SLI setup to get the performance needed to power the resolution garnered by such a display setup. NVIDIA also changed up the way the exhaust ports are shaped on the I/O bracket.

The ability to support HDMI 2.0 is a pretty big deal and NVIDIA has the world's first GPU that is able to support it. Previous generation GPU's supported HDMI 1.4 and could only officially support 4k displays at 30Hz for '444' RGB pixels and 60Hz for '420' YUV pixels. The GeForce GTX 980 now supports full-resolution '444' RGB pixels at 60Hz for 4k displays. All GM2xx Maxell GPUs also ship with an enhanced NVENC encoder that adds support for H.265 encoding. NVIDIA claims that Maxwell's video encoder improves H.264 video encode throughput by 2.5x over Kepler and that it can encode 4k video at 60 FPS. The max resolution supported by Maxwell is 5120×3200, so get ready for displays that go way beyond Ultra HD in the years to come!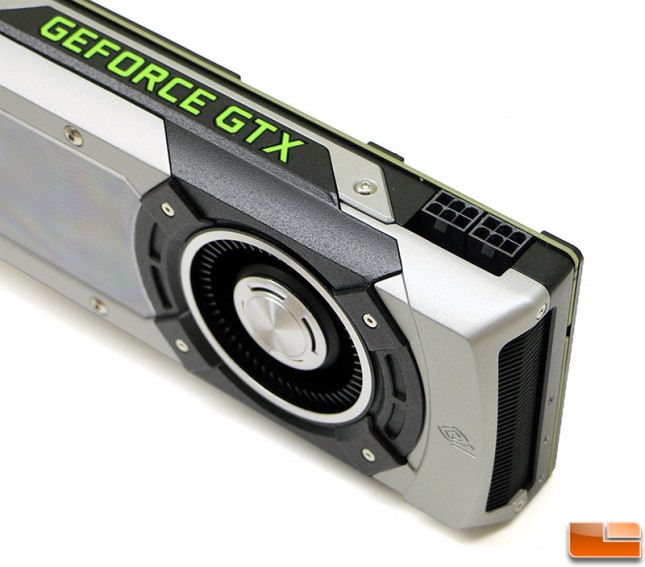 The NVIDIA GeForce GTX 980 is rated at 165 Watts when it comes to the Thermal Design Power (TDP) and needs just a pair of 6-pin PCIe Power Connectors that need to be connected for proper operation along the top edge of the graphics card. NVIDIA recommends a 500W or larger power supply and we've seen the Add-In-Board (AIB) partners recommending a 600W or larger power supply on the custom cards that are also overclocked beyond the NVIDIA GTX 980 reference card specifications. This is a pretty big feature of this card as NVIDIA has really dropped the TDP on their cards over the years and is offering a tremendous value when it comes to performance per Watt. The NVIDIA GeForce GTX 580 'Fermi' graphics card had a 244W TDP rating, the NVIDIA GeForce GTX 680 'Kepler' graphics card had a 195W TDP rating and now the NVIDIA GeForce GTX 980 'Maxell' graphics card is just 165W TDP. NVIDIA has shaved power consumption down by nearly one-third (32.4%) over the past five years, while greatly improving performance and constantly adding new features along the way.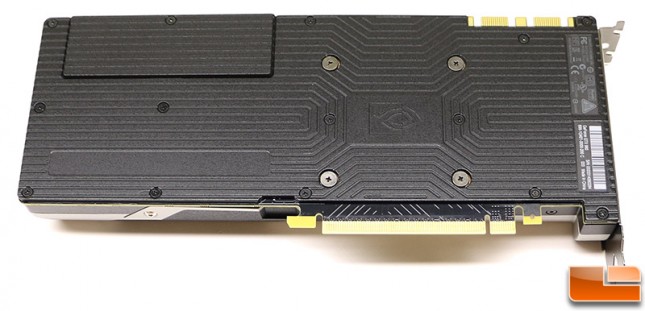 Does the backplate on the GTX 980 reference card look familiar? NVIDIA never blessed us with a sample of the 'ultimate' graphics card known as the GeForce GTX Titan Z, but this backplate design originated from the flagship card down to a more affordable card and we aren't complaining. NVIDIA included the metal blackplate to dissipate heat from the VRM and GDDR5 memory IC's, protect the components on the back of the card from installation mistakes and to just make it look good. We have always been a fan of backplates for ascetic reasons alone and we are glad that NVIDIA went with one on this reference card.
The raised section at the end of the card can be removed to improve airflow. This was done to help out multi-GPU users running SLI setups where the airflow between cards is limited. NVIDIA engineers studied airflow patterns between video cards and determined that opening up this area helped bring cooler air to the adjacent fan. It won't do much of anything for those running one card, but if you have more than one GeForce GTX 980 or GTX 970 in your system you'll want to remove the part of the backplate to significantly improve the airflow between the cards.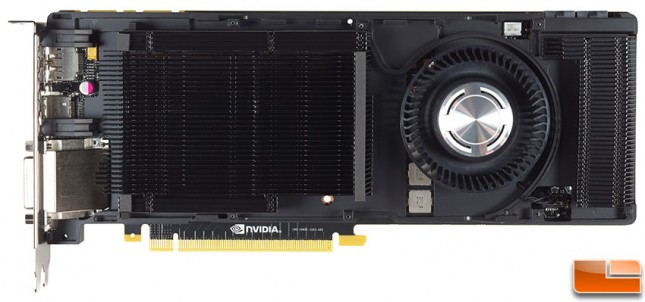 The NVIDIA GeForce GTX 980 uses an aluminum heatink that has three embedded heatpipes that help keep the Maxwell GM204 GPU nice and cool. NVIDIA says that the default GPU Boost 2.0 settings will allow the GTX 980 to boost up to the highly clock frequency and remain there as long as the GPU temperature remains at or below 80C.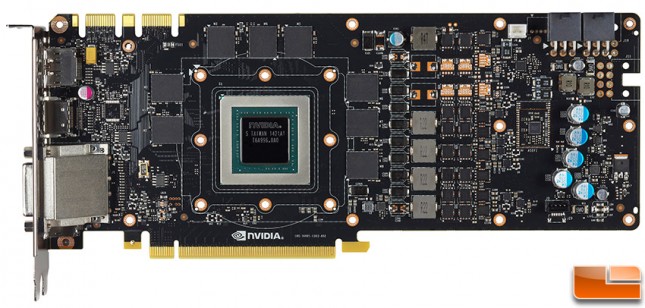 Once you pull the CPU cooler entirely off you can see the PCB of the GTX 980 reference card along with the GM204 GPU, GDDR5 memory ICs and the power phases. NVIDIA went with a 4-phase VR circuit with integrated dynamic power balancing circuity for the GTX 980's GM204 GPU and there is one additional power phase for the boards GDDR5 memory. There are places for two more power phases, but it doesn't appear that NVIDIA needed them.
NVIDIA says that the 4-phase power supply setup has plenty of overvolting capabilities and that reference cards in their labs are able to run at speeds of up to 1400MHz when overclocked. The GTX 980 has a base clock of 1126MHz and a boost clock of 1216MHz, so NVIDIA is getting some impressive speeds out of this particular Maxwell GPU. In fact, NVIDIA says that the GeForce GTX 980 runs at higher clock frequencies out of the box than any other GPU the company has ever built. Being able to overclock the GTX 980 regularly means that they are easily getting a 15% boost in clock speeds and that should mean there will be a significant improvement in performance when gaming. NVIDIA also claims that the GTX 980 only runs moderately hotter and still is relatively quiet when overclocked, so that is impressive if true.