NVIDIA GeForce GeForce GTX 980 Maxwell Video Card Review
By
NVIDIA GeForce GTX 980 Overclocking
We won't be showing you all the cards being overclocked today due to time constraints, but we did spend an afternoon overclocking the NVIDIA GeForce GTX 980 4GB reference card and it overclocked like a champ!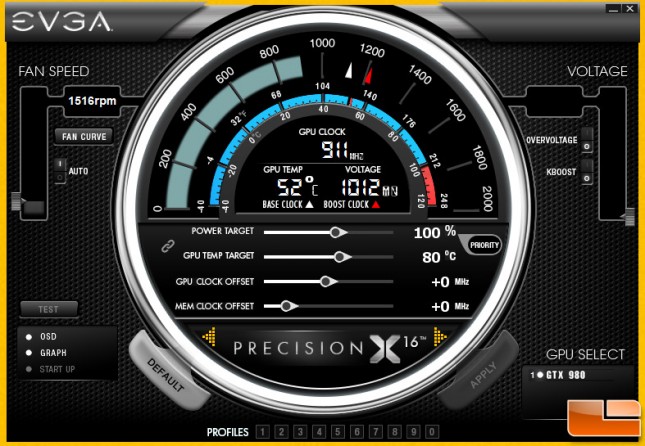 We installed a beta version of the EVGA PrecisionX 16 overclocking utility to over the NVIDIA GeForce GTX 980 video card! You can use whatever software utility you like for overclocking, but this is the one we used today.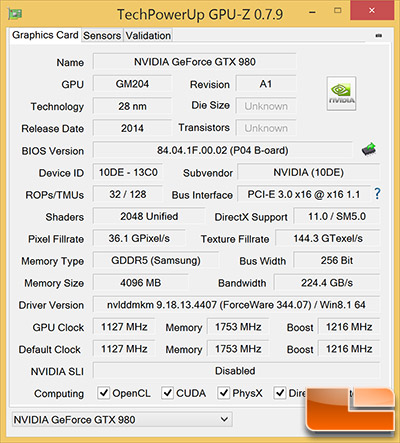 In case you forgot, the NVIDIA GeForce GTX 980 card is clocked at 1127 MHz base with a boost clock of 1216MHz and the 4GB of GDDR5 memory is clocked at 1753MHz (7012 MHz effective). Let's see how much higher we can get a fully enabled GM204 Maxwell GPU with 2048 CUDA cores!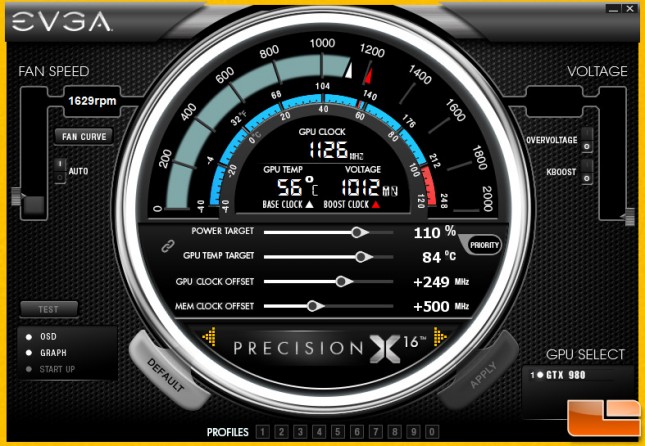 The NVIDIA GeForce GTX 980 is pretty open when it comes to overclocking. You can increase the power target to 125%, the GPU Temp Target goes to 91C, the GPU clock offset can go up to +1000MHz and finally the GDDR5 memory clock offset can go up to +2000MHz.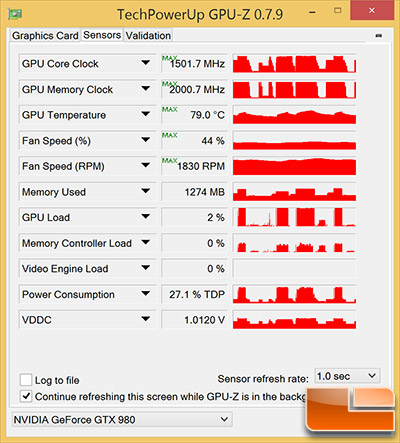 We ended up with a GPU clock offset to +249MHz and the mem clock offset to +500MHz before we started to get encounter some stability issues due to the memory clock frequency. This overclock meant that we were running at 1502MHz at times thanks to NVIDIA Boost 2.0 on the core and 2000MHz (8000MHz effective) on the 4GB of GDDR5 memory. We bumped up the power target to 110% and left the GPU temp target locked, so it was up to 84C. Maxwell looks like it will be a great overclocker and we are very happy with a 1.5GHz core clock on our GM204 GPU as it needed to manual voltage adjustments or anything to reach this mark! This is a 23.5% increase over the cards default boost speed or 33.2% over the base clock. We are very happy!
NVIDIA GeForce GTX980 Stock: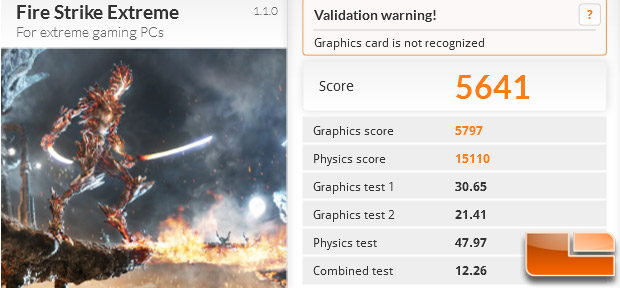 NVIDIA GeForce GTX 980 Overclocked:
By overclocking the NVIDIA GeForce GTX 980 4GB reference card we were able to take the score of 5641 and raise it up to 6639. This is a 998 point increase in our overall 3DMark score, which represents a performance gain of 17.7 percent. The overal FPS average in Graphics Test 1 went from 30.7 to 36.7, which is a 19.5% performance gain in the graphics test. Both of these scores are solid for a 23.5% core overclock and overclocking the GeForce GTX 980 is most certainly worth it if you wanted to get the most performance that you can from a card like this.