ECS Z97-PK Deluxe mATX Motherboard Review
By
PCMark 8
PCMark 8 is another benchmark that uses pre-defined tests to gauge performance. Where 3DMark is focused on graphics performance, PCMark focuses on common tasks that might be performed for various user types. We will use the "Home" test, which includes web browsing, writing, photo editing, video chat, and casual gaming. This is ideal for testing laptops and desktop home PCs.

With a final score of 3104, we can see the breakdown of the various tests.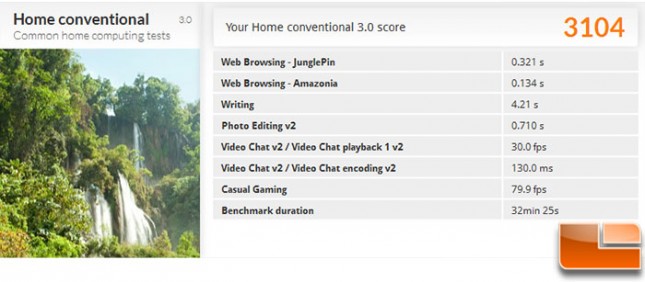 While 3DMark showed the AMD system outperforming the ECS Z97-PK system, PCMark 8 Home shows a different result.

Besides the overall score, PCMark 8 also breaks the score in various tasks. Here we will take a look at a couple of the tasks to see how the two systems performed. Video chat capabilities are tied at 30FPS, while the casual gaming performance provides a good edge to the ECS Z97-PK system.

Photo Editing and Web Browsing are pretty close, however the writing task once again provides an edge to the ECS Z97-PK system.

Benchmark Results: PCMark shows that while the ECS Z97-PK system can perform well for gaming, it can also do well for average home use tasks like writing, photo editing, and web browsing; among other things.