ECS Z97-PK Deluxe mATX Motherboard Review
By
ECS Z97-PK Deluxe mATX Motherboard
I am constantly asked to help build a low cost system for the casual gamer. Generally, I'll point them to an AMD based system, which doesn't compare to an Intel i5 system, but generally it's within people's budget and does what they need. Earlier this year, Intel released the Pentium Anniversary G3258, which comes unlocked and has been found to be a massive overclocking processor. Looking at motherboards, there is a large selection of Intel Socket 1150 motherboards, typically designed for a wide range of processors or uses. ECS has released the Z97-PK Deluxe mATX motherboard is designed for Socket 1150 processors, with a focus on the Pentium Anniversary G3258 overclocking. Right now, the ECS Z97-PK Deluxe motherboard is a little hard to find as it is just being released, checking a few places you can find it for $79.99 plus shipping, and includes a 1 year warranty from ECS.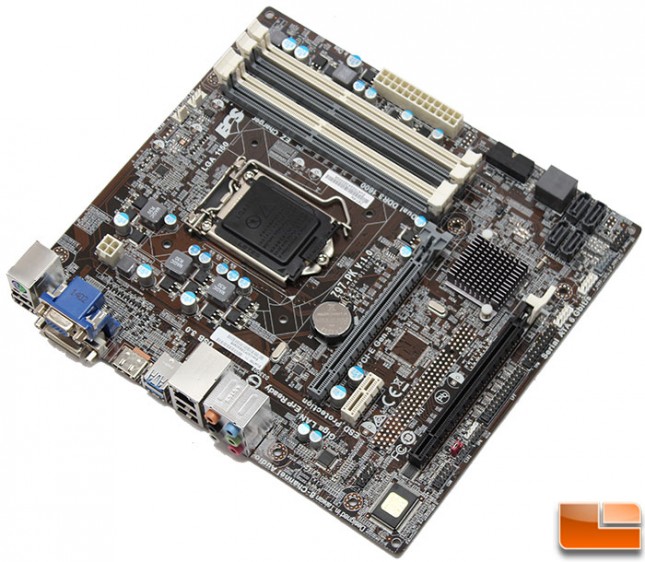 Following mATX standards, the motherboard will fit into any case that fits mATX motherboards. Taking a high level overview of the motherboard, being based on Intel Z97 Express chipset, it supports Socket 1150 processors (4th generation Celeron, Pentium, and Core i-series). For memory, it will support up to four DDR3 modules, running at 1600Mhz. Storage is limited to six SATA III 6Gbps ports which supports Raid 0, 1, 5 and 10, for SuperSpeed USB 3.0 the Z97-PK provides two on the back panel, and two from an internal header. Video capabilites, range from on-board triple monitor capability with HDMI, VGA and DVI ports, to dual PCI-E x16 slots.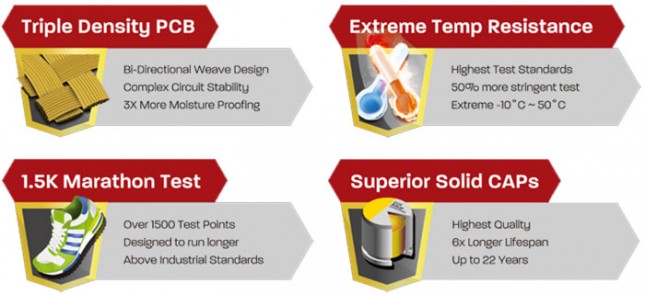 Like most companies, ECS puts their motherboards through a wide range of QA testing. They state they test over 1500 known points of failure, and the hardware they implemented on the Z97-PK motherboard is specifically designed to run longer, and at higher temperatures than the industry standards. In addition, All-Solid-Capacitors are used on the motherboard to improve stability and the lifespan of the motherboard.
While the ECS Z97-PK motherboard will work with any Socket 1150 processor, it has built in features for the Pentium G3258. For casual users a simple one click Overclock option is provided within the EZ BIOS. Of course, that is not the only way that the Z97-PK can be overclocked.
[youtube]http://www.youtube.com/watch?v=pDBCn6U-zao[/youtube]
Features and Specifications
All Solid Capacitors
ECSs All-Solid-Capacitors design brings the great benefit of better durability to users. Better conductivity and heat resistance can be expected as well thus the system stability can be assured under critical conditions.
EZ BIOS
The most convenient tool to adjust BIOS in graphical interface. Designed with user-friendly interface including auto OC, boot priority, security function and windows 8 support. (Auto OC only for OC available models. )
M.I.B. III
M.I.B. III brings the same convenience interface of overclocking as M.I.B. II, it also comes with advance range of frequency tuning for system performance and superior gaming capability.
ECS Z97-PK Deluxe Specifications
CPU
Supports New 4th & 4th gen Intel Core family, Pentium, Celeron series processors in LGA1150 socket
DMI 5.0GT/s
3 Phase Thermal Design Power
VRD 12.5
100% Solid capacitor design
Supports Intel Turbo Boost 2.0 Technology
Supports Intel Hyper-Threading Technology
Intel K Series Unlock CPU Support
Please refer to CPU support list for details
Chipset
Intel Z97 Express Chipset
Intel Smart Response Technology, Intel Smart Connect Technology & Intel Rapid Start Technolog
Supports Intel Identity Protection Technology
Graphics
Supports DirectX 11 .1
Supports Intel HD Graphics, InTru 3D, Quick Sync Video, Clear Video HD Technology, Insider
Supports HDMI 1.4a & Premium Audio
Supports ATI 2-Way CrossFireX
Supports Full HD 1080P Blu-ray / HD-DVD Playback
Memory
Dual-channel DDR3 Memory architecture
Supports DDR3 1600 non-ECC, Un-buffered SDRAM Memory
4 X 240-pin DDR3 DIMM socket
Support up to 32 GB*
* Due to the operation system limitation, the actual memory size may be less than 4GB for the reservation for system usage under Windows 32-bit OS. For Windows 64-bit OS with 64-bit CPU, there is no such limitation
Note: DDR3_1 with DDR3_3 are the same channel, DDR3_2 with DDR3_4 are the same channel by Intel Specification
Expansion Slot
1 X PCI Express X16 Gen 3.0 slot(s)
1 X PCI Express X16 Gen 2.0 slot(s)
runs at x4
1 X PCI Express X 1 Gen 2.0 slot(s)
Supports ATI CrossfireX Technology
*The second PCIE X16 only support bandwidth X4
Storage
Support by Z97 Express Chipset
6 X Serial ATAIII 6Gb/s
RAID0, RAID1,RAID5, RAID 10 configuration
Supports Intel Rapid Storage Technology
Audio
8-Channel HD audio CODEC
Realtek ALC892
Realtek ALC892 8-channel High Definition audio CODEC
Compatible with Direct Sound 3D, A3D, I3DL2
Smart multiple streaming operation
Intuitive Configuration Panel (Realtek Audio Manager) to enhance user experience
7.1+2 channel multi-streaming enables concurrent gaming/VoIP
BluRay DVD/HD DVD support
LAN
Realtek RTL8111G Gigabit Fast Ethernet Controller
Wake-On-LAN
USB
Support by Z97 Express Chipset
4 X USB3.0 port(s) up to 5Gb/s
Back Panel 2 port(s)
Onboard 2 port(s)
10 X USB2.0 port(s) Up to 480 Mb/s
Back Panel 4 port(s)
Onboard 6 port(s)
ECS EZ Charger (Gray USB header)
Rear Panel I/O
1 X PS/2 Keyboard & PS/2 mouse connectors
1 X Audio port (Line-in,4x Line-out, Mic in)
1 X RJ-45 port
1 X HDMI port(s)
1 X DVI-I port(s)
1 X D-Sub (VGA) port(s)
2 X USB3.0 port(s)
4 X USB2.0 port(s)
Connectors & Headers
1 X 24-pin ATX Power Supply connector
1 X 4-pin 12V Power connector
1 X 4-pin CPU_FAN connector with smart fan
1 X 3-pin SYS_FAN connector with smart fan
1 X Front Panel switch/LED header
1 X Front panel audio header
1 X USB 3.0 header
Support additional 2 USB ports
3 X USB 2.0 header
Support additional 6 USB ports
Support EZ charger (gray color)
6 X SATA III 6Gb/s connector(s)
1 X CLR_CMOS header
1 X CIR header
1 X Serial port header (COM)
1 X Parallel port header (LPT)
1 X TPM header
1 X Chassis intrusion header
System BIOS
AMI BIOS with 64 MB SPI Flash ROM
Supports M.I.B III Utility
F7 hot key for boot up devices option
Triple Display
Support ECS EZ BIOS
Plug and Play, STR (S3) / STD (S4) , Hardware monitor, Multi Boot
Multi-Language BIOS
Audio, LAN, can be disabled in BIOS
Dual-Monitor function
Form Factor
mATX Form Factor
244mm(W) X 220 mm(H)
OS Support
Windows 7 32-bit
Windows 7 64-bit
Windows 8 64-bit
Certifications
CE/FCC Certification
ErP/EuP Certification
WHCK Certification
Bundled Software
ECS Intelligent EZ Utility : eBLU, eDLU, eSF
Free Bundle: Norton Internet Security ,CyberLink PowerDVD, CyberLink PowerDirector 9, Muzee with trial version
Now that we know what ECS tells us about the Z97-PK Deluxe mATX motherboard, let's take a look at the retail package and a close look at the motherboard before jumping into some benchmarks.