BIOSTAR Hi-Fi A85W Motherboard Review
By
Sniper Elite V2 Performance Testing
Sniper Elite V2 with 6970 testing Results

Sniper Elite V2 is a 2012 tactical shooter video game developed by Rebellion Developments for Microsoft Windows, PlayStation 3 and Xbox 360. It is a remake of Rebellion's 2005 game Sniper Elite. The game takes place in the same timeframe and location—the Battle of Berlin in April–May 1945—but now the main character, an American Office of Strategic Services officer, must capture or eliminate the scientists involved in the German V-2 rocket program.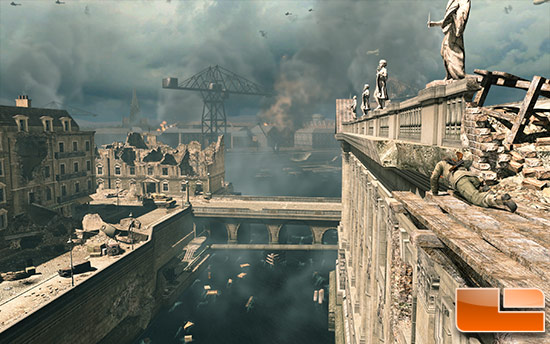 Sniper Elite V2 testing was performed with the official Sniper Elite V2 Benchmark at default settings.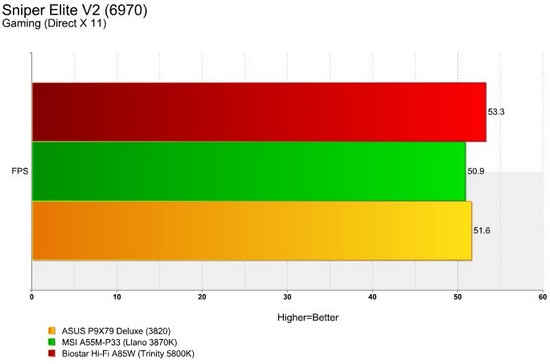 Finishing up our Gaming benchmarks with Sniper Elite V2 benchmark, we can see that while each of the tested platforms maintain around the same performance levels while using a 6970 video card. Once again I am looking that all of the tested platforms maintained an average frame rate above the 30 FPS.
Sniper Elite V2 with APU Testing Results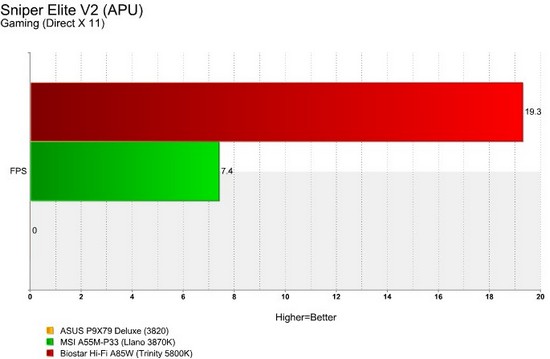 Now this is where my performance on the Llano based MSI platform take a serious dip in performance. I even ran this benchmark three to four times to ensure that my results were accurate. Once again the Trinity based 5800K platform running on the Biostar HiFi A85W motherboard just crushes the Llano 3870K APU.