BIOSTAR Hi-Fi A85W Motherboard Review
By
Futuremark 3DMark 11 Performance Testing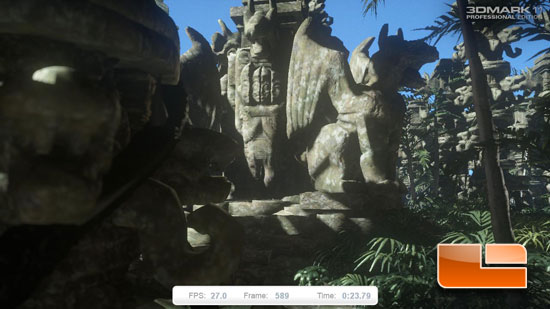 3DMark 11 is the latest version of the world's most popular benchmark for measuring the 3D graphics performance of gaming PCs. 3DMark 11 uses a native DirectX 11 engine designed to make extensive use of all the new features in DirectX 11, including tessellation, compute shaders and multi-threading.
3Dmark11 Testing was performed while using the performance preset, with the AMD Radeon 6970 video card(s) Control Panel set to default settings.
3DMark 11 with 6970 Testing
Reminder: on these next few pages, I will be showing the performance levels of these few gaming benchmarks while using a single 6970 video card, and as well as the onboard GPU of the Trinity and Llano based APUs. The resolution will remain at a 1280 x 720 resolution for a better comparison on how the tested platforms compare to one another.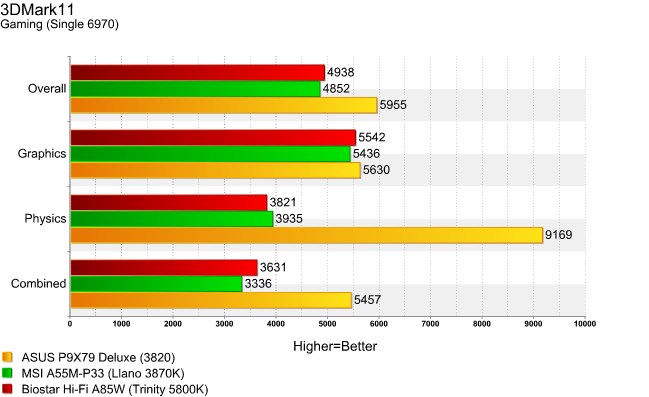 Granted the two tested APUs, Trinity 5800K, and the Llano 3870K, do not stand a chance against the mighty Core i7 3820 CPU. I am going to be more concerned with the Graphics (GPU) testing portion of 3DMark11. And looking at just the Graphics (GPU) testing we can get an idea that the CPU/APU does influence the single 6970 video card but it is not a large amount of influencing as all tested platforms were within 100 or so points of each other.
3DMark11 APU testing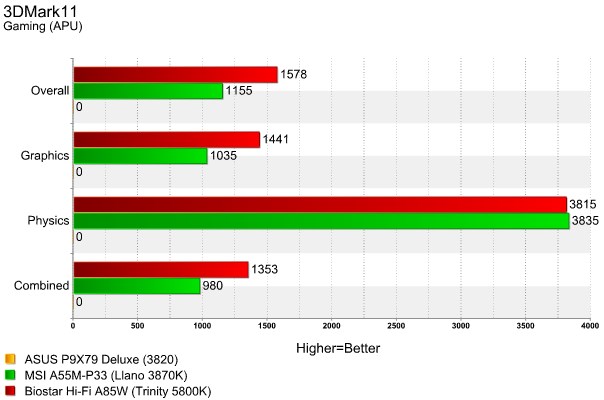 Since the Core i7 3820 does not have a GPU built into it I left this portion of testing out with this CPU. This is only an APU to APU comparison. The newer Trinity APU while being strapped to the Biostar Hi-Fi A85W motherboard outperformed the Llano based MSI platform in all but the Physics testing, which got me scratching my head a little on that portion of testing.