AMD Radeon R9 295X2 8GB Video Card Review at 4K Ultra HD
By
AMD Project Hydra Arrives – Full Dual Hawaii GPUs on One Card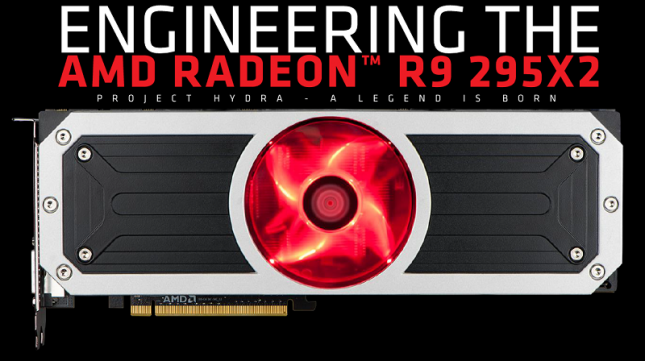 The AMD Radeon R9 295X2 video card has finally arrived! This is the first dual-GPU graphics card based on AMD's latest Hawaii architecture and just happens to use two fully enabled Hawaii XT GPUs. With 5,632 stream processors (2 x 2,816) running at 1018MHz and 8GB of GDDR5 memory running on a dual 512-bit memory interface running at 1250MHz (5.0GHz Effective), you should already know that this will be a beast of a card! Then again, the suggested etailer price for the AMD Radeon R9 295X2 is $1499USD (EUR 1,099 + VAT) and that alone should give you an idea of how powerful this card should be. We were originally thinking this card would be priced a little lower than $1499, but the $2999 price tag on the NVIDIA GeForce GTX Titan Z gave AMD the ability to price this card where they did without too many people questioning it. The AMD Radeon R9 295X2 should arrive at retailers on April 21, 2014.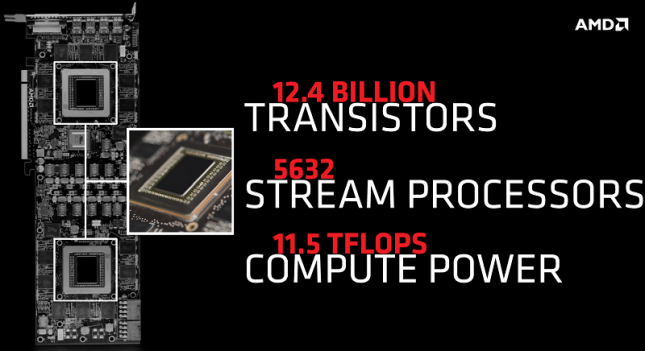 Those 5,632 stream processors are capable of 11.5 TFLOPS of compute power and there are 12.4 billion transistors between the two GPUs.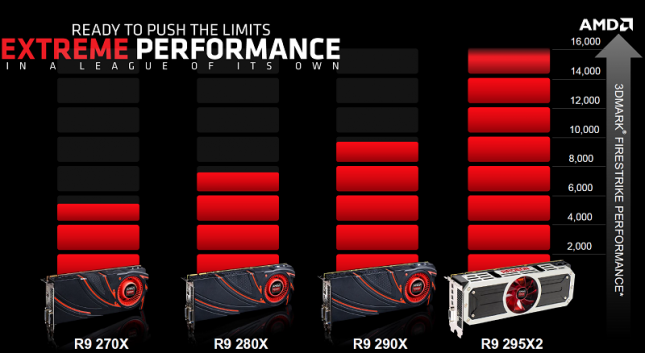 The AMD Radeon R9 295X2 should get you a score of around 16,000 in 3DMark Fire Strike, which means it has around 65% better performance than the AMD Radeon R9 290X. The AMD Radeon R9 295X2 should also have some good mining performance with around 1950 KHas/s (script) and 956 KHash/s (Scrypt-N).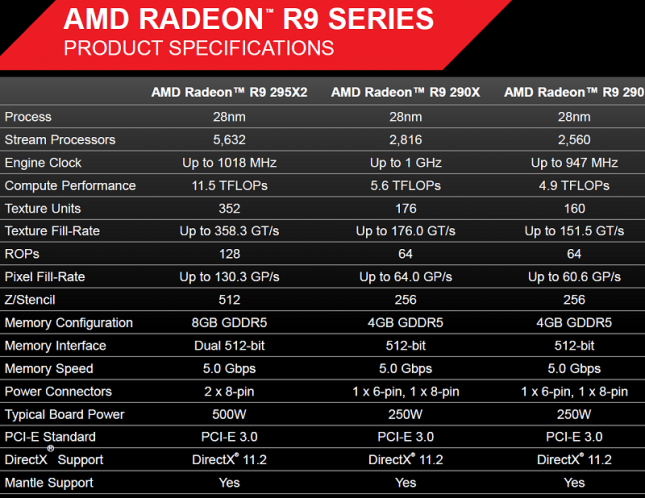 The AMD Radeon R9 295X2 has 5,632 stream processors, 352 texture units and 128 ROPs. That is good for 11.5 TFLIPS of compute performance, 358.3 GT/s texture Fill-Rate and 130.3 GP/s Pixel Fill-Rate. The specifications chart above shows how that stacks up against the Radeon R9 290X and R9 290.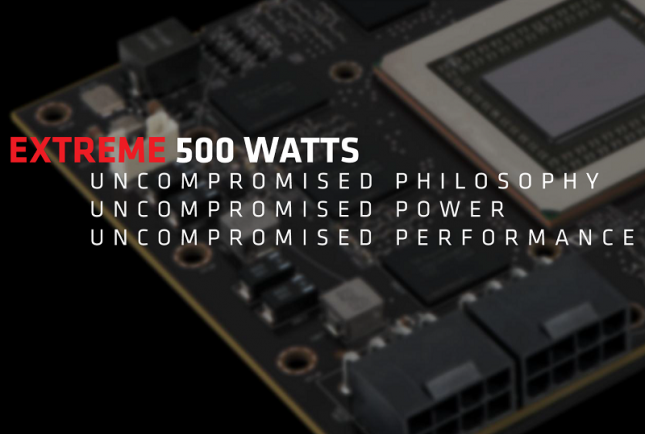 The AMD Radeon R9 295X2 has two 8-pin PCIe power connectors on it and AMD states that this card has a maximum TDP of 500 Watts. That means that the 295X2 itself is capable of pulling 500W. Only 75W of that is through the PCI Express 3.0 x16 slot. The official PCI-SIG specification for graphics cards is written for 300W (75W slot + 75W 6-pin + 150W 8-pin). AMD is actually out of the PCI-SIG spec for PCIe graphics cards as they have two 8-pin connectors for a theoretical 375W max power draw, but they are going over that and pulling over 150 Watts from each 8-pin connector. We've seen many companies over the years put three 8-pin PCIe power connectors on a card before, so this isn't a deal breaker, but something worth pointing out.
AMD suggests using a power supply that is capable of supply 28 Amps of dedicated current on each 8-pin PCIe power connector. This means your power supply must be able to support ~50 Amps across the +12V rail or rails depending on what PSU you have. We have a Corsair AX860i Digital Power Supply that is rated at 71.6 Amps on the single +12V rail and found that on our Intel LGA2011 test system that it was fine with the card at stock speeds, but unable to provide enough power when the card was overclocked. This is the first dual-slot card that we have ever used that needed more than a high-quality 860W power supply! We ended up switching over to the Corsair AX1200i Digital Power Supply that is rated at 100.4 Amps on the +12V power rail. AMD suggests using Thermaltake TP1500M, Enermax Maxrevo EMR1500, LEPA G1600, Silverstone ST1500 or Corsair AX1500i power supplies.
One power supply company that we spoke to about this card, said that they have seen a Radeon R9 295X2 pull as much as 14A on a single wire on the PCIe power cable when checked with a clamp meter. They've also seen temperatures of the modular connector at the PSU housing being as high as 90C at full load. Some power supplies come with two 8-pin PCIe power connectors on a single cable and every power supply company that we spoke with said that you will want to run two individual 8-pin lines from the power supply. We asked AMD if the AMD Radeon R9 295X2 could potentially be a fire hazard and they calmed our concerns by saying:
"Nothing will catch fire. All of these PSUs have OCP protection, so theres no fire hazard in any case. As long as your PSU is rated to deliver 28A per rail, and have the proper wattage, youll be fine." – AMD PR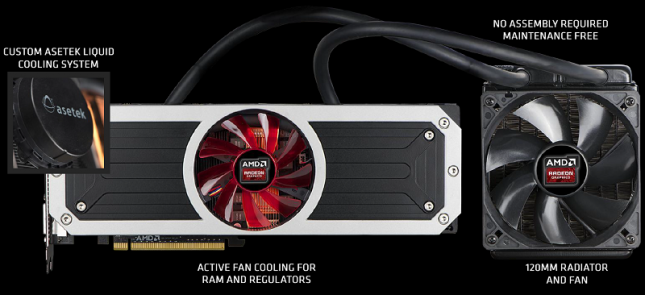 The AMD Radeon R9 295X2 is the first reference card on the market that comes with liquid cooling. The 295X2 uses a hybrid cooler that has a full cooler over the front of the card with a 120mm fan blowing over a small heatsink to help keep the board, memory and voltage regulators cool. The AMD Radeon R9 295X2 has a 5+1 power phase design per GPU, so there are a total of 12 power phases to keep cool on this card. Asetek designed the cold plate for the Radeon R9 295X2 and they went with a pair of 4th generation cold plates and pumps over each GPU to keep it nice and cool.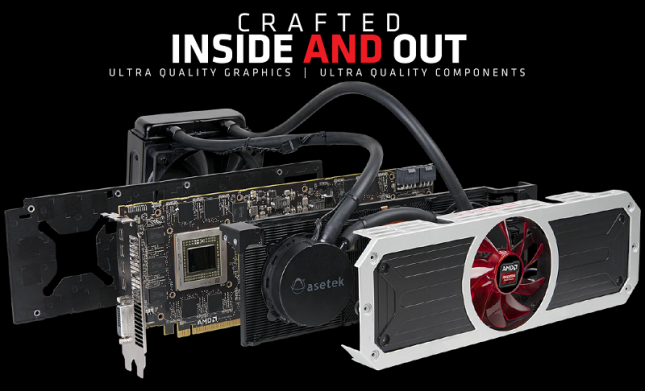 Here is an exploded diagram that shows the radiator, metal backplate, PCB, water block and then finally the fan shroud. AMD Catalyst Control Center no longer allows you to control the fan speed as the memory/regulator fan will automatically adjust based on the regulator voltage current.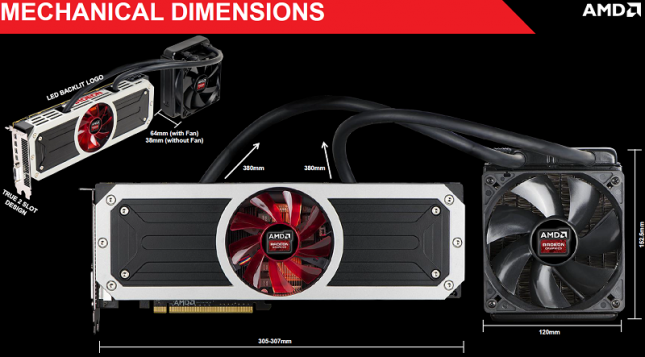 AMD provided us with a slide that showed the mechanical dimensions and this will be critical to those that are trying to shoe horn this card into a small form factor system where there isn't much space. For starters the card is 305-307mm in-length, which makes it over 12-inches long. Not all mini-ITX or microATX cases are able to support cards over a foot long, so be sure to make sure this will fit in your system! From there you have the 3/8″ water tubing that is 380mm long that connect the card to the 120mm radiator that is 120mm by 152.5mm by 38mm. AMD went with a single 25-26mm cooling fan on the radiator, so the overall thickness is ~64mm on the radiator. We have asked AMD for the model number of the fan that they are using on the radiator, so people can easily purchase a identical fan for a push/pull configuration.
Let's take a closer look at the AMD Radeon R9 295X2 reference card and then move along to the game benchmarks!