NVIDIA GeForce GTX 980 Ti Video Card Roundup ASUS, MSI and Zotac
By
Final Thoughts and Conclusions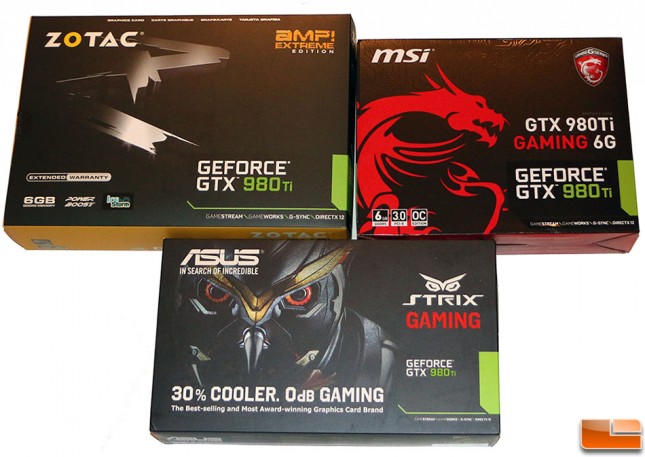 These three NVIDIA GeForce GTX 980 Ti 6GB video cards from ASUS, MSI and Zotac are all amazing graphics cards. We've been using them for some time and have found that they offer the best gaming experience possible for a single GPU card by any company. With the increasing popularity of 4K displays and ultra wide screen gaming monitors, like the Acer Predator X34, there is a growing demand for discrete graphics cards that can push all those extra pixels at acceptable frame rates. The GeForce GTX 980 Ti is most certainly an expensive add-on for your gaming PC, but for many it is needed for a smooth and enjoyable gaming experience.
Let's summarize each card again for you and tell you what card we'd get if we had to pick just one.
The Zotac GeForce GTX 980 Ti 6GB AMP! Extreme Edition is a beast when it comes to performance and the fact it is over 12-inches long and takes up of three PCI slots. This card is the best that Zotac has to offer and had the highest out-of-the-box clock frequencies of any of the GTX 980 Ti cards that we tested. The crazy clock speeds gave this card the ability to lead every single benchmark, but that speed means you need to sacrifice noise and power efficiency. If a little fan noise and power draw don't mean anything to you then this is one bad ass graphics card that is ready for any and all ultra high definition gaming. You'll also pay the most for this card, $699.99 shipped, so open that wallet wide and get a seat belt for your gaming chair if you plan on getting this bad boy.
At the bottom of the performance charts was the MSI GeForce GTX 980 Ti Gaming 6GB video card since it featured the lowest clock speeds of the bunch. This cards temperatures and noise levels were great, but the one thing we did notice is that it had the most choke whine of any of the cards. We test on the open bench, so while it likely won't be noticeable in an enclosure, it was certainly present especially when vsync was disabled and the card was running at high frame rates. Priced at just $623.00 shipped, this card is the lowest priced and it used the least power when gaming. This card might not have won the benchmarks, but the price is right and a little manual overclocking will get the performance up to the others.
The ASUS GeForce GTX 980 Ti 6GB STRIX Gaming OC was the middle performing card with the middle of the road price tag of $669.99 shipped. This card was very quiet and had no choke noise whatsoever, so it appears to be a very well constructed card. We know that some of the early models of this card did have choke whine, so we either got a cherry picked sample or the folks at ASUS figured out that issue. There isn't much else to say about this card as it worked as expected with no glaring issues and literally got stuck in the middle when it came to performance.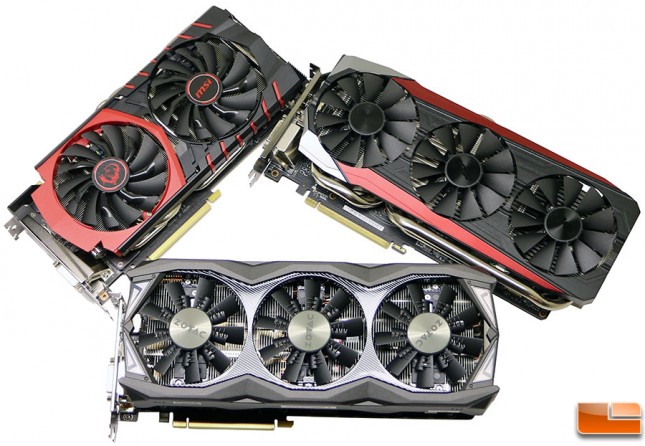 All three cards are good and in fact they would all go great in a gaming system. If we had to pick one it's still a tough choice. If money was tight we'd go with the MSI card in a heartbeat. If we wanted the best performance and didn't care about noise or the power bill the Zotac card is the pick. If you wanted the a solid card in every category, the good old Swiss army knife approach, we'd pick the ASUS card. So, at the end of the day the choice is yours. You really can't go wrong here, but we expect that since these are all high-end cards!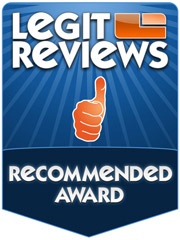 Legit Bottom Line: The NVIDIA GeForce GTX 980 Ti 6GB video cards from ASUS, MSI and Zotac are all amazing cards that are ready to power your Ultra HD gaming display!