NVIDIA GeForce GTX 980 Ti Video Card Roundup ASUS, MSI and Zotac
By
Test System
Before we look at the numbers, let's take a brief look at the test system that was used. All testing was done using a fresh install of Windows 10 Pro 64-bit and benchmarks were completed on the desktop with no other software programs running. There has been some concern of people testing a cold card versus a hot card, but we've always done out testing 'hot' since the site started back more than a decade ago.
Video Cards & Drivers used for testing:
AMD Crimson 15.12
NVIDIA GeForce 361.43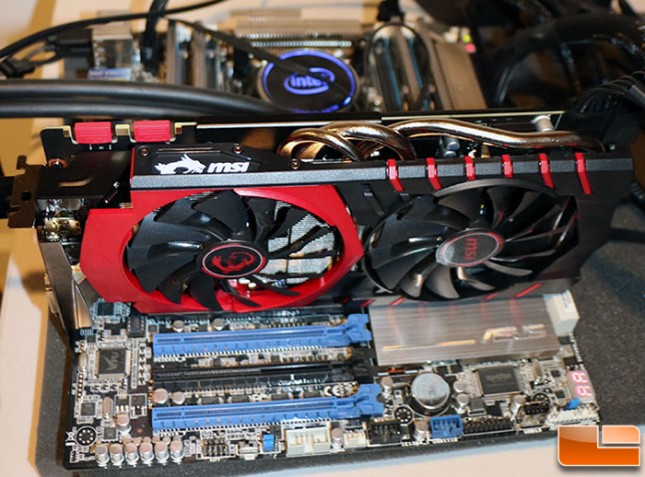 Intel X79/LGA2011 Platform
The Intel X79 platform that we used to test the all of the video cards was running the ASUS P9X79-E WS motherboard with BIOS 1704 that came out on 05/08/2015. We went with the Intel Core i7-4960X Ivy Bridge-E processor to power this platform as it is PCIe 3.0 certified, so all graphics cards are tested with PCI Express Gen 3 enabled. The Kingston HyperX 10th Anniversary 16GB 2400MHz quad channel memory kit was set to XMP Profile #2. This profile defaults to 2133MHz with 1.65v and 11-13-13-30 2T memory timings. The OCZ Vertex 460 240GB SSD was run with latest firmware available. A Corsair AX860i digital power supply provides clean power to the system and is also silent as the fan hardly ever spins up. This is critical to our testing as it lowers the ambient noise level of the room and gives us more accurate sound measurements.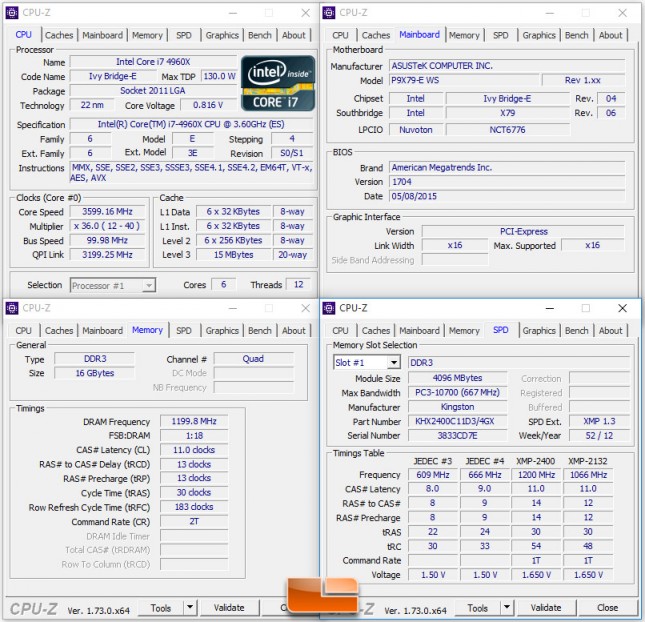 Here are the exact hardware components that we are using on our test system:
The Intel X79 Test Platform

Component

Brand/Model

Live Pricing

Processor
Intel Core i7-4960X
Motherboard

ASUS P9X79-E WS

Memory

16GB Kingston 2133MHz

Video Card
Various
Solid-State Drive
OCZ Vertex 460 240GB
Cooling
Intel TS13X (Asetek)
Power Supply
Corsair AX860i
Operating System
Windows 10 64-bit
Monitor
Sharp PN-K321 32″ 4K
ASUS GeForce GTX 980 Ti STRIX Gaming 6GB Video Card GPU-Z Info: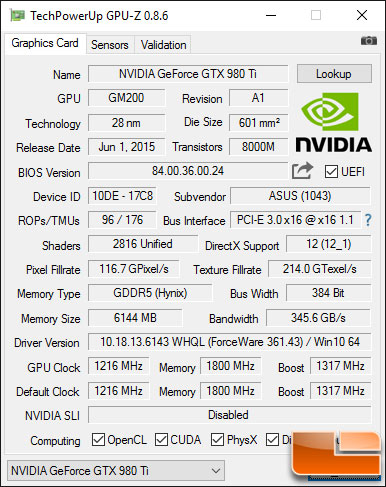 MSI GeForce GTX 980Ti Gaming 6GB Video Card GPU-Z Info: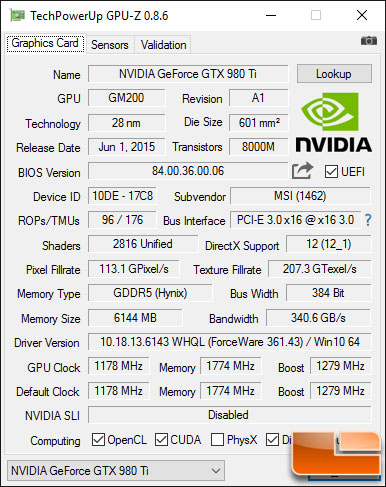 Zotac GeForce GTX 980 Ti AMP! Extreme Edition GPU-Z Info: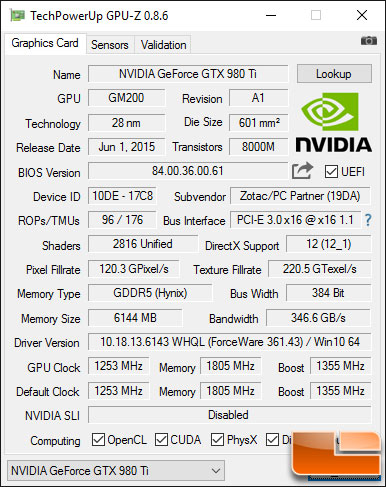 GPU
base
clock
(MHz)
GPU
boost
clock
(MHz)
Memory
speed
(MHz)
Idle
GPU
Voltage
Load
GPU
Voltage
Gaming
GPU
clock
(MHz)
ASUS GeForce GTX 980 Ti STRIX OC 6GB
1216
1317
7200
0.861
1.193
1379.5 (+63)
MSI GeForce GTX 980 Ti Gaming 6GB
1178
1279
7096
0.881
1.199
1354.2 (+75)
Zotac GeForce GTX 980 Ti AMP! 6GB
1253
1355
7220
0.868
1.193
1442.8 (+88)
Before we get into the test results here are the clock speeds of each card and finally their observed voltages and peak core clock that were shown in GPU-Z 0.8.6 while we were running the benchmarks. The cards boost clock is not the maximum clock speed that the card will run at and thanks to NVIDIA's GPU Boost 2.0 algorithm you'll see cards able to go well beyond the rated clock speeds if the parameters are right. This is where a better GPU cooler might come into play as it should allow for higher boost clock speeds. All of the peak clocks we recorded when gaming were 63MHz to 88MHz faster than the cards advertised GPU Boost clocks. Keep this in mind when looking at the performance charts on the following pages.
Let's move on to the Battlefield 4 benchmark results!