ACER Predator X34 3440×1440 Curved G-Sync Gaming Display Review
By
ACER Predator X34 Curved Gaming Monitor
If you are looking for a curved monitor with NVIDIA G-Sync support the Acer Predator X34 might be exactly what you are looking for. This monster 34-inch curved display sports an IPS panel with a 3440×1440 screen resolution for a 21:9 aspect ratio. The monitors default 60Hz refresh rate might not be anything to get excited about, but Acer is letting users overclock the panel up to 100Hz if the DispalyPort video input is used to help cut down on motion blur. The Predator X34 also has a fast 4ms gray-to-gray pixel response time, a brightness of 300nits, 100% sRGB color gamut capability and LED accent lighting. Those features allow the Acer Predator X34 to command $1299 plus $6.99 for shipping from Newegg. The Predator X34 is without a doubt an expensive monitor, but it has the specs to justify the high price tag.
If you don't need NVIDIA G-Sync and wanted basically the same panel with AMD FreeSync technology for nearly $500 less, you could look into the Acer XR341CK that retails for $819.59 shipped and tops out at 75Hz instead of 100Hz. The review today is all about the Predator X34 with NVIDIA G-Sync technology though and this just happens to be the first curved G-Sync display to be released in the United States.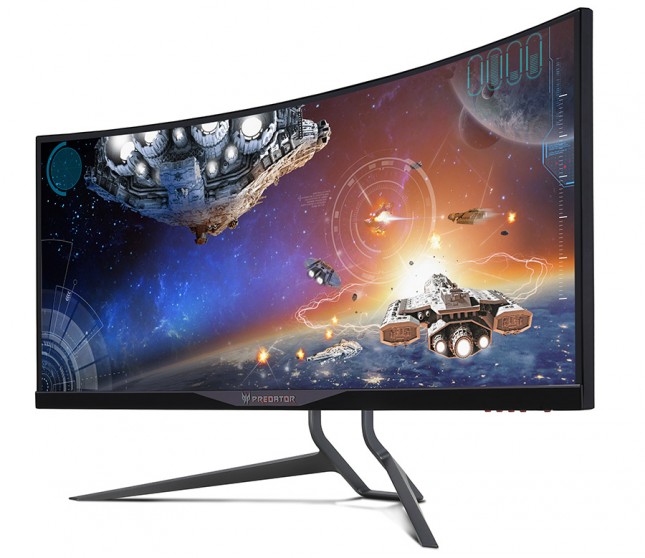 The Acer Predator X34 has been out for a few months now and it still selling for close to its $1299 MSRP as it is one of the most sought after gaming monitors for some time. The monitor looks great with a very thin bezel around the panel. The monitor itself measures in at 32.2″ in width, 14.8″ in height and it has a depth of about 4″, so this is a fairly large monitor. The subtle curve of the panel itself is said to have a curvature radius of 3,800R, which means that if complete a circle with multiple displays that the circle the monitors create will have a radius of 3,800-millimeters.
Acer Predator X34 Key Features
Resolution: 3440 x 1440 (UQHD)
Panel type: Curved AH-IPS, light anti-glare
Color: 100% sRGB (72% NTSC), 10-bit color (8-bit + FRC dithering) support
Max Refresh Rate: 60Hz to 100Hz (overclocked)
G-Sync: Yes
FreeSync: No
Adaptive-Sync: No
Inputs: 1 x DisplayPort 1.2, 1 x HDMI 1.4, 4 x USB 3.0
Outputs: 1 x DisplayPort, 1 x USB 3.0
VESA Wall Mounting: Yes – 100x100mm
Physical Dimensions: 32.5″ x 18″-23″ x 12.2″ (with stand)
Weight: 22lbs (with stand)
Audio: 2 x 7 watt speakers with DTS
Power Consumption: 54W Max On and 0.4W Off
Power Supply: External Adapter
Warranty: 3-years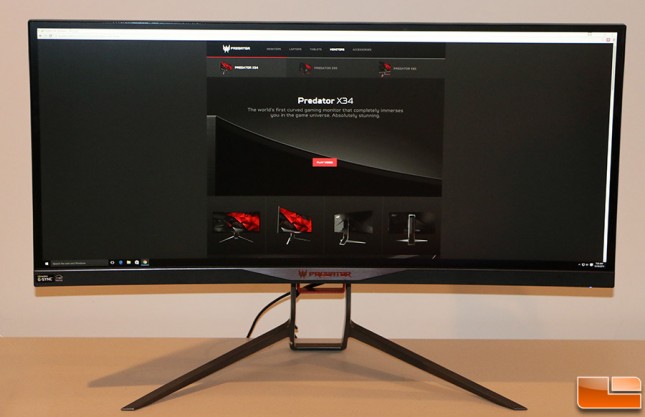 The Acer Predator X34 weighs in at 22 pounds, so it comes with a beefy aluminum v-shaped stand. It's hard to see the curve in the image above that is taken straight on, but its certainly there and you can notice it when you are sitting dead center! There are a pair of tiny stereo speakers with DTS sound tucked into the lower edge of the panel. The speakers are rated at 7 Watts each for a total of 14 Watts. They sound decent and do a pretty good job filling a small room, but you'll still want to game with your gaming headset.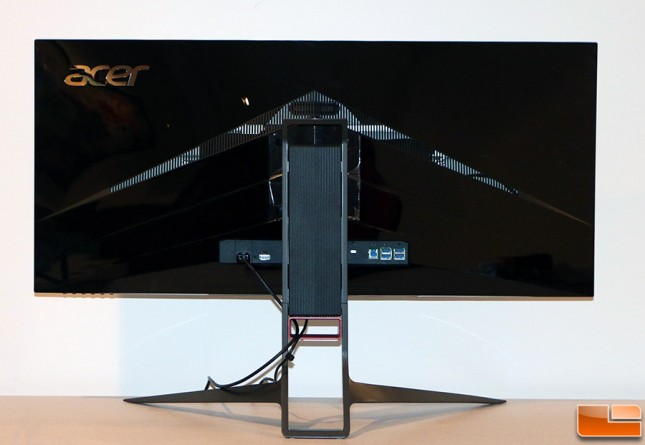 The back of the display is covered in high gloss black plastic and the only place you'll see the Acer logo is on back there. We would have preferred a matte finish, but that really just comes down to personal taste.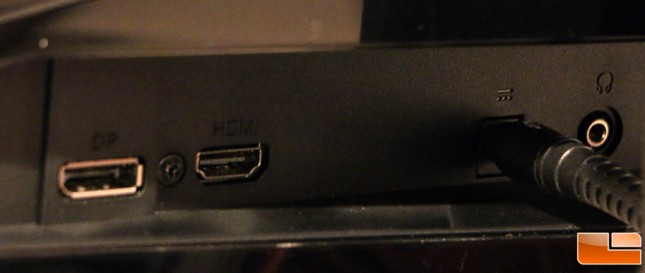 When it comes to video inputs you get a grand total of two to pick from; DisplayPort 1.2 or HDMI 1.4. Gamers should be using the DisplayPort input as that allows for up to a 100Hz refresh rate whereas the best you can ever get on the HDMI 1.4 port is 60Hz. To the right of the video inputs you have the external power port and 3.5mm headphone jack. The 3.5mm headphone jack is located right in the middle of the panel being the stand, so it isn't the easiest of places to get to.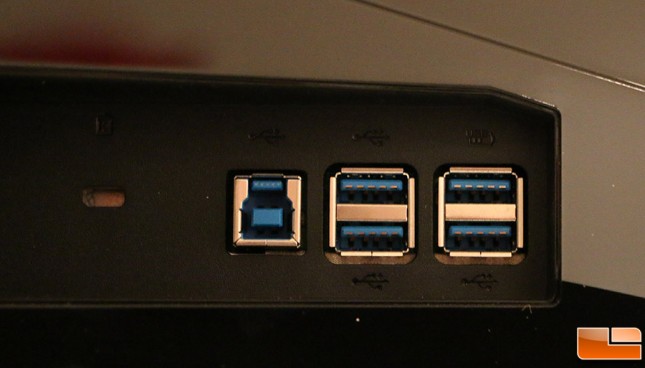 On the other side you'll find the five-port USB 3.0 hub (4 downstream, 1 upstream) and the kensington lock.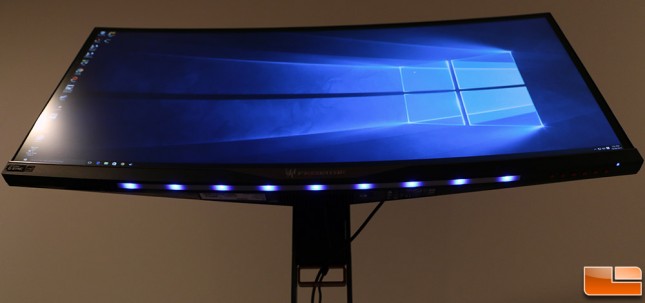 On the bottom of the curved display you'll find nine LED lights that make up the ACER Predator X34's underglow lighting system. You can customize the colors of the LED light with the monitor OSD and the underglow helps illuminate your keyboard, which is nice for those that don't have a back-lit gaming keyboard. If you hate the idea of LED lights you can turn them off completely.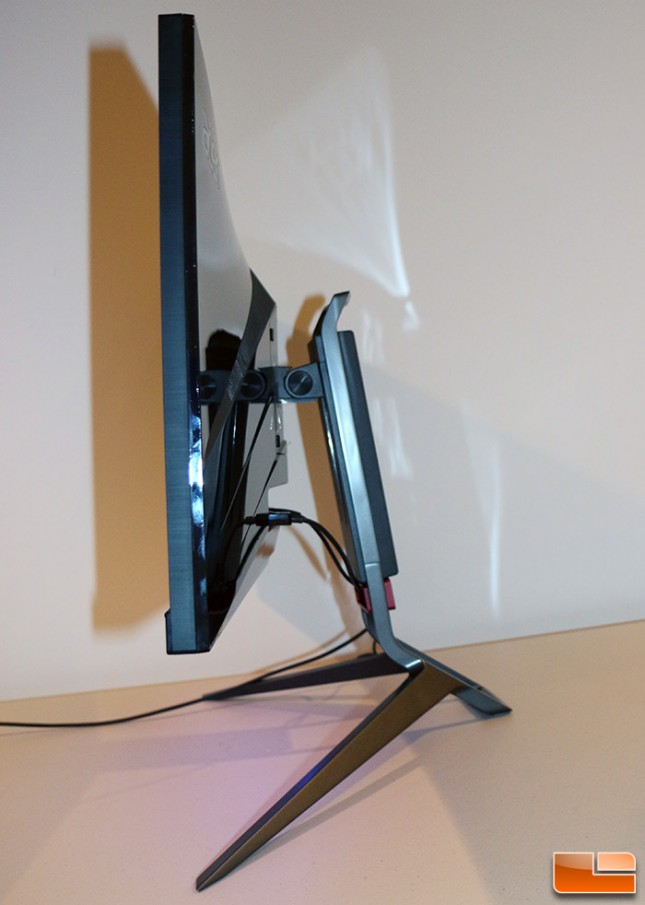 The Acer Predator X34 has an adjustable stand that provides ergonomic tilt from 5 to +35 degrees and height adjustments of up to 5 inches. The monitor stand on the X34 doesn't swivel and the fixed stand is rather large with the front of the monitor being 10-inches away from the wall when the stand leg is touching the wall. This is one of the largest stands that we have ever used, so be prepared to give up desk space! A VESA wall mount option is available for those that are looking to maximize their valuable desk space. It's also worth noting that the top of the stand has a handle built-in to help you lug the beast around if you need to move it.