NVIDIA GeForce GTX 980 Ti Video Card Roundup ASUS, MSI and Zotac
By
NVIDIA GeForce GTX 980 Ti Video Card Roundup
It's hard to believe that the NVIDIA GeForce GTX 980 Ti 6GB video card came out ago six months to the week, however, the card is still dominating on the performance front and more time than not it outperforms AMDs flagship Radeon R9 Fury X 4GB video card. Over the past six months both AMD and NVIDIA have released a ton of drivers and a handful of great gaming titles came out during the holiday season. We thought it would be a great idea to start off the new year by looking at several GeForce GTX 980 Ti video cards in a small roundup with the latest drivers. We also wanted to include benchmark numbers on hot new game titles like Fallout 4 and Star Wars: Battlefront.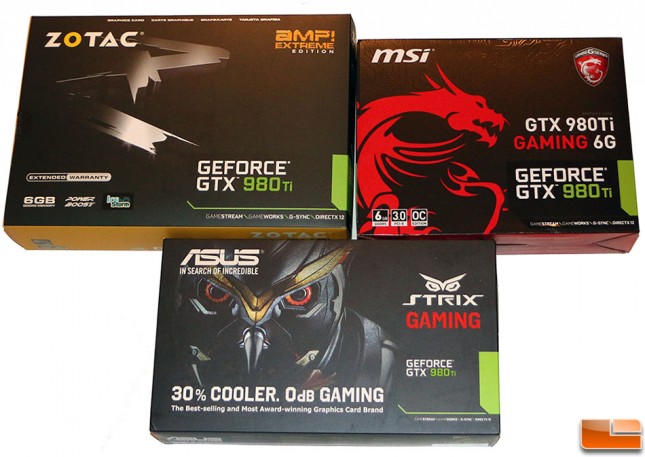 Pretty much any NVIDIA GeForce GTX 980 Ti video card on the market today is going to be custom designed by the add-in board partners, so if you are looking for a high-end card like the GTX 980 Ti you'll be getting all the bells and whistles that one would expect from flagship cards. The bad news is that all of the cards are drastically different with respect to the board design, GPU cooler and most certainly the clock speeds.
The three GeForce GTX 980 Ti 6GB video cards that we are going to be looking at today are the ASUS GeForce GTX 980 Ti 6GB STRIX Gaming, MSI GeForce GTX 980 Ti 6GB Gaming OC, and the Zotac GeForce GTX 980 Ti 6GB Amp! Extreme Edition.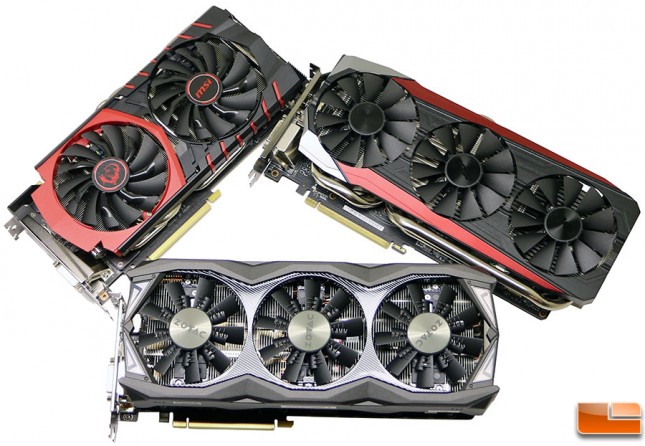 Each one of these cards are impressive in their own right as we'd expect nothing less when spending up to $700 for desktop gaming graphics card. We made a quick table (below) to show you some of the key differences between the cards on a high level.
| | | | |
| --- | --- | --- | --- |
| | ASUS GTX 980 Ti STRIX | MSI GTX 980 Ti Gaming 6G | ZOTAC GTX 980Ti AMP! |
| Model Number | STRIX-GTX980Ti-DC3OC-6GD5 | GTX 980TI GAMING 6G | ZT-90505-10P |
| CUDA Cores | 2816 | 2816 | 2816 |
| GPU boost clock | 1317MHz | 1279MHz | 1355MHz |
| GPU base clock | 1216MHz | 1178MHz | 1253MHz |
| Texture Units | 176 | 176 | 176 |
| Texture Fillrate | 214.0 GTexel/s | 207.3 GTexel/s | 220.5 GTexel/s |
| Memory | 6GB | 6GB | 6GB |
| Memory clock | 1800MHz (7200MHz) | 1774MHz (7096MHz) | 1855MHz (7220MHz) |
| Memory interface | 384-bit | 384-bit | 384-bit |
| Memory Bandwidth | 345.6 GB/s | 340.6 GB/s | 346.6 GB/s |
| PWM Phase | 12+2 | 8+2 | 8+3 |
| 0dB Fanless Idle | Yes | Yes | Yes |
| Length | 304.8mm | 269.0mm | 328.2mm |
| Street Price | $669.99 | $623.00 | $699.99 |
As you can see the clock speeds are fairly close, but the Zotac GeForce GTX 980 Ti AMP! Extreme Edition has the highest clock speeds of the group. The price on the cards also just happen to go along with the clock speeds, so the least expensive card (MSI's GTX 980Ti Gaming 6G) has the lowest clock speeds. This makes practical sense, but often on custom high-end cards that isn't the case. No rebates are available for any of these models right now.
The NVIDIA GeForce GTX 980 Ti reference card is clocked at 1000MHz base, 1076MHz boost and 7000MHz effective on the memory. These three GTX 980 Ti cards are overclocked up to an additional 25% on the base clock for some serious gaming performance for those that are looking to game at 1440P, 4K UHD or widescreen monitor resolutions. These cards are without a doubt overkill for a 1080P display! You can rest assured that all three companies are screening the NVIDIA GM200-310 Maxwell GPUs and only the best are making it to these models.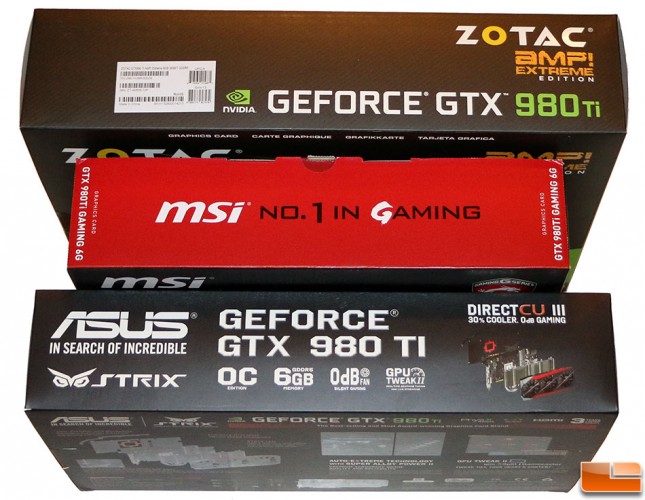 Let's take a closer look at each of the cards and then move along to the benchmarks!