NVIDIA GeForce GTX 980 Ti Video Card Roundup ASUS, MSI and Zotac
By
Closer Look – Zotac GTX 980Ti AMP! 6GB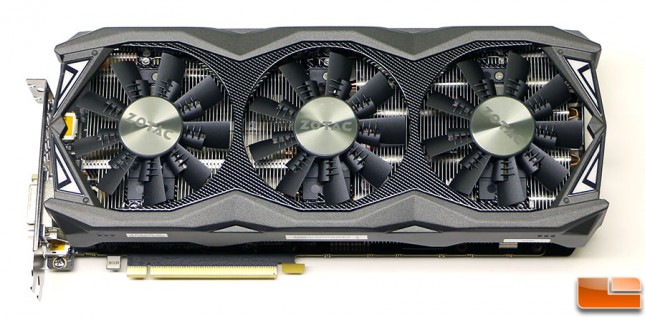 The last card in our 3-way GTX 980 Ti roundup is the ZOTAC GeForce GTX 980 Ti AMP! Extreme Edition 6GB model that is sold under part number ZT-90505-10P. This card comes clocked at 1253 MHz base with a 1355 MHz boost clock on the 2816 CUDA cores and the 6GB of GDDR5 memory is clocked at 7220 MHz effectively. This is the fastest of the three GeForce GTX 980 Ti cards that we are looking at in this roundup and it is most certainly the fastest GeForce GTX 980 Ti offered by Zotac. This card is also the largest of the group as it measures 12.25-inches in length! Zotac says this card is 12.92″ long, but they must be going off the PCI bracket and we start our measurement from the back as it's the length inside the PC case that really matters.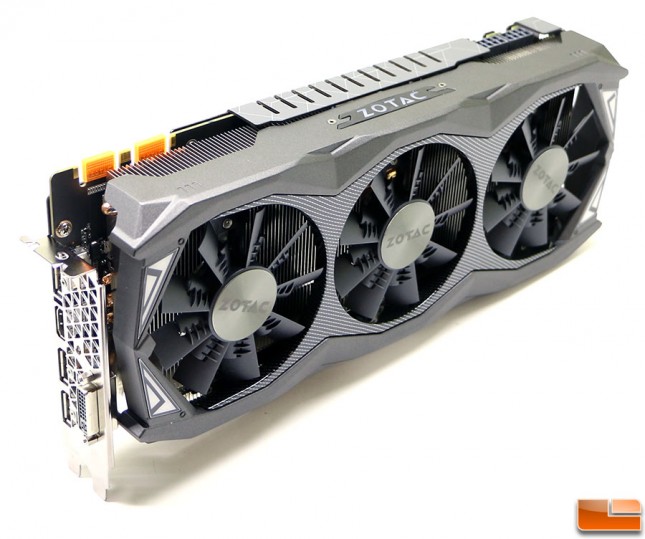 The GTX 980 Ti AMP! Extreme Edition has a nice look look to it and features a triple 90mm IceStorm GPU cooler with dual copper heat pipes and dual blade EKO fans. This card also has what Zotac calls a Carbon ExoArmor system. This means that the back plate that comes on the card wraps around the top, which is a bit unusual and adds to the visual appeal.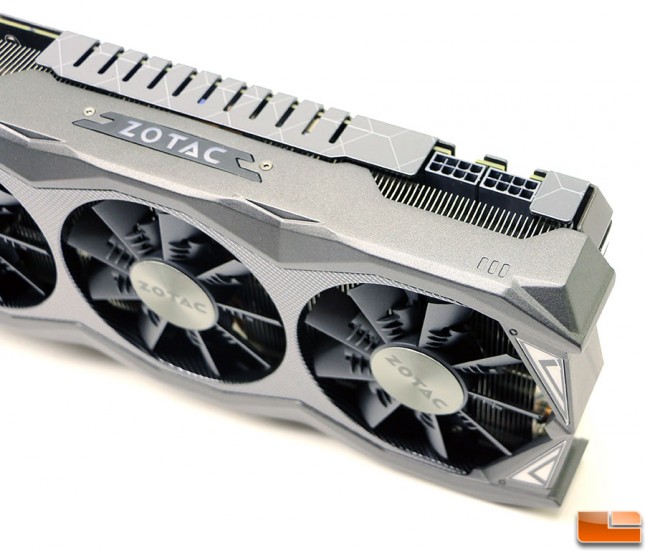 Along the top edge of the GTX 980 TI AMP! Extreme Edition there are two NVIDIA SLI multi-GPU interconnects and two rear-facing 8-pin PCIe power connectors.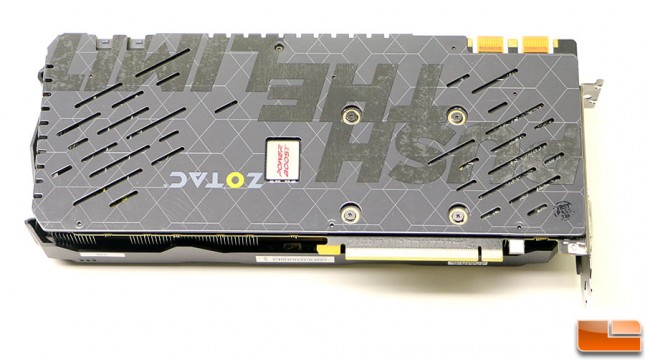 The ZOTAC GeForce GTX 980 Ti AMP! comes with a full coverage black back plate, but it sticks out far enough to hit the memory slots on our test system motherboard causing it to not work in the primary PCIe Gen 3.0 x16 slot. We had to use the secondary PCIe Gen 3.0 x16 slot for testing on our ASUS P9X79 WS motherboard, which isn't a big deal for us, but might be on some system builds out there. In the middle of the card you can see the POWER BOOST module that is said to reduce ripple noise and minimizes power fluctuation resulting in smother power for higher clock speeds. The back plate also says 'Push The Limit' on it for some added flare.

The back plate on the GeForce GTX 980 Ti AMP! Extreme Edition card uses a gigantic heat sink and the VRMs also have heatsinks on them.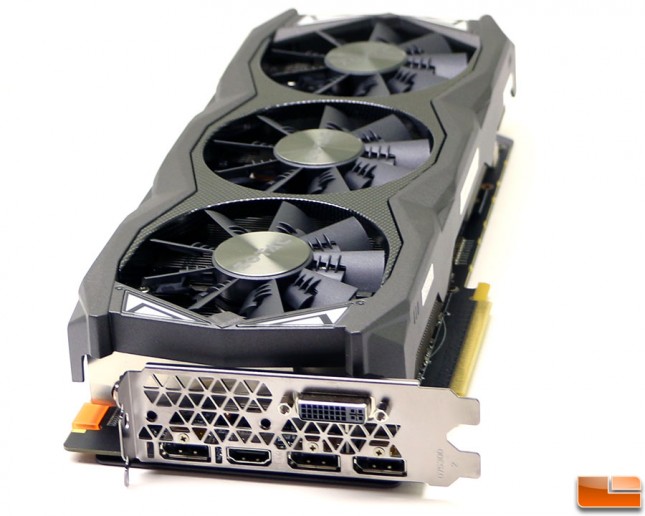 ZOTAC placed three DisplayPort 1.2 headers, one HDMI 2.0 port and a single Dual-Link DVI header on the rear panel of the card when it comes to video outputs. This card is thicker than two slots, so be prepared to give up three slots for this beast!