GIGABYTE Z97X-SOC Force Motherboard Review
By
GIGABYTE Z97X-SOC Force Intel Z97 Motherboard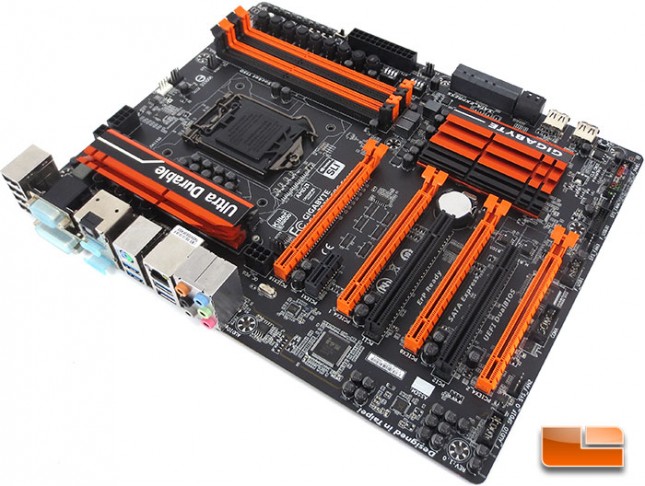 A few years back GIGABYTE unveiled the X58A-OC, this was the first board in the 'OC' series of motherboards. The X58A-OC was a very stripped down board that had only the bare essentials to it. Since the X58A-OC GIGABYTE has been including the mainstream features that will allow the OC motherboards to fit into a system for day to day usage. Today we have the latest iteration of the OC series, the GIGABYTE Z97X-SOC Force. The GIGABYTE Z97X-SOC Force is based on the latest and greatest Intel Z97 chipset with all the bells and whistles that come with it. The previous iteration, the GIGABYTE Z87X-OC Force came out of the gate with a street price of ~410, the Z97X-SOC Force is coming out at nearly half that cost and can be found for as little as $209.99! That's a pretty significant price drop between the two generations.
The GIGABYTE Z97X-SOC Force is obviously part of the GIGABYTE 9 Series overclocking motherboards, and is the follow up to the Z87X-OC Force that Legit Reviews looked at here. This iteration has gotten back to the roots a little closer and is a little more stripped down than the Z87 version was. No more dual LAN, instead there is a Qualcomm Atheros Killer E2200 gaming network controller. GIGABYTE did away with the integrated water cooling on the Z97X-SOC Force, and overall seems to be a cleaner board for overclocking.

The Z97X-SOC Force may be more stripped down that its predecessor, GIGABYTE certainly didn't skimp out on the overclocking features. One of the most prominent features of the overclocking series of GIGABYTE motherboards is the OC Touch panel above. Each generation it becomes a little more refined, and a little more polished up. From the GIGABYTE OC panel there is very little you can't do while overclocking, sure there are some settings that you'll need to head into the UEFI BIOS to change, but the OC Panel is great for dialing in the Overclock and squeezing out every last MHz that you can.

One of the many features of the OC Touch on the GIGABYTE Z97X-SOC Force is the OC Ignition. The OC Ignition continues to provide power to the fans, even when the system is shut down. There are a handful of situations that this is certainly handy in, if you're in a cold bug situation that you need to continue the air flow over the board, if you're testing a water cooling loop there will be no need to jump pins on the power supply to turn it on and i-ram users will not lose their data that's installed.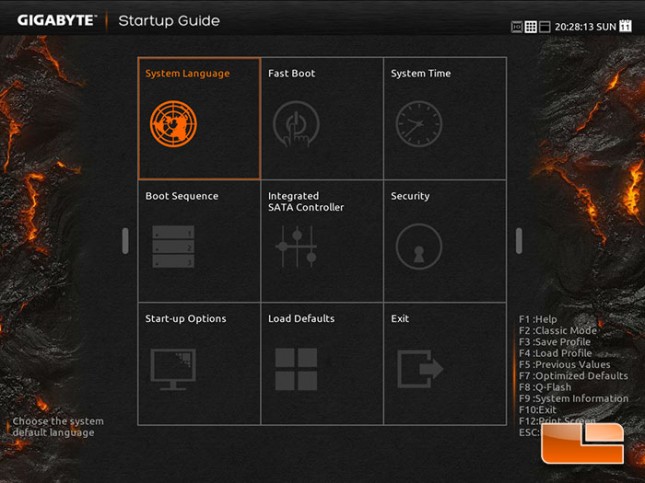 GIGABYTE made a few changes in the UEFI BIOS with the Intel 9 Series, they dropped the 3D layout of the board. When you first boot up into the BIOS you arrive at the Dashboard Mode. In the Dashboard Mode you can make changes to the a handful of various system settings, though for any overclocking you will need to head into the Smart Tweak mode or the Classic UEFI BIOS pages.
It's kinda nice that you can choose which of the UEFI BIOS layouts that you can work in. I opted to use the Smart Tweak pages, but either will work to change all of the settings of the GIGABYTE Z97X-SOC Force.
GIGABYTE Z97X-SOC Force Features & Specifications
CPU

Support for Intel Core i7 processors/Intel Core i5 processors/ Intel Core i3 processors/Intel Pentium processors/Intel Celeron
processors in the LGA1150 package
L3 cache varies with CPU

Chipset

Intel Z97 Express Chipset

Memory

4 x DDR3 DIMM sockets supporting up to 32 GB of system memory
Dual channel memory architecture
Support for DDR3 3300(O.C.) / 3200(O.C.) / 3100(O.C.) / 3000(O.C.) / 2933(O.C.) / 2800(O.C.) / 2666(O.C.) / 2600(O.C.) /
2500(O.C.) / 2400(O.C.) / 2200(O.C.) / 2133(O.C.) / 2000(O.C.) / 1866(O.C.) / 1800(O.C.) / 1600 / 1333 MHz memory modules
Support for non-ECC memory modules
Support for Extreme Memory Profile (XMP) memory modules

Onboard Graphics

Integrated Graphics Processor:

Audio

Realtek ALC1150 codec High Definition Audio 2/4/5.1/7.1-channel
Support for S/PDIF Out

LAN

Qualcomm Atheros Killer E2201 chip (10/100/1000 Mbit)

Expansion Slots

1 x PCI Express x16 slot, running at x16 (PCIEX16)
1 x PCI Express x16 slot, running at x8 (PCIEX8)
2 x PCI Express x16 slots, running at x4 (PCIEX4_1, PCIEX4_2)
1 x PCI Express x1 slot
2 x PCI slots

Multi-Graphics Technology

Support for 4-Way/3-Way/2-Way AMD CrossFire/2-Way NVIDIA SLI technology

Storage Interface

Chipset:

1 x SATA Express connector
6 x SATA 6Gb/s connectors
Support for RAID 0, RAID 1, RAID 5, and RAID 10

USB

Chipset:

6 x USB 3.0/2.0 ports (4 ports on the back panel, 2 ports available through the internal USB header)
8 x USB 2.0/1.1 ports (4 ports on the back panel, 2 ports onboard, 2 ports available through the internal USB header)

Internal I/O Connectors

1 x 24-pin ATX main power connector
1 x 8-pin ATX 12V power connector
1 x 4-pin ATX 12V power connector
1 x OC PEG power connector
1 x SATA Express connector
6 x SATA 6Gb/s connectors
1 x CPU fan header
1 x water cooling fan header (CPU_OPT)
6 x system fan headers
1 x front panel header
1 x front panel audio header
1 x S/PDIF Out header
1 x USB 3.0/2.0 header
1 x USB 2.0/1.1 header
2 x USB 2.0/1.1 ports
1 x serial port header
1 x Clear CMOS jumper
1 x power button
1 x reset button
1 x Clear CMOS button
1 x Gear button
1 x OC Turbo button
1 x OC Tag button
1 x OC Trigger switch
1 x CPU BCLK Down button
1 x CPU BCLK Up button
1 x CPU Ratio Down button
1 x CPU Ratio Up button
1 x Memory Safe button
1 x Settings Lock button
1 x Direct to BIOS button
1 x OC DIMM switch
1 x OC PCIe switch
1 x OC Ignition button
1 x Clear Battery button
2 x BIOS switches
1 x onboard voltage measurement module

Back Panel Connectors

4 x USB 2.0/1.1 ports
4 x USB 3.0/2.0 ports
1 x optical S/PDIF Out connector
1 x D-Sub port
1 x DVI-D port
1 x HDMI port
1 x DisplayPort
1 x PS/2 keyboard/mouse port
1 x RJ-45 port
6 x audio jacks (Center/Subwoofer Speaker Out, Rear Speaker Out, Side Speaker Out, Line In, Line Out, Mic In)

I/O Controller
H/W Monitoring

System voltage detection
CPU/System/Chipset temperature detection
CPU/CPU OPT/System fan speed detection
CPU/System overheating warning
CPU/CPU OPT/System fan fail warning
CPU/CPU OPT/System fan speed control

BIOS

2 x 128 Mbit flash
Use of licensed AMI UEFI BIOS
Support for DualBIOS
PnP 1.0a, DMI 2.7, WfM 2.0, SM BIOS 2.7, ACPI 5.0

Unique Features

Support for APP Center

@BIOS
EasyTune
EZ Setup
Fast Boot
ON/OFF Charge
Smart TimeLock
Smart Recovery 2
System Information Viewer
USB Blocker
Support for Q-Flash
Support for Smart Switch
Support for Xpress Install

Bundle Software

Norton Internet Security (OEM version)
Intel Rapid Start Technology
Intel Smart Connect Technology
Intel Smart Response Technology

Operating System

Support for Windows 8.1/8/7

Form Factor

ATX Form Factor; 30.5cm x 24.4cm
Now that you've had a chance to look over the features and specification of the GIGABYTE Z97X-OC Force Intel Z97 motherboard, let's move on to the next page and take a look at the retail packaging and included bundle.