GIGABYTE Z97X-SOC Force Motherboard Review
By
Intel Z97 SATA III 6Gbps Performance Testing
CrystalDiskMark is a small benchmark utility for drives and enables rapid measurement of sequential and random read/write speeds. Note that CDM only supports Native Command Queuing (NCQ) with a queue depth of 32 (as noted) for the last listed benchmark score. This can skew some results in favor of controllers that also do not support NCQ.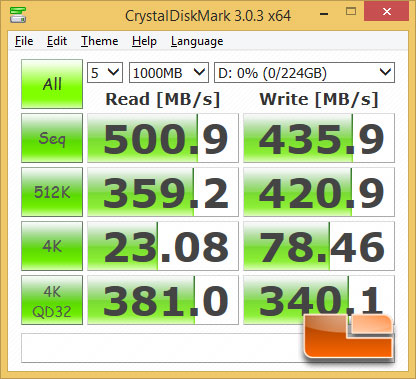 The SATA III 6Gbps performance testing was completed using a Corsair Force GT 240Gb SATA III 6Gbps SSD.

Benchmark Results: The GIGABYTE Z97X-SOC Force had a solid performance in CrystalDiskMark with a performance of 500.9MB/s sequential read and 435.9MB/s sequential write.
Update: Looking at the results of all of the storage testing, something seemed off. The graph in HD Tune showed a sudden drop in performance, and that required a little research as to why that was happening, it almost looked like the system was throttling down. Turns out that's almost exactly what was happening. When Windows 8.1 is installed, the system is running in balanced mode by default. Just running the Storage tests, the system would go into an idle state and we would lose performance. Switching the Windows 8.1 power option to High Performance, we saw a pretty solid gain between balanced and high performance. The Sequential read was 500.9MB/s on balanced and increased to 525.5MB/s under the high performance power setting. The Sequential Write didn't increase quite as much, but it did hop up to 440.3MB/s from 435.9MB/s.
HD Tune Pro 5.50 is an extended version of HD Tune which includes many new features such as write benchmark, secure erasing, AAM setting, folder usage view, disk monitor, command line parameters and file benchmark.
Intel Z97 HD Tune Pro 5.50 Write Benchmark Results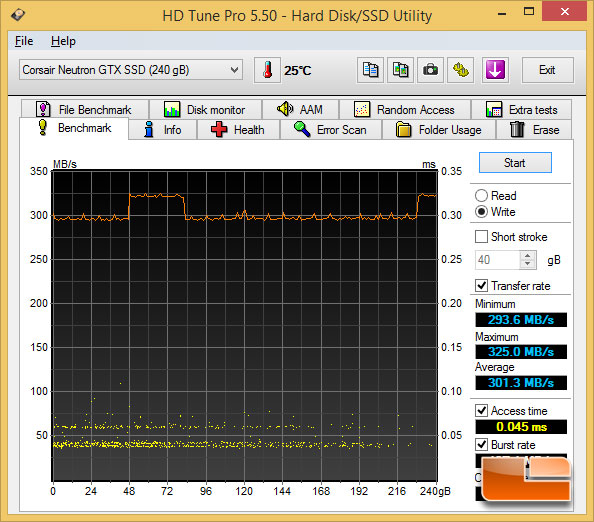 Intel Z97 HD Tune Pro 5.50 Read Benchmark Results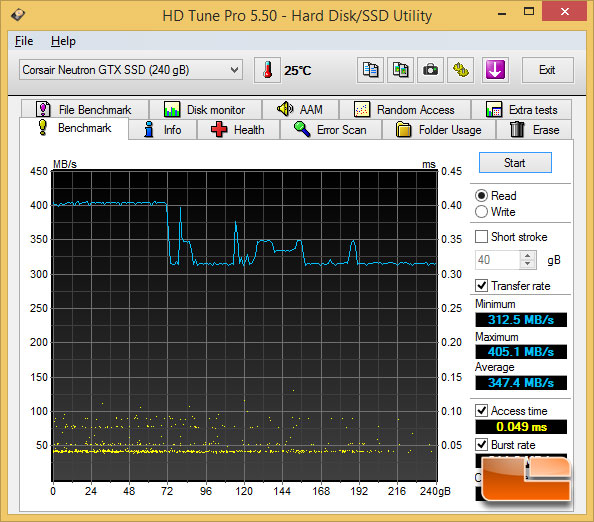 Benchmark Results: In HD Tune 5.5 the GIGABYTE Z97X-SOC Force didn't fare as well in HD Tune 5.50. The average read was only 347.4MB/s and the average write was 301.3MB/s. The ASUS Z97-Pro [Wi-Fi ac] was over 90MB/s faster read and 27MB/s faster on the write performance.

Update: Switching over to the High Performance power option, we saw the largest gains in HD Tune. The GIGABYTE Z97X-SOC Force increased from 347.4MB/s to 403.7MB/s! That's a gain of 56MB/s on the average read performance. The average write increased by 21MB/s as well!