ASUS, BIOSTAR, GIGABYTE, and MSI Intel Z77 Motherboard Round Up
By
Futuremark 3DMark 11 DirectX 11 Gaming Benchmark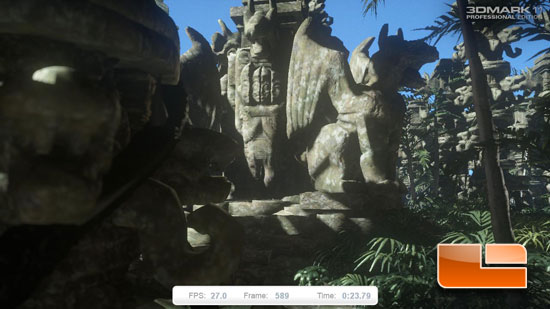 3DMark 11 is the latest version of the worlds most popular benchmark for measuring the 3D graphics performance of gaming PCs. 3DMark 11 uses a native DirectX 11 engine designed to make extensive use of all the new features in DirectX 11, including tessellation, compute shaders and multi-threading.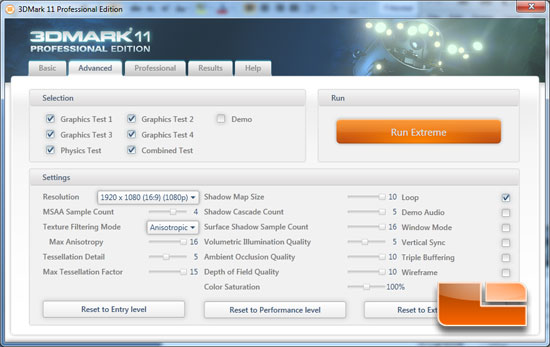 Since Futuremark is releasing 3DMark11 today we decided to run the benchmark at both performance and extreme presets to see how our hardware will run.
GIGABYTE GA-Z77X-UD5H WiFi & GA-Z77X-UD3H 'Ivy Bridge' Motherboard 3DMark11 Extreme Preset Benchmark Results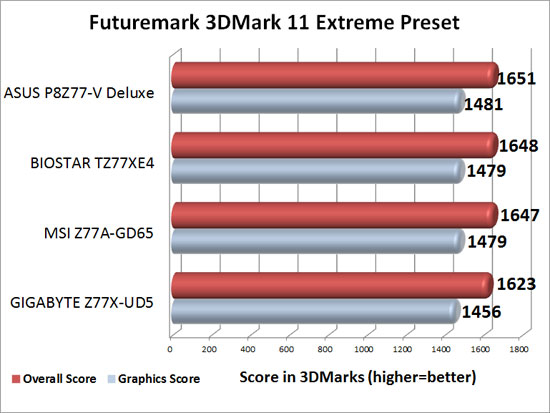 GIGABYTE GA-Z77X-UD5H WiFi & GA-Z77X-UD3H 'Ivy Bridge' Motherboard 3DMark11 Performance Preset Benchmark Results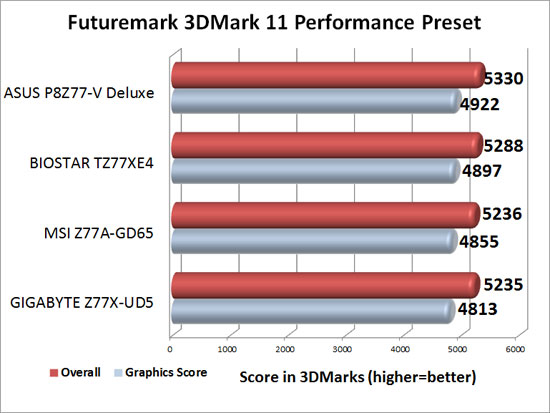 Benchmark results: Taking a look at the 3DMark 11 Futuremark 3DMark 11 Extreme preset there is very little performance difference between the boards. The ASUS P8Z77-V Deluxe took the top spot with 1651 3DMarks, while the GIGABYTE Z77X-UD5H had the slowest performance with 1623 3DMarks. Rounding out the middle of the chart the BIOSTAR TZ77XE4 took the second spot with 1648 3DMarks followed by the MSI Z77A-GD65 with 1647 3DMarks. All in all there are only 28 3DMarks separating all of the boards which is a margin of only 1.7%. Firing up the performance preset in Futuremark 3DMark 11 there is only 105 3DMarks separating all of the Intel Z77 motherboards with the Intel Core i7 3770K. The top spot remains controlled by the ASUS P8Z77-V Deluxe with 5330 3DMarks while the BIOSTAR TZ77XE4 was 42 3DMarks behind with 5288 3DMarks. The remaining two spots were filled out by MSI Z77A-GD65 with 5236 3DMarks and 5235 3DMarks by the GIGABYTE Z77X-UD5H.