AMD Ryzen 7 1800X, 1700X and 1700 Processor Review
By
AMD Ryzen – Ready To Put The Pressure On Intel
Today marks AMD's grand re-entry to the high-end processor market after abandoning it years ago when they found that they were no longer competitive in that market. AMD exiting the high performance desktop computing market was a shock to many and it left Intel Corporation with no competition. With Intel left all alone in the desktop processor market it has allowed them to dominate the ever growing PC market. While the PC industry in general has been slowing down year after year, the PC gaming industry is booming and topped $30 billion in 2016. Desktop computers are mainly used for gaming and content creation these days and by not offering a high-end processor it let Intel rule the roost for over half a decade. Without competition the prices on Intel's flagship processors have gone up and generational IPC gains are usually no more than 10% annually. Gamers have been dreaming about the day that AMD would return the market as they hoped it would lower prices and rejuvenate the chip designers and maybe force them to do better than the 5-10% IPC improvements that we've all become so accustomed to.

While AMD turned tail and left the market they went back to the drawing board and came up with a new 'clean-sheet' x86 microarchitecture design called 'Zen' that they feel will be able to power flexible, high-performance platforms that are used for content creation during the work day and then hardcore gaming in the off hours. One of the other key design goals with Zen was to create an architecture that they could build on for the future. AMD Zen will be around for some time and Zen 2 and Zen 3 are already on the roadmap.

AMD Ryzen processors will be released in three series; Ryzen 7, Ryzen 5 and Ryzen 3. The AMD Ryzen 7 1800X, Ryzen 7 1700X and Ryzen 1700 are being released today and are $300+ processors that each are 8-core, 16-thread parts.


For those that aren't looking to spend over $300 on a processor, the AMD Ryzen 5 series is coming in Q2 2017. Ryzen R5 is aimed at the sub-$300 CPU market and feature either 4 or 6-core processor designs with SMT. Right now we've been told of the AMD Ryzen 5 1600X (6-cores and 12-threads at a 3.6GHz base/4.0GHz Boost clock) and the 1500X (4-core, 8-thread at a 3.5GHz base/3.7GHz boost). AMD sees the Ryzen 5 series being very disruptive at this price point as the Ryzen 5 1600X would be lined up across the Intel Core i5-7600K. AMD sees the Ryzen 5 series being the most popular of the three series due to the price point alone.
| | | | | | | | | |
| --- | --- | --- | --- | --- | --- | --- | --- | --- |
| PRODUCT LINE | MODEL | CORES | THREADS | BASE CLOCK (GHZ) | BOOST CLOCK (GHZ) | INCLUDED COOLER | TDP (WATTS) | ON SALE |
| RYZEN 7 | 1800X | 8 | 16 | 3.6 | 4.0 | N/A | 95 | Now |
| RYZEN 7 | 1700X | 8 | 16 | 3.4 | 3.8 | N/A | 95 | Now |
| RYZEN 7 | 1700 | 8 | 16 | 3.0 | 3.7 | Wraith Spire | 65 | Now |
| RYZEN 5 | 1600X | 6 | 12 | 3.6 | 4.0 | Wraith Spire | 95 | Q2 |
| RYZEN 5 | 1500X | 4 | 8 | 3.5 | 3.7 | Wraith Spire | 65 | Q2 |
Lastly, you have the AMD Ryzen 3 series that is coming later in the 2nd half of 2017. AMD isn't giving out any specific details on this series since it is still at least several months away, but we'd expect it to consist of dual-core and quad-core parts aimed that the lower-end of the market in the sub-$140 market wild guess at it. With the AMD Ryzen 7 1800X being priced at $499 it appears AMD will have the desktop processor market covered from that price point all the way to the lowest entry-level processor.
All three AMD Ryzen processor series are built using Global Foundries 14nm FinFET process, so they are using the latest manufacturing process available today to mass produce a desktop CPU. AMD hopes to be a force to reckon with with the Ryzen processor series based off the 'Zen' CPU architecture as they are lining them up against Intel Broadwell-E and Kaby Lake processors!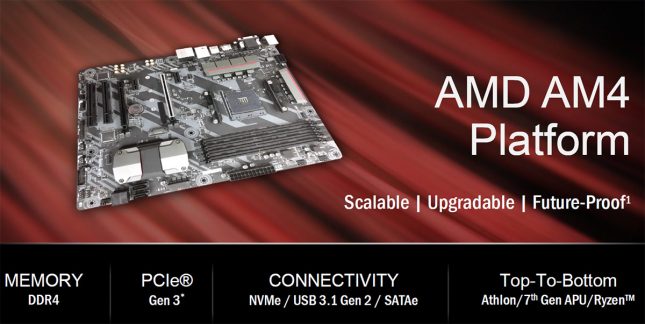 To use the new AMD Ryzen processor you'll need an AMD AM4 platform to run it and that means you'll need a new motherboard, a dual-channel DDR4 memory kit and an CPU cooler that has AMD AM4 compatible brackets. AMD X370 and B350 chipset based boards will be the most popular and the only models available at launch, so be sure to read our 1,000+ word article on picking the right AMD AM4 chipset for your system.
The price range for ATX form factor AMD B350 motherboards will be $99.99 to $129.99 with Micro ATX boards being in the $79.99 to $89.99 range. Prices for AMD X370 based boards start at $144.99 and go all the way up to $299.99. So, building a new system for Ryzen shouldn't break the bank! An AMD Ryzen 1700 processor with a Wraith cooler runs $329 and then you are looking at around $130 for a nicely loaded AMD B350 motherboard, so for around $459 you can have a nice core platform for your new 8-core 16-thread Ryzen system at less than half the price of just a bare Intel Core i7-6900K processor.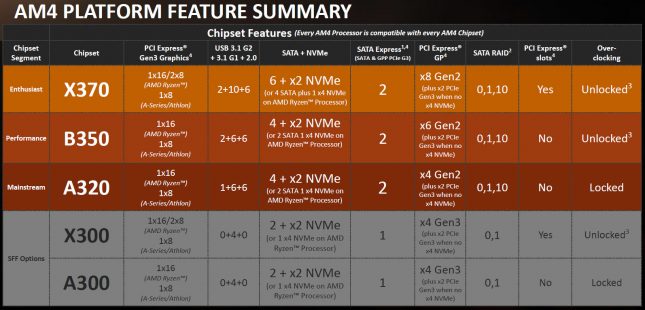 When it comes to dual-channel DDR4 memory kits the highest we've seen support right out of the box is 3200 MHz and we've seen 3600 MHz overclocks, so you can get some pretty healthy clock speeds on the new AMD AM4 platform and it will likely only get better as the BIOS/UEFI builds are improved by the board makers. We did all of our testing at 2933 MHz with CL14 1T timings and had no issues at all running at those higher clock speeds on this platform.
Let's take a closer look at the new Zen Architecture and then move straight into the testing!