AMD Ryzen Motherboards Explained – What AMD AM4 Chipset To Buy
By
X370, B350 or A320 – Finding The Right AMD AM4 Chipset For Your Needs
Tomorrow, AMD will be launching the Ryzen 7 processor series and this is a hard launch with product availability happening that day. That means tens of thousands of the pre-ordered and newly released processors will be headed out or picked up by the DIY community. You'll need a new AMD AM4 motherboard to go with one of those brand new Ryzen 7 processors, so you better know which one to get. The good news is that all AMD Ryzen CPU's and Bristol Ridge APU's utilize the AMD AM4 socket. The bad news is you'll need to pick an AM4 board and there are the X370, B350, and A320 chipsets to pick from. Which of these AM4 chipsets is right for you?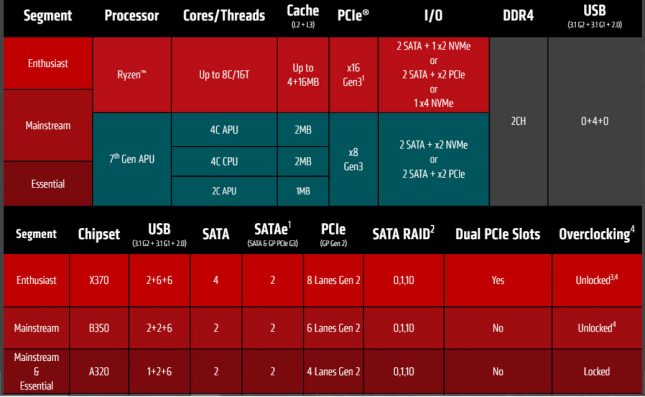 The top chart above shows the built-in PCIe and I/O capabilities of Ryzen processors and then the lower section shows the features of each of the three main AMD motherboard chipsets that will be launching for the retail market.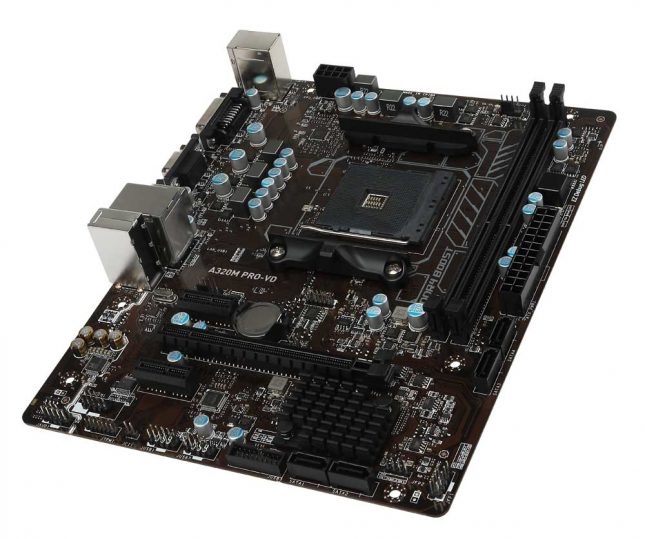 AMD A320 Motherboard
If you want to build an AMD Ryzen system on the cheap and are okay with basic features the AMD A320 chipset powered boards might be right for you. These boards are aimed at budget builders and have one USB 3.1 Gen 2 port (10Gbs), two USB 3.1 Gen 1 ports (5Gbps) and six USB 2.0 ports. You also have two SATA III ports and 4 PCIe Gen 2 lanes that the motherboard makers can use for M.2 PCIe NVMe SSDs, SATA Express (yawn) or re-purposed into other things that a motherboard maker might want to offer. The big downside to AMD A320 motherboards is that they are overclocking locked, so that means no overlocking is supported despite all Ryzen 7 processors being unlocked and overclocking friendly. With no multiplier or CPU voltage adjustment in the UEFI (BIOS) this is a platform that most gamers, enthusiasts and overclockers will skip right over. This is platform best suited for low-cost systems where someone will never be in the UEFI and are fine running stock clocks with just a single hard drive or two. AMD has announced that AMD A320 boards are coming, but has failed to announce a timeline for them. If we had to take a wild guess they will likely be coming closer to the AMD Ryzen 3 launch when AMD tackles the low-end processor market. Based on that information we expect these boards to be around $59.99 when they come to market later in 2017.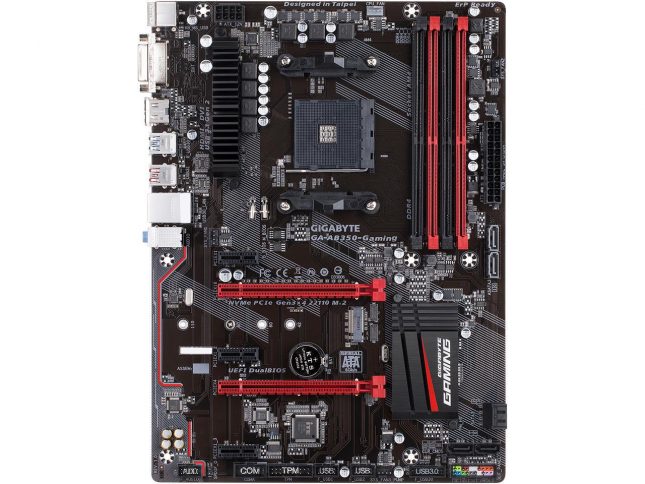 AMD B350 Motherboard
Not too many people have been talking about the AMD B350 chipset leading up to the launch of Ryzen 7, but this is should be the best selling platform for Ryzen. AMD allows CPU overclocking on the B350 motherboards and see it being the ideal platform for gamers that have a single-GPU video card setup. Compared to the bare-bones A320 chipset, AMD gave the B350 an additional USB 3.1 Gen 2 (10Gbps) port and two additional PCIe lanes for whatever the motherboard maker would like to use it for. It would have been nice to get four additional PCIe lanes as most PCIe NVMe SSDs use the PCIe Gen II x 4 interface and 6 PCIe Gen 2 lanes on a board is a bit weird. This platform does not officially support multi-GPU configurations, so if you want to have the ability to run NVIDIA SLI or AMD CrossFire in the future you'll need to invest into an AMD X370 board. As long as you don't plan on running multiple graphics cards or PCIe NVMe SSDs, this platform should be fine for 95% of gamers that just use a single GPU with a 2-3 storage drives and maybe an optical drive and an add-in board like a sound card. The price range for ATX form factor AMD B350 motherboard will be $99.99 to $129.99 with Micro ATX boards being in the $79.99 to $89.99 range.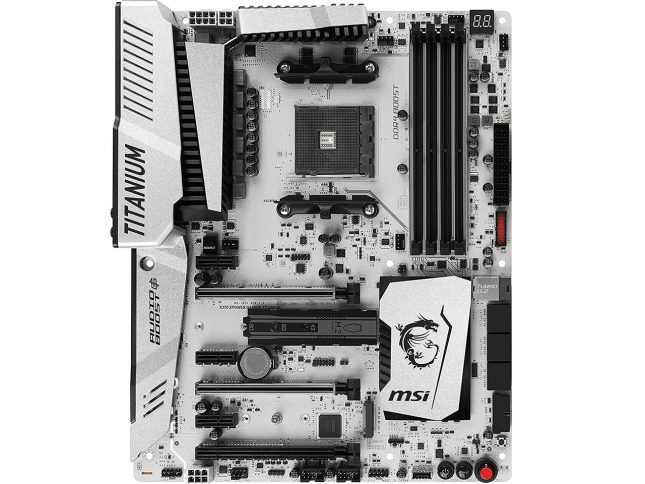 AMD X370 Motherboard
This is the flagship chipset offered by AMD currently for the AM4 platform. It has the most PCIe lanes at 20 and these boards will have dual PCI Express x16 slots for NVIDIA SLI and AMD CrossFire multi-GPU configurations. Only the AMD X370 and X300 chipsets support two PCIe 3.0 x8 slots for graphics cards that have direct access to the processor. AMD doesn't even support multi-GPU configurations on other platforms as they will not have the same PCIe 3.0 bandwidth and therefore AMD does not officially support it. The AMD X370 chipset offers four more 5Gbps USB ports and twice as many SATA connectors compared to the B350 chipset motherboards, so if you want to have the most robust AMD AM4 motherboard on the market you'll want to look at one of the AMD X370 chipset based boards. Prices for these boards start at $144.99 and go all the way up to $299.99 (MSI X370 XPOWER GAMING TITANIUM), so get ready to open that wallet a little wider if you wanted the best.
Small Form Factor Boards
AMD is making Mini-ITX motherboard fans to wait as these boards will not be coming out right now. Look for AMD X300 chipset based boards to come out closer to around the time Ryzen 5 series processors are launched, but well before Ryzen 3 series processors are released.
Quick AMD AM4 Motherboard Chipset Feature Recap:
| | X370 | B350 | A320 |
| --- | --- | --- | --- |
| Overclocking | Y | Y | N |
| PCIe 3.0 x8/x8 (Multi-GPU Support) | Y | N | N |
| PCIe 2.0 | 8 | 6 | 4 |
| USB 3.1 | 2 | 2 | 1 |
| USB 3.0 | 6 | 2 | 2 |
| USB 2.0 | 6 | 6 | 6 |
| SATA | 6 | 4 | 4 |
| RAID | 0,1,10 | 0,1,10 | 0,1,10 |
If you are building an AMD Ryzen 7 system when they launch tomorrow you'll only be able to find AMD X370 and B350 motherboards to purchase. Right now Newegg has 21 different AMD B350 and X370 boards available for pre-order or purchase. At CES 2017 there were just 16 AMD AM4 motherboards on display, so more are slowly coming to market. In fact, AMD believes that over 80 motherboards are planned and expected based on partner communications they have had. Current prices for AMD AM4 boards range from $79.99 to $299.99 and you'll find boards from ASRock, ASUS, Biostar, Gigabyte and MSI readily available to purchase on March 2nd, when Ryzen CPUs launch.
Have fun reading the Ryzen reviews tomorrow and we hope that this chipset coverage helps those that go to buy a board tomorrow!