AMD Ryzen 7 1800X, 1700X and 1700 Processor Review
By
Memory Bandwidth Benchmarks
SiSoftware Sandra 2016 SP3 Memory Bandwidth: link
SiSoftware Sandra 2016 is a utility, which includes remote analysis, benchmarking and diagnostic features for PCs, servers, mobile devices and networks. This test has been popular for CPU and memory benchmarks for well over a decade and it is one of the easiest benchmarks out there to run.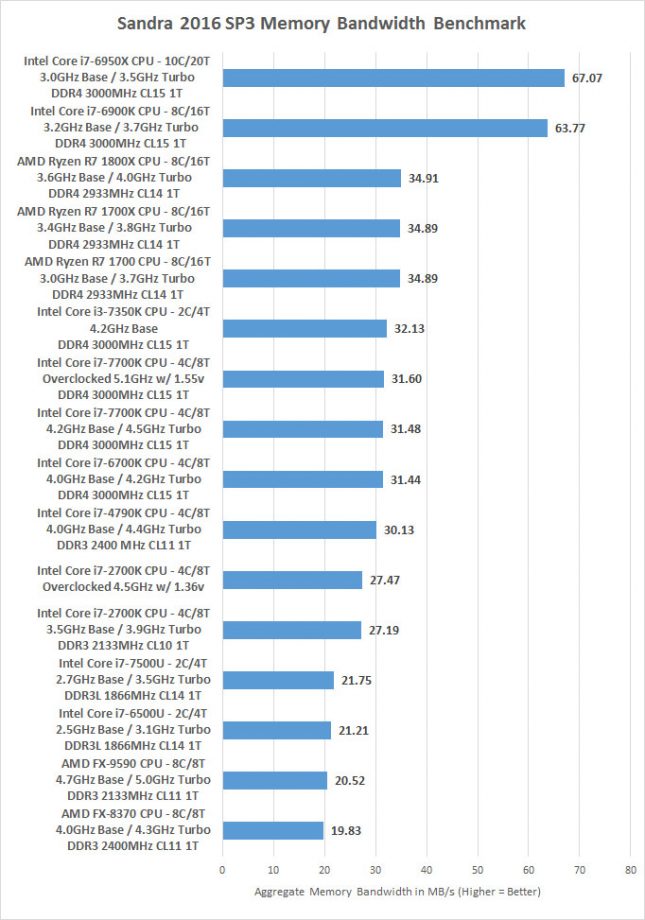 AIDA64 5.80 Memory & Cache Benchmark: link
AIDA64 is an industry-leading system information tool, loved by PC enthusiasts around the world, which not only provides extremely detailed information about both hardware and installed software, but also helps users diagnose issues and offers benchmarks to measure the performance of the computer.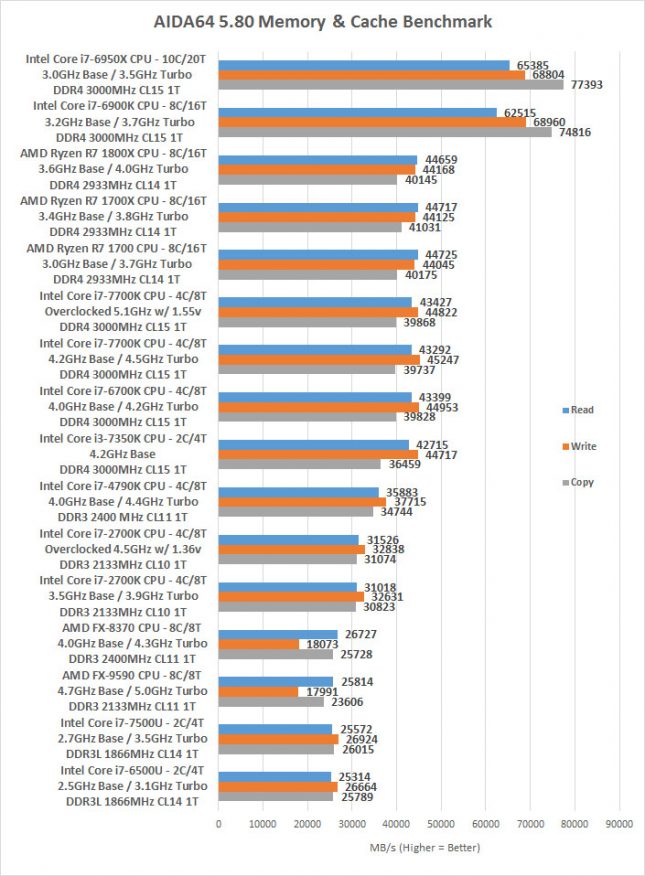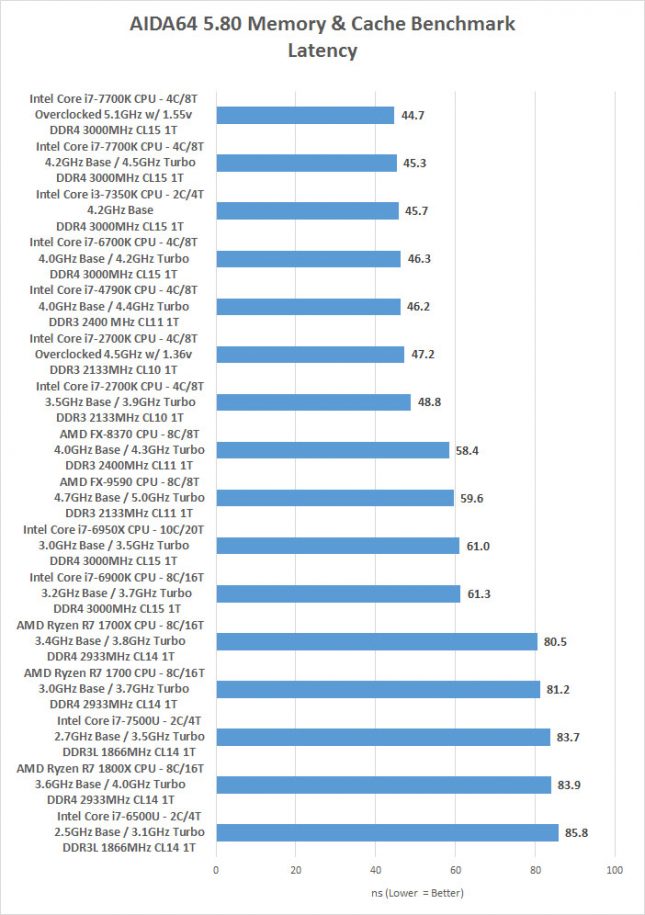 Memory Bandwidth Results Summary: Memory actually turned out to be tricky for us on the new AMD AM4 platform for Ryzen processors. We were using an AMD X370 based motherboard to test the Ryzen 7 1800X processor and found that many common clock frequencies that we've used for years on Intel boards are not support on these boards. So, plugging in the same Corsair LPX Vengeance 3000MHz DDR4 CL15 kit that we've run all on the DDR4 boards in the past couldn't run on this board at 3000MHz or CL15. We could either run it at 2933 MHz or 3200 MHz and when we tried both we learned that 3200 MHz wasn't stable on the Ryzen 7 1800X CPU and MSI XPower Gaming X370 Titanium motherboard that we were using. Maybe it was an early UEFI support issue or maybe the memory controller on our particular processor didn't like running that fast. We ended up settling at 2933 MHz with CL14 timings as we couldn't set CL15 timings on our board. It turns out that if you want to run a DDR4 memory kit over 2667 MHz on any board (B350 or X370) that you'll be running in a 'Geardown' mode that requires even numbers for the CAS latency.
When running 2667 or higher for stability we run in memory in Geardown mode so CS is driven for 2 memclks, and UMC and PHY need to be in sync regarding even clocks for cmd/add bus setup/hold time, other parameters that have to be even include Tcwl, Twr, etc. So, when in geardown mode, CAS latency has to be even number as a logical requirement.
So, once we figured out we could and couldn't run we were able to get 2933 MHz running with CL14 timings just fine. Memory bandwidth performance on SiSoftware Sandra 2016 SP3 was impressive at 34.89 GB/s, which is better than any Intel platform that we tested with dual-channel DDR4 memory running at 3000 MHz with CL 15 timings. Performance in the AIDA64 Memory & Cache benchmark also showed memory bandwidth performance that was comparable to what Intel has to offer on their latest platforms. Once you get past the initial quirks of how the memory works on the platform and get it running it has really solid performance. That said, the memory cache latency was much lower than we expected and it was nearly twice as slow as the latest Intel platforms. The Memory Latency benchmark measures the typical delay when the CPU reads data from system memory. So, it looks like Ryzen is unexpectedly slow at issuing of the read command until the data arrives to the integer registers of the CPU. The maximum memory bandwidth looks great, but getting that data looks slower than we were expecting to see on this new platform.