AMD Radeon HD 7970 3GB Video Card Review
By
Temperature & Noise Testing
Since video card temperatures and the heat generated by next-generation cards have become an area of concern among enthusiasts and gamers, we want to take a closer look at how the graphics cards do at idle, during gaming and finally under a full load.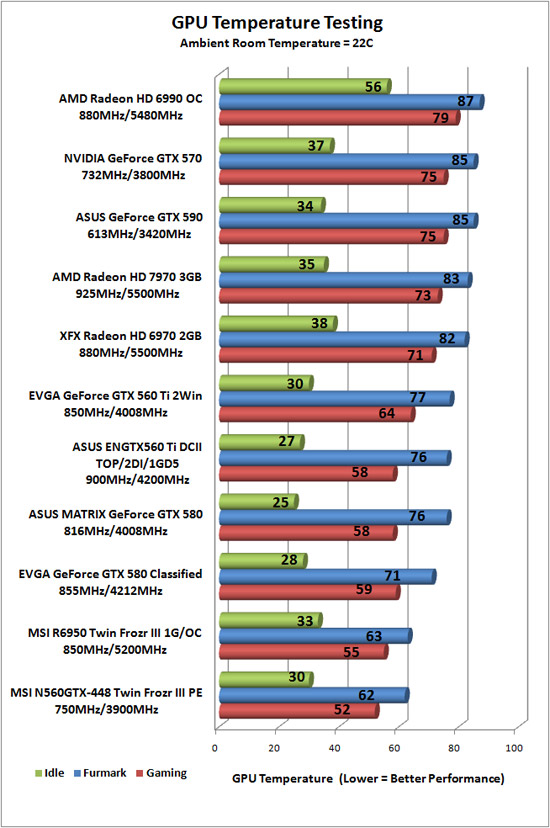 We recorded temperatures during several scenarios on each of the cards we tested today and the benchmark results are shown above. The AMD Radeon HD 7970 had an idle temp of of 35 degrees. Our closest comparison is the XFX Radeon HD 6970 which is also a reference design. At idle the XFX card is 3 degrees hotter than the AMD Radeon HD 7970. Whether the new squirrel cage design is due the credit or the new architecture is, the thermals are better at idle. Loading up the cards with HAWX2 the two reference designs were withing a two degrees of each other. When running Furmark they were within a degree of each other.
When we were testing the ASUS and EVGA video cards we noticed that they sounded completely different, so we took out our trusty sound meter to get some numbers.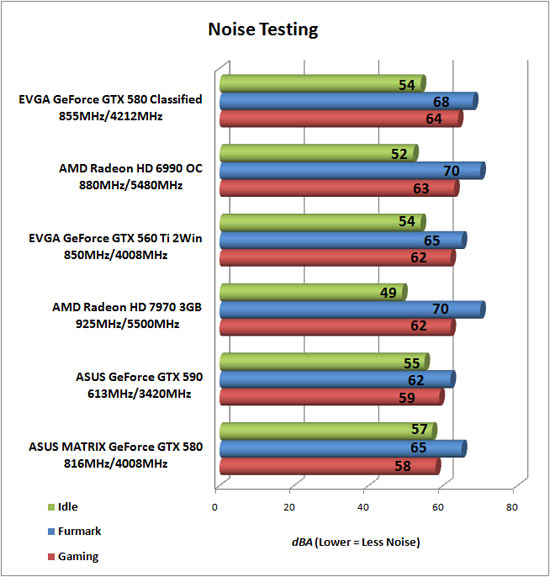 With our sound meter placed at the edge of the motherboard we were able to measure a decent difference in decibels between the cards. The AMD Radeon HD 7970 was the quietest of all the cards at idle with only 49 decibels. On the flip side of that it was also tied for being the loudest card when running Furmark and the fan spun up to 70 decibels and was matched by AMD Radeon HD 6990 OC. Under a standard gaming load with HAWX2 the AMD Radeon HD 7970 squirrel cage spun up to 62 decibels.