AMD Radeon HD 7970 3GB Video Card Review
By
The Radeon HD 7900 Series Arrives
It's hard to imagine that AMD released the ATI Radeon HD 5000 family of graphics products back in 2009. By doing so, AMD became the first company to offer DirectX 11 compatibility when Windows 7 was launched. Last year AMD released the Radeon HD 6000 series, which featured some performance optimizations and enhancements for tessellation, image quality, Eyefinity, CrossFireX, and video decoding. The AMD Radeon HD 6000 series proved to be solid video cards, but it was the company's final attempt to get the most from that GPU architecture. For the Radeon HD 7000 series the engineers needed to come up with a new micro-architecture, but we'll get to that in a minute. First, let's take a look at AMD's 'Southern Islands' offerings that will make up the Radeon HD 7000 series product line.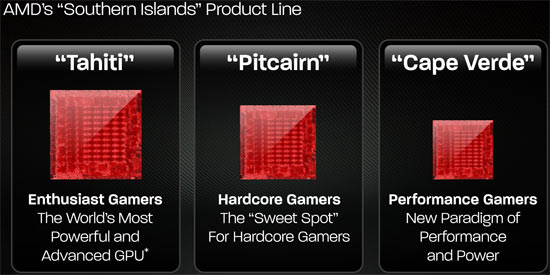 Right now AMD is talking about three GPU cores that will be used for the Radeon HD 7000 series. The flagship core is Tahiti, the performance core is Pitcairn and the budget friendly offering is Cape Verde.
Tahiti – Radeon HD 7970, 7950, 7930
Pitcairn – Radeon HD 7870, 7850
Cape Verde – Radeon HD 7770, 7750
The core that AMD will be releasing first is Tahiti, which will be the GPU that powers the Radeon HD 7900 series that will become available on January 9th, 2012.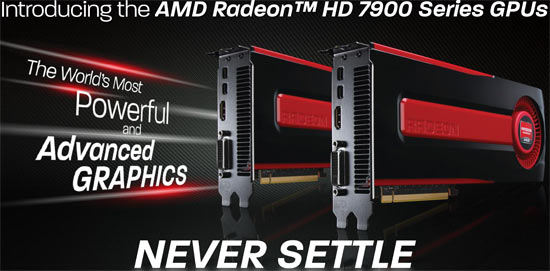 AMD says that the Radeon HD 7900 series is designed for enthusiasts that demand the best and that never settle. The Radeon HD 7970 will be the first video card that AMD makes available in the Radeon HD 7900 series. It has a suggested retail price that starts at $549 and should be available for purchase on January 9th, 2012. The AMD Radeon HD 7950 will be coming out shortly after that in the middle of January according to our sources.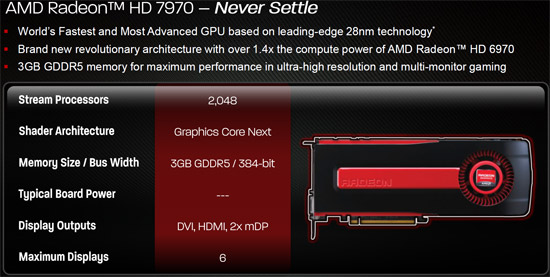 The AMD Radeon HD 7970 has 2,048 stream processors with 3GB of GDDR5 memory with a 384-bit bus width. AMD has been using a 256-bit bus width for the past several generations, so we are happy to see that they have increased the bus width by 50%. The AMD Radeon HD 7970 is made using TSMC's 28nm manufacturing process and is the first PCI Express 3.0 video card to come to market.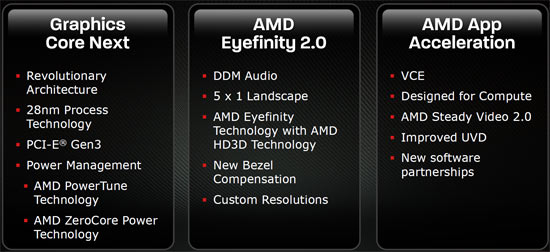 The AMD Radeon HD 7900 series has a ton of new features that are highlighted by the slide above. We don't have time to cover all of these new features today due to time constraints, but we still wanted you to see them all.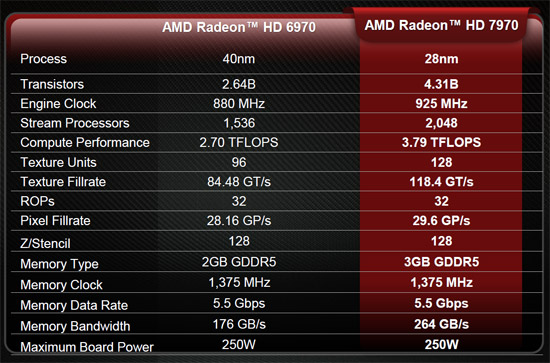 The AMD Radeon HD 7970 has a core clock of 925MHz and a memory clock of 1,375MHz. The new 384-bit memory bus has a bandwidth rating of 264GB/s! It has 4.31 Billion transistors (plus or minus 800 million) yet has the same maximum board power as the AMD Radeon HD 6970. This is pretty amazing when you think about it. The compute performance for the GPU is rated at 3.79 TFLOPS, which is 40% more than the Radeon HD 6970! With stats like this we can't wait to see how the Radeon HD 7970 does in the benchmarks!