XFX Radeon R9 290 CrossFire Video Card Review at 4K Ultra HD
By
Trying out an AMD Radeon R9 290 CrossFire Setup
If you are looking for a graphics card for a high-end gaming system that can push a 4K Ultra HD display or triple panel configuration you have a number of choices from both AMD and NVIDIA. More than likely the AMD Radeon R9 290 series and NVIDIA GeForce GTX 780 series are going to be the cards that have the horse power to get the performance you need to accelerate all those pixels at a playable frame rate. If you are looking at AMD cards, the AMD Radeon R9 295X2 is pretty sweet, but it carries a rather impressive $1499 price tag when it releases on April 21st, 2014. If you have a high-end gaming rig and a 4K display you can likely afford that, but what about those that don't want to spend that much money on a graphics card. We recently reviewed the XFX Radeon R9 290 Double Dissipation and had the opportunity to get a second card in for additional thermal testing. Since we had two identical cards sitting on the test bench we figured that we'd flash the BIOS in order for the cards to be identical and run some CrossFire tests with AMD's latest Catalyst 14.4 Beta drivers.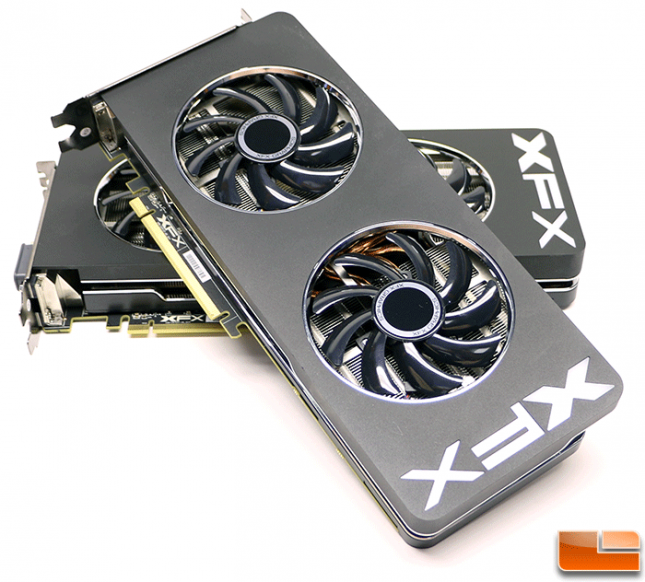 The XFX Double Dissipation Radeon R9 290 4GB graphics card that we have a pair of is sold under part number R9290AEDFD for $439.99 shipped with a Limited Lifetime Warranty if you register within 30 days of purchase. It is powered by a single 28nm AMD Hawaii GPU that has 2,560 stream processors running at 947MHz and the 4GB of GDDR5 memory on a 512-bit wide bus that is clocked at 1250MHz (5000MHz effective). These clock speeds are fairly standard for a Radeon R9 290 from any brand, so we wouldn't consider this a factory overclocked card. If you were looking for a factory overclocked card there is the XFX Black Edition DD R9 290 that is listed under part number R9290AEDBD for $504.99 shipped. The XFX Radeon R9 290 Black Edition card is factory overclocked up to 980MHz and for that you'll be paying an extra $65.
We are looking at two of the base models, so you are looking at about $880 shipped for a pair of them. This is $619 less than an AMD Radeon R9 295X2, so it will be interesting to see how a pair of these cards will compare.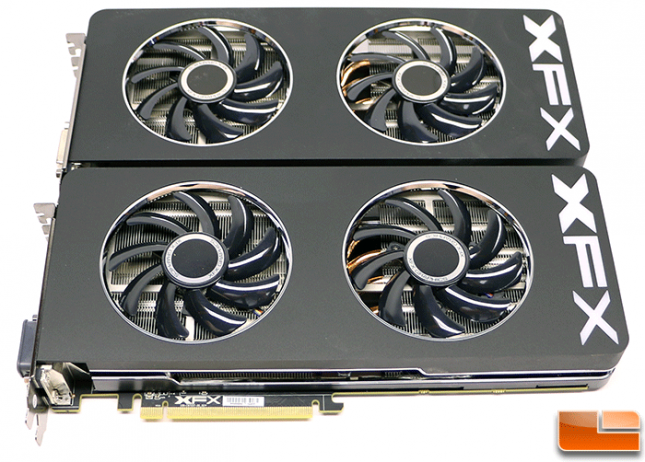 The XFX DD R9 290 4GB has two 90mm cooling fans (actual fan blade measurement is ~85mm) that each have 9-blades on them. XFX claims that the Double Dissipation GPU cooler with Ghost2 thermal cooling should offer improved cooling and reduced noise versus the AMD Radeon R9 290 reference card. XFX is uses seven 6mm copper heatpipes on this card that measures 11.125″ in length. The black PCB measures 10.5-inches, but the GPU cooler extends past the end of the card by more than half an inch. This is a fairly long card, so be sure to measure your case before ordering!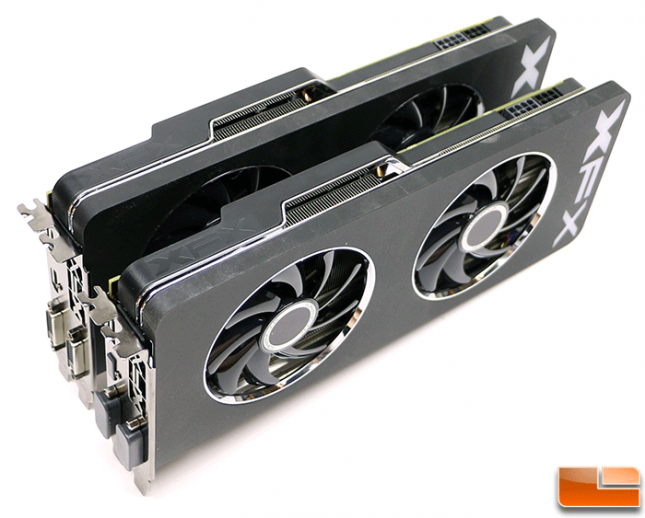 No AMD CrossFire interconnect or bridge is needed on these cards to get setup, so you literally just plug them into your motherboard and enable AMD CrossFireX in Catalyst Control Center to get the desired multi-GPU performance boost.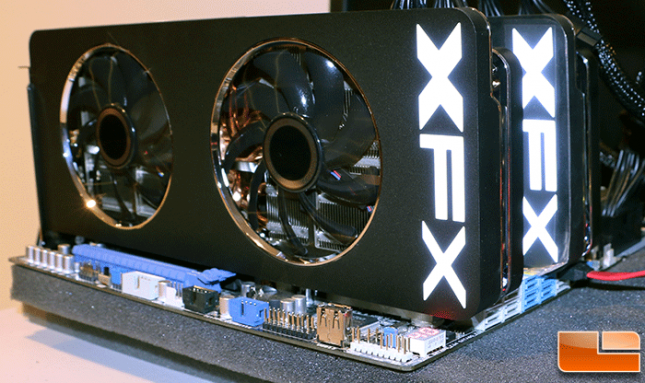 The XFX logo on the right side of the card has white LED's behind it that are always on when the system is running. When the system is at idle the second card shuts down in a low power state and the LED light shuts down on that card.
Let's take a look at the test system real quick before we move along to benchmarking!