XFX Radeon R9 290 CrossFire Video Card Review at 4K Ultra HD
By
Temperature & Noise Testing
Temperatures are important to enthusiasts and gamers, so we took a bit of time and did some temperature testing on a pair of XFX Double D R9 290 video cards running with CrossFire mode enabled.
XFX Double Dissipation Radeon R9 290 4GB CrossFire Temps:
XFX DD Radeon R9 290 4GB CrossFire Temps in Battlefield 4 for 30 minutes: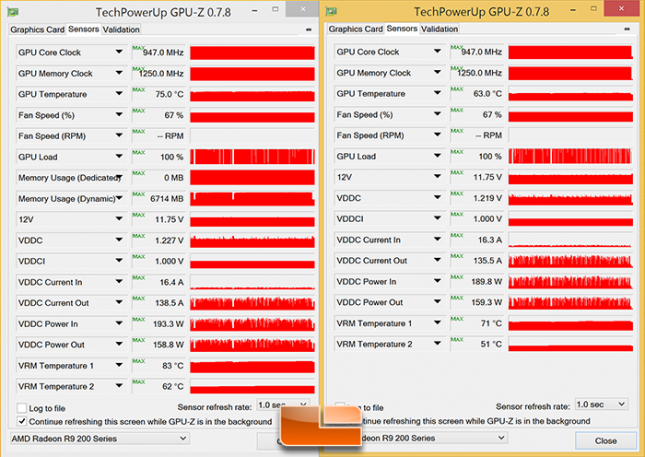 XFX DS Radeon R9 290 4GB CrossFire Temps in Crysis 3 for 30 minutes: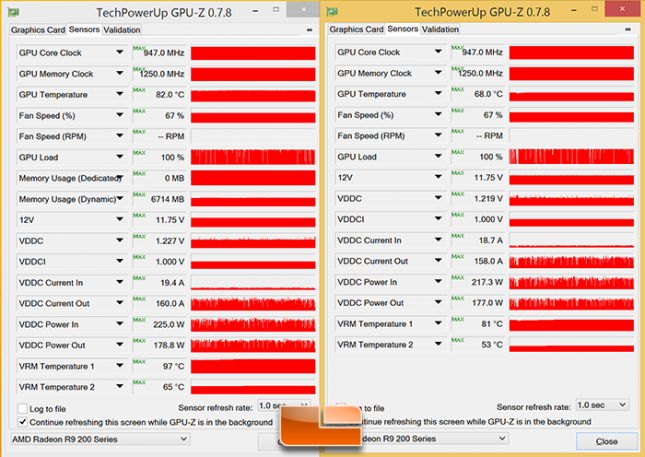 At idle we got a respectable 34C on the inside card and 29C on the outside card that was getting cool 'clean' air. At full load we were getting vastly different temperatures on various game titles. For example on Battlefield 4 we were getting 75C/63C and then on Crysis 3 we were getting 82C/68C. At idle the fan speed was at 20% and then at full load we were hitting 67%. GPU-Z shows that the XFX DD Radeon R9 290 video card had an GPU voltage of 0.984V at idle and 1.227V when at full load running 3D games. The VRM temperatures got up to 97C on VRM1 on the hotter of the two cards and 81C on the cooler card. (The AMD Radeon R9 295X2 gets around 90C on the VRM on our test bench and that is with the GPUs being water cooled.) It should be noted that both of our XFX Radeon R9 290 cards are version 3.1 cards that have a more aggressive fan profile than version 3.0 and earlier cards.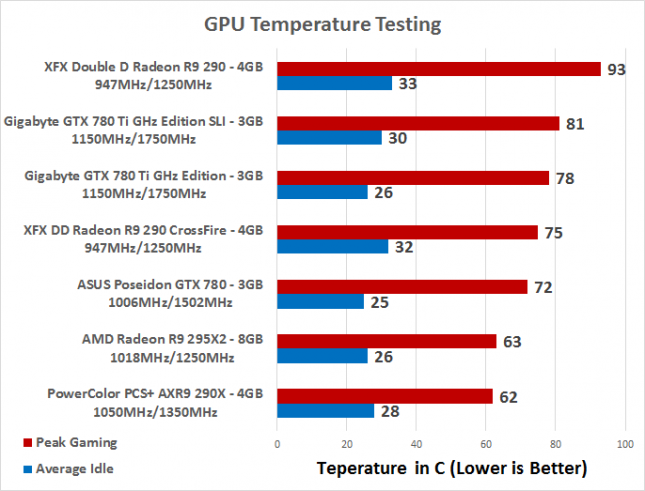 With the temperatures averaged out, the XFX DD Radeon R9 290 v3.1 CrossFire setup didn't due that bad. A single XFX DD Radeon R9 290 v3.0 card was much hotter, but that is due to the different fan profile that was being used at the time. If you have a version 3.0 card, you might want to ask XFX to see if they can get a BIOS flash for you.
Sound Testing
We test noise levels with an Extech sound level meter that has 1.5dB accuracy that meets Type 2 standards. This meter ranges from 35dB to 90dB on the low measurement range, which is perfect for us as our test room usually averages around 36dB. We measure the sound level two inches above the corner of the motherboard with 'A' frequency weighting. The microphone wind cover is used to make sure no wind is blowing across the microphone, which would seriously throw off the data.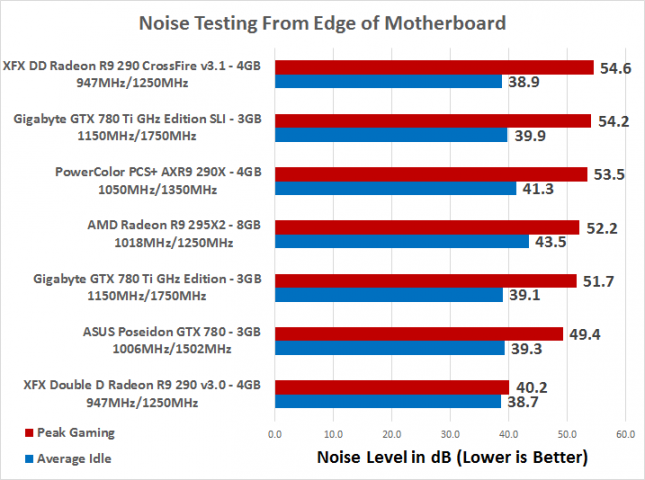 The XFX Double D R9 290 CrossFire setup was done with v3.1 cards and was pretty quiet at idle since the fans were running at just 20%, but at full load it became the loudest pair of cards that we have tested to date due to the fans spinning at nearly 70%. It wasn't unbearable, but you'll be able to hear the cards over your case fans.