XFX Radeon R9 290 Double Dissipation Video Card Review
By
XFX Throws Some DDs Up On the Radeon R9 290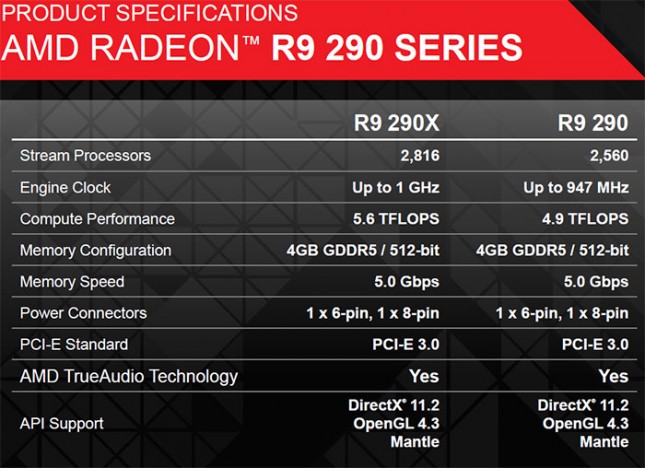 The AMD Radeon R9 290X graphics card came out in October 2013 and gets a ton of attention due to the fact that it is the flagship single-GPU card by AMD. The AMD Radeon R9 290 came out a month later and doesn't get much attention since it isn't the flagship card. The funny thing is both share the same Hawaii GPU, albeit the Radeon R9 290 GPU has had 256 stream processors (9% fewer) and 16 texture units (9% fewer) fused off along with a 53MHz lower core clock (5% decrease). If you are okay with owning something other than the flagship card, the AMD Radeon R9 290 might be the right card for you.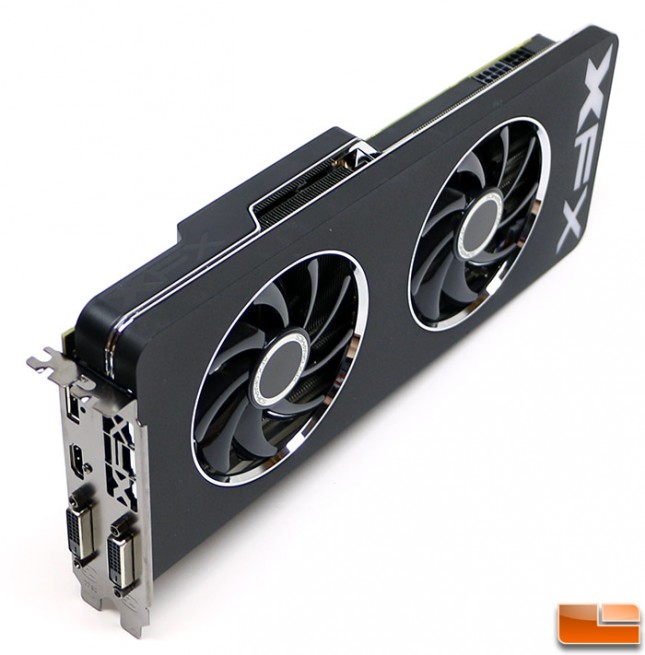 Today we will be reviewing the XFX Double Dissipation Radeon R9 290 4GB graphics card that is sold under part number R9290AEDFD for $439.99 shipped with a Limited Lifetime Warranty if you register within 30 days of purchase. It is powered by a single 28nm AMD Hawaii GPU that has 2,560 stream processors running at 947MHz and the 4GB of GDDR5 memory on a 512-bit wide bus that is clocked at 1250MHz (5000MHz effective). These clock speeds are fairly standard for a Radeon R9 290 from any brand, so we wouldn't consider this a factory overclocked card. If you were looking for a factory overclocked card there is the XFX Black Edition DD R9 290 that is listed under part number R9290AEDBD for $504.99 shipped. That Black Edition series card is factory overclocked up to 980MHz and for that you'll be paying an extra $65. Paying an extra $65 to get the same card with a 33MHz higher core clock is far from a deal though, so the best bang for the buck is clearly the standard Double D card that we are looking at here today.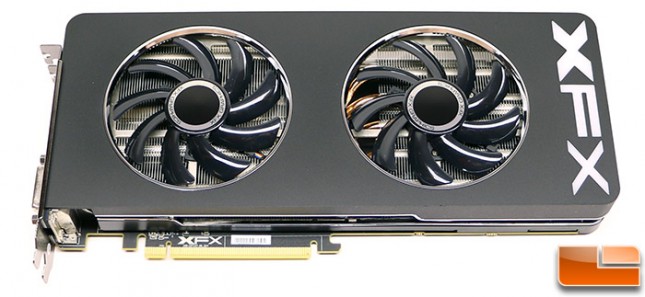 The XFX DD R9 290 4GB has two 90mm cooling fans (actual fan blade measurement is ~85mm) that each have 9-blades on them. XFX claims that the Double Dissipation GPU cooler with Ghost2 thermal cooling should offer improved cooling and reduced noise versus the AMD Radeon R9 290 reference card. XFX is uses seven 6mm copper heatpipes on this card that measures 11.125″ in length. The black PCB measures 10.5-inches, but the GPU cooler extends past the end of the card by more than half an inch. This is a fairly long card, so be sure to measure your case before ordering! The XFX logo on the right side of the card has white LED's behind it that are always on when the system is running. It looks great if you have a window as the inside of your case glows, but there is no way to easily turn them off.

Looking down at the top of the card you can see the two sets of cooling fins with seven copper heatpipes running between them to help dissipate heat from the GPU. The black fan shroud oh the GPU cooler looks sharp with the chrome accent piece that wraps both sections of the housing. If you like black and silver, you should really like the look of this card!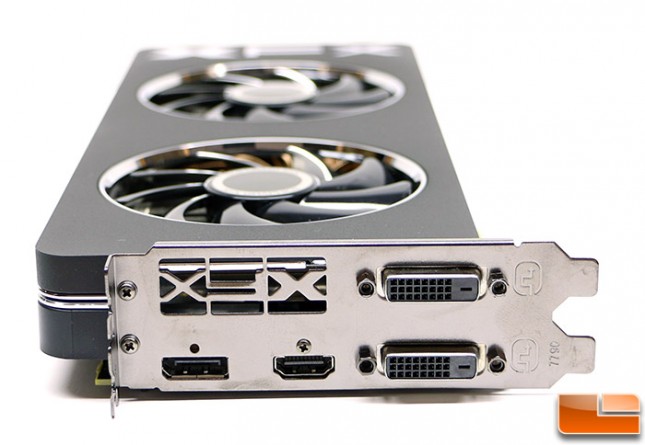 The XFX DD R9 290 supports up to six displays off a single card. All of the video outputs are full sized and you have DisplayPort 1.2 with Multi-Stream Transport, HDMI 1.4b and a pair of Dual-Link DVI outputs. The DVI outputs support screen resolutions up to 2560×1600 and the DP and HDMI ports support screen resolutions up to 4096×2160.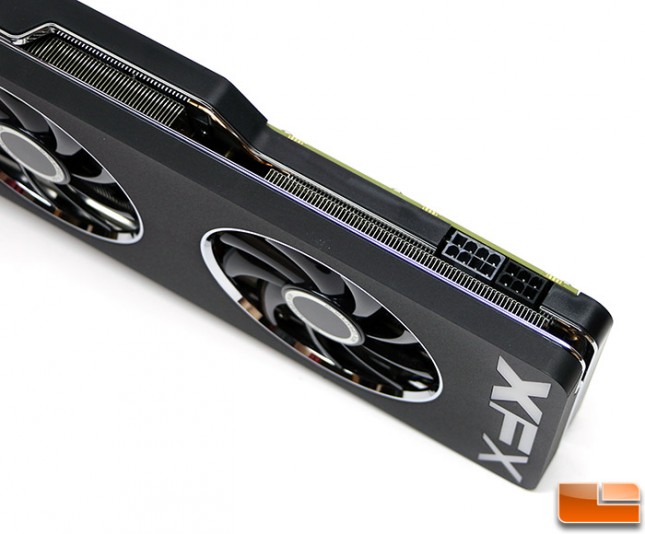 The XFX Radeon R9 290 Double Dissipation video card has one 8-pin PCIe and one 6-pin PCIe power connector located along the top edge of the card that are both needed for proper operation. XFX suggests using a 750W or greater power supply for proper single card operation.Note that the backplate and GPU cooler extend well beyond the PCB.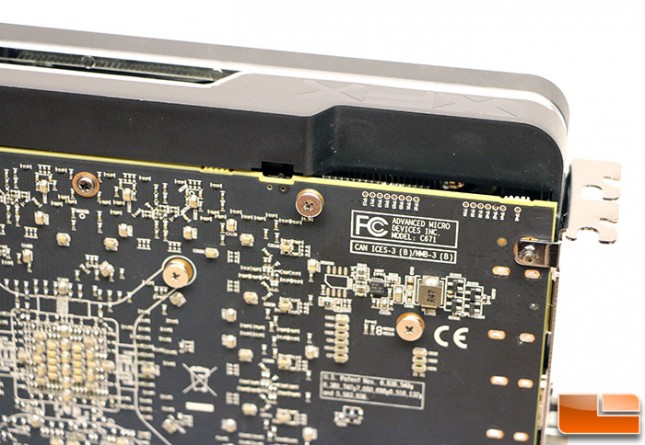 XFX kept the BIOS selector switch on the card, but there is just not BIOS on the card that has the maximum fan speed set to 45%. There is no Uber and Quiet mode on this Radeon R9 290 card. It should be noted that the card does ship with two BIOSs on it, but both are identical. This switch is still useful though as if a BIOS every gets corrupted you can just switch over to the other one. There are also no CrossFire interconnects on this card as they are no longer needed to run CrossFire. If you get a second, third of fourth card you can just enable CrossFire in AMD's Catalyst Control Center and go about your day.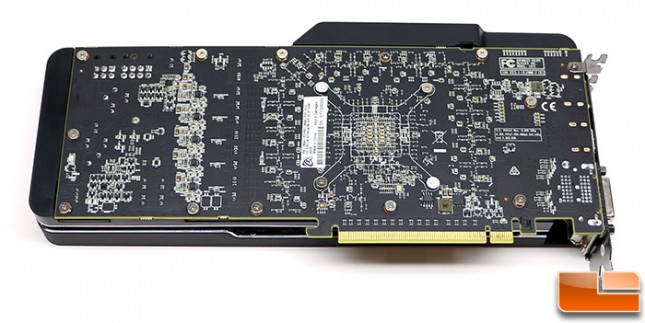 Here is a quick look at the back of the card. There is no backplate or memory ICs located on the back, so the only thing really worth pointing out is the serial number sticker.
Let's take a look at the retail box or accessory bundle before we move along to benchmarking!