NVIDIA Ion mini-ITX System Build Guide
By
Matroska (MKV) Video Playback
The Matroska Multimedia Container is an open standard free container format, a file format that can hold an unlimited number of video, audio, picture or subtitle tracks inside a single file. It is intended to serve as a universal format for storing common multimedia content, like movies or TV shows. Matroska is similar in conception to other containers like AVI, MP4 or ASF, but is entirely open in specification, with implementations consisting mostly of open source software. Matroska file types are .MKV for video (with subtitles and audio), .MKA for audio-only files and .MKS for subtitles only. The most common use of .MKV files is to store HD video files.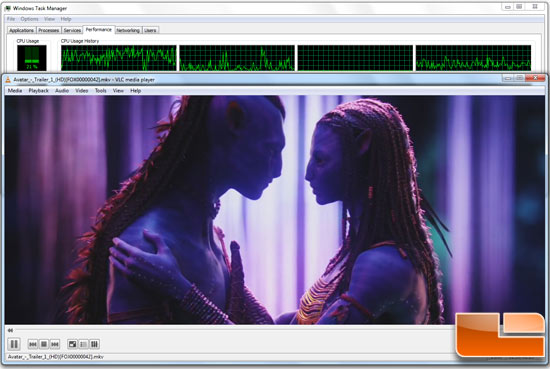 The "Avatar" movie trailer came out on August 25, 2009 and is one of the most anticipated movies of this winter thanks to all the hype writer and director James Cameron has made for the movie. I jumped onto Vuze HD and downloaded the 31.81MB MKV file to try out HD video playback using VLC media player 1.0.1. The end result was a two minute trailer that had some stutters and some distortion during playback. Not ideal and the trailer worked fine on my main system which uses an Intel Core i7 965 processor with a GeForce GTX 275 graphics card. Since the video file isn't corrupted the playback issue obviously resides with the mini-ITX platform. Let's try a different movie trailer though, just to be on the safe side.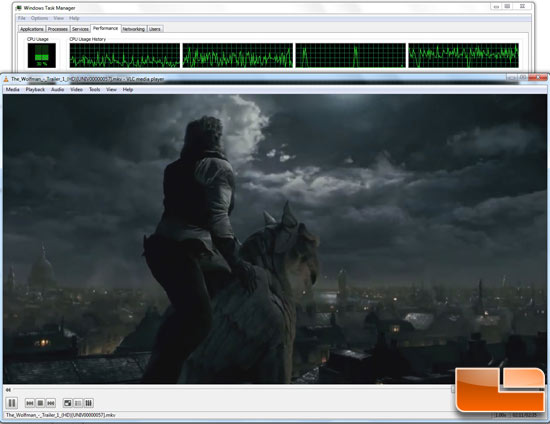 On Sep 1, 2009, Universal launched the HD trailer for "The Wolfman" and I jumped onto Vuze HD and downloaded the 30.77MB MKV file for the preview. Using VLC media player 1.0.1 I tried to play the trailer, but it had frequent stutters even though the CPU load was only at ~30%. The trailer also broke up often and was scrambled. It would appear that the Intel Atom 330 processor and NVIDIA Ion GPU do not have what it takes to play MKV formatted files. Let's try a different video player though just to make sure it's not a codec or player issue.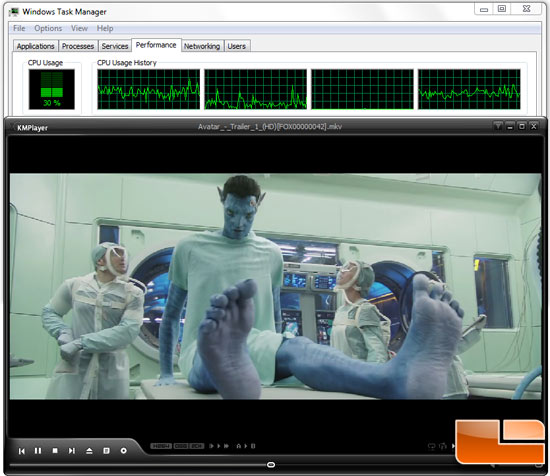 I downloaded KMPlayer v2.9.4.1434 and sure enough that looks like it did the trick and the video playback was stutter free and smooth for the first time with MKV files on the NVIDIA Ion platform.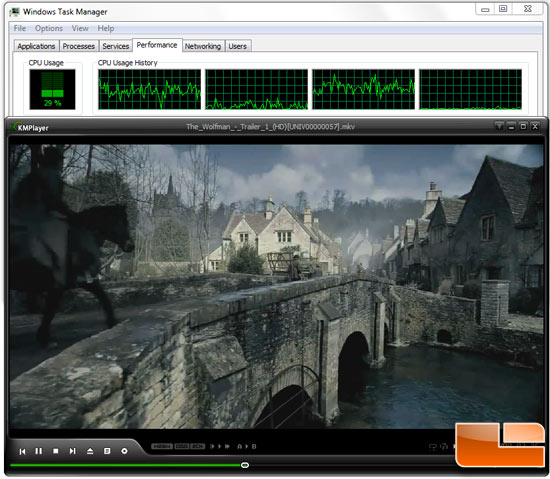 The CPU usage was again around 30% for both Avatar and The Wolfman using KMPlayer, but the video playback difference was amazing. It was around this time that I noticed that the audio and video didn't match up correctly. The audio was about two seconds behind the video, which is a deal breaker.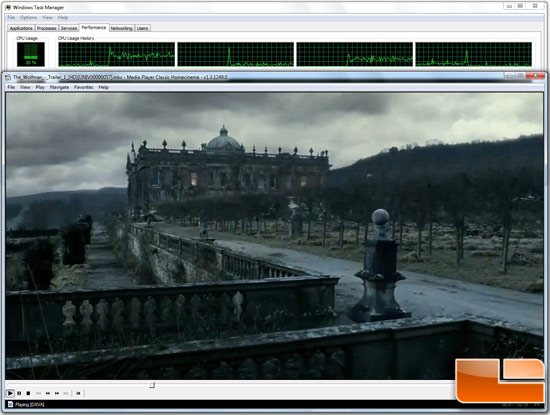 The next player I tried to use was Media Player Classic Home Cinema (MPC-HC). Modern graphics card offer the possibility to decode partially or completely a video stream using DirectX Video Acceleration (DXVA), in order to reduce CPU usage. MPC-HC includes an embedded video decoder that uses this DXVA technology, to decode H.264, VC-1 and MKV with hardly any CPU time required. I downloaded MPC-HC v1.3.1249 64-bit and then installed the the DirectX End-User Runtimes (March 2009) as MPC-HC uses some runtime dlls for its features. The dlls are not included in any version of Windows, including Windows 7. After enabling the Matroska filter and disabling all of the FFmpeg transform filters the NVIDIA Ion mini-ITX was finally playing MKV files properly. Well, maybe good enough is more like it. When increasing/decreasing the volume the CPU usage would jump from ~20% to ~60% and that was enough to cause the video playback to stutter. I don't change the volume that often when watching a movie, so I can live with this minor video playback issue. Of all the players that I tried, Media Player Classic Home Cinema was by far the best one for video playback of MKV content.
VLC media player 1.0.1 – stutters and blocky video
KMPlayer v2.9.4.1434 – audio not lined up with the video
MPC-HC v1.3.1249 64-bit – adjusting audio volume causes minor stutters
I didn't think that playing MKV files would be a tough thing to do on the NVIDIA Ion platform, but it proved to be a big challenge and I can't see the average computer user going through all this just to play MKV files. For customer satisfaction to be higher on Intel Atom powered netbooks and even NVIDIA Ion powered platforms this needs to be a little easier to do.