NVIDIA Ion mini-ITX System Build Guide
By
The ASUS AT3N7A-I Motherboard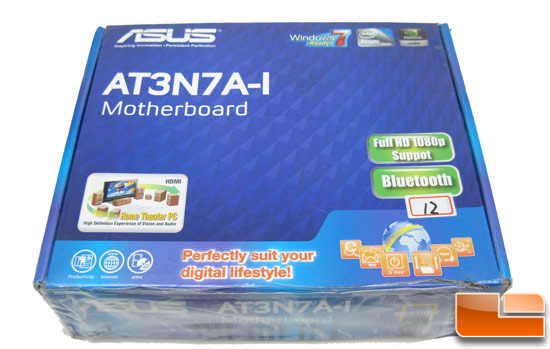 When I heard that ASUS was coming out with a mini-ITX motherboard based on NVIDIAs Ion platform, I knew that I needed to get my hands on one. NVIDIAs Ion platform combines Intels Atom CPU with NVIDIAs GeForce 9300/9400M integrated graphics chipset, which has enough CPU/GPU power to even play a few games and for stutter free HD playback as we showed you in our testing of the NVIDIA Ion reference system.
The layout of the ASUS AT3N7A-I motherboard is fairly simple as the engineers didn't have much room to work with since this is a mini-ITX form factor motherboard. Even with a small footprint, they still managed to find room for many of the features that HTPC builds demand, like HDMI, SATA, eSATA, 8 channel audio and more. Under the big blue heatsink is the 1.6GHz Intel Atom 330 dual-core processor with Hyper-Threading. The only thing missing from the ASUS AT3N7A-I motherboard that I would have liked to see is a PCI Express slot rather than the old and dated PCI slot. I contacted ASUS and asked them why in the world they didn't use a PCIe slot and they basically said that the market this is being focused at, that the users of this board will still have pci based cards whether sound or av ( tv tuner or capture ) and likely will not want to use PCIe based cards. I disagree with this as I feel our readers and the market has moved to PCIe graphics cards, audio cards, RAID cards, NIC cards and so on.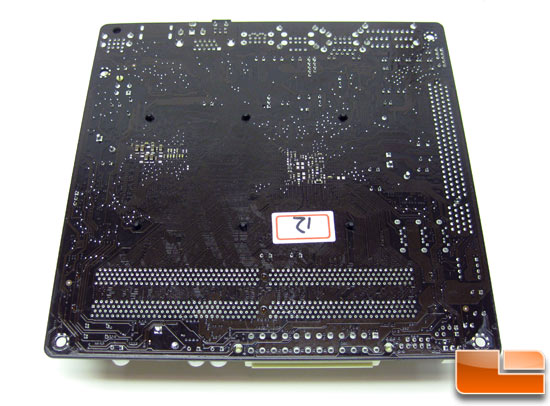 Flipping the motherboard over we can see that ASUS didn't place any components on the bottom of the AT3N7A-I motherboard. I have some mini-ITX boards like the VIA Nano reference mainboard that have mini-PC slots and CompactFlash memory card slots on the bottom of the baord, so this is worth noting.

The rear I/O panel has six USB 2.0 ports (+2 more via an internal header), a single PS2 port, HDMI out, VGA out, coax/optical out, eSATA, Gigait Ethernet and the six 1/8 jacks for analog audio out. I tried out my OCZ Throttle eSATA drive and found out that the eSATA is not powered, which is a bummer. I really wish more motherboard companies would equip their motherboards with powered eSATA connectors.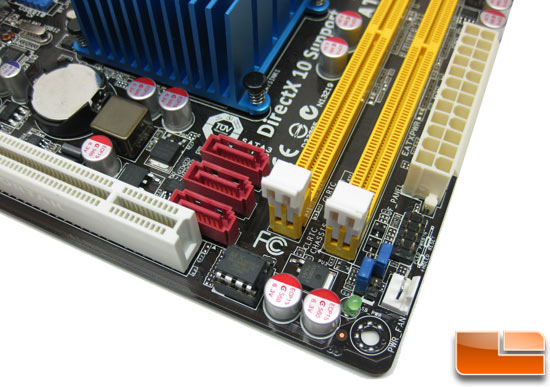 The ASUS AT3N7A-I motherboard features three SATA headers and a pair of DDR2 memory slots that support up to 800MHz memory modules. This motherboard doesnt come with a power supply like the Zotac mini-ITX Ion board as it features the usual 24-pin ATX power supply connector and a 4-pin +12V connector for CPU power.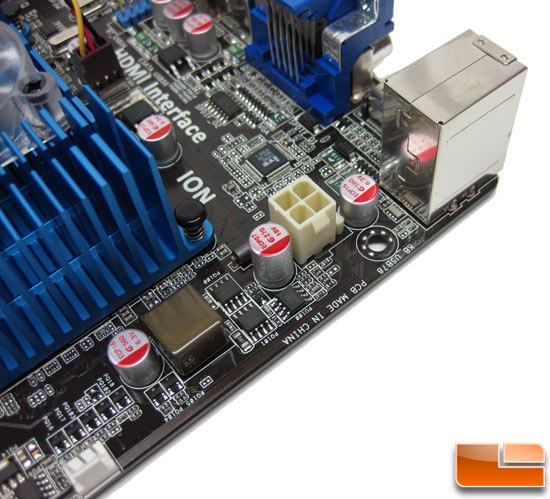 The 4-pin +12V connector for CPU power is located just behind the PS2/USB headers on the rear I/O panel and isn't a bad location for the connector. Overall, the layout of the ASUS AT3N7A-I motherboard is pretty nice and it even has two extra 3-pin fan headers for case fans, which will come in handy as the Travla C287 chassis that I will be using has room for two 60mm fans for system cooling.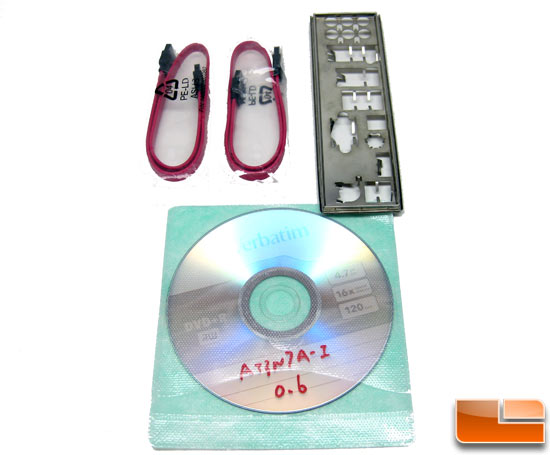 ASUS sent me an early prototype sample of the AT3N7A-I motherboard, so all that was included was a couple SATA cables, rear I/O shield and a driver disc. The retail version will have a users manual and possibly more items in the bundle. The ASUS AT3N7A-I motherboard that I showed here also has a prototype fan on it that has been deemed too loud. ASUS will be sending out a new fan shortly and I will talk about dBA in an update once the new fan arrives.