NVIDIA Ion mini-ITX System Build Guide
By
DIY NVIDIA Ion mini-ITX Build
Building a mini-ITX computer system is a popular topic these days and for good reason. The form factor is very small, a wide selection of platforms is available, and the component pricing is fairly decent. This build guide will quickly go through the steps of building a mini-ITX build from out of the box to completion. Once the build is completed, I will install Windows 7 RTM and run a slew of benchmarks to see how the system performs doing some tasks that you might actually do with a mini-ITX system. The goal of this article is to show how to build a mini-ITX HTPC system capable of playing Blu-Rays for under $600 in hardware. Can it be done? Easily!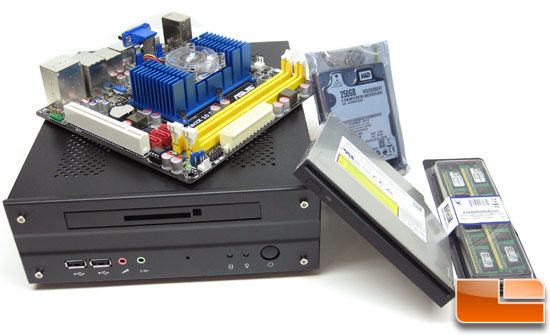 The Mini-ITX System Build Parts List:
That brings the grand total for the system to $577.09 before the operating system and software, which isn't that bad for what this system will be capable of doing. Once it is built and loaded up with Windows 7 RTM 64-bit for a trial run, it should be a fairly beefy system thanks to the dual-core Intel Atom Processor 330 (1M Cache, 1.60GHz, 533MHz FSB) and the NVIDIA Ion GPU.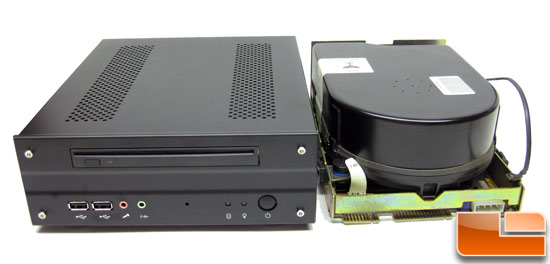 Many people might not understand just how small mini-ITX systems are, so here is the system that I will be showing you how to build sitting next to an early 1990's IBM 70MB ESDI hard drive. The mini-ITX system is actually just slightly larger when it comes to length and width, but is not as tall as the 70MB hard drive. The fact that the mini-ITX system on the left is loaded with a 250GB hard drive, motherboard, processor, 2GB of memory and a Blu-Ray player and is roughly the same size as hard drive from just a couple decades ago just goes to show how quickly computer components have advanced and shrunk in size.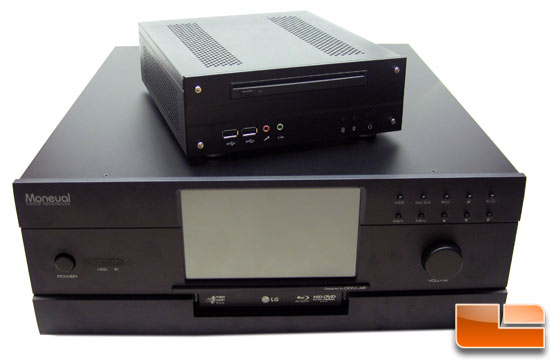 The Travla Mini-ITX Case C287 also dwarfs my current HTPC that was built using the Moneual LAB Black Aluminum 972B ATX media center case. This case alone still costs $499.99, so the new mini-ITX system will basically cost as much as my chassis did from a couple years ago. Other than a massive space savings, this system should also use much less power. My current HTPC uses an AMD 690G platform with a Radeon HD 4830 graphics card and consumes ~110W at idle. The new build that I am reviewing today should idle under 25W, which is nearly an 80% reduction in power consumption.
Let's take a closer look at the Travla Mini-ITX Case C287 and ASUS AT3N7A-I Motherboard before we get to the system building and benchmarking.