NVIDIA Ion mini-ITX System Build Guide
By
Building The Mini-ITX HTPC Part 2
Now that the motherboard is installed and wired up, we can focus on getting the optical drive and hard drive installed into the tray and then into the chassis.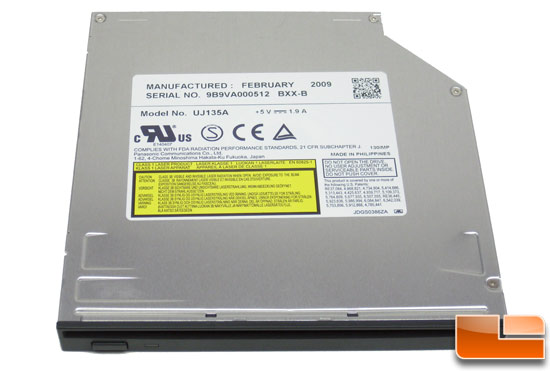 The Panasonic UJ-135-A SATA Slimline slot-loading Blu-Ray player comes as an OEM bare drive, so you get just the drive itself and a SATA cable. If you are curious about the read speeds, dimensions or specifications be sure to check out the Panasonic site for the full details. With a height of just 12.7mm and 8MB of on-board cache the Panasonic UJ-135-A SATA Slimline slot-loading Blu-Ray player was perfect for the mini-ITX system build. It's main use will be as a BD-ROM and with a 4x speed rating it should be able to do the job just fine.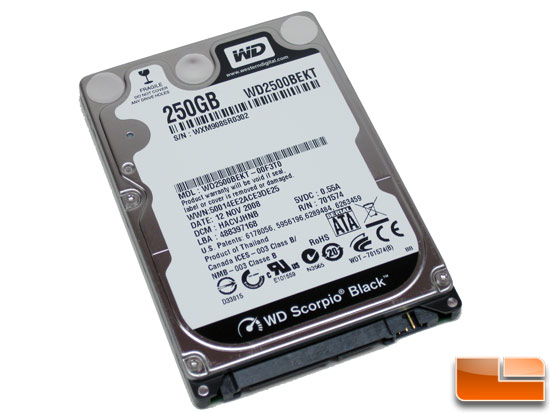 The WD Scorpio Black 250GB SATA Hard Drive is the highest performing 2.5-inch hard drive by Western Digital and operates at 7200RPM. Since this system will be used for playing HD content, a drive speed of 7200RPM was an easy choice and our benchmarking of the WD Scorpio Black series also showed solid performance results.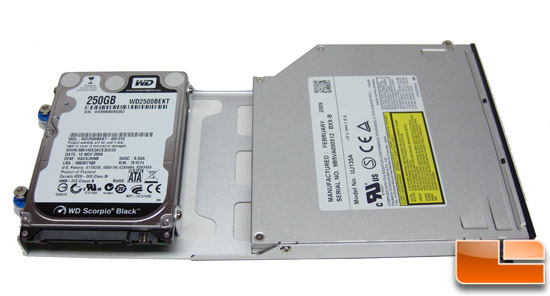 The Travla C287 mini-ITX chassis tray has room for a pair of 2.5″ laptop hard drives, but I will only be installing one into the system. Rather than mounting the drive on the bottom against the tray I raised it up to the top slot for the drive to have more airflow around it and secured it with the M3x5mm circle head Philips screws. The Panasonic UJ-135-A SATA Slimline slot-loading Blu-Ray player needs to be fitted in order for the front to be flush with the chassis so lightly tighten a couple of the screws and adjust it in the slots till everything is perfect. Once you got the drive in the right spot, you can tighten all four of the M2x3mm Philips screws and install the tray into the chassis.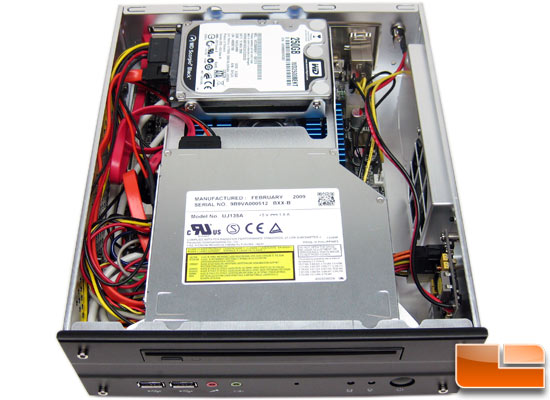 At this point in time, you will notice that you have a little wiring mess going on and that the case should have come with some zip ties. If you just leave the wires alone and tuck them into the chassis you'll end up with the mess pictured above. It is not that pretty, but everything works and you can always put the case top back on.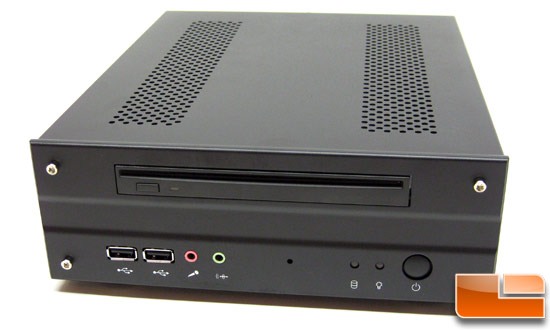 With the top of the Travla C287 mini-ITX chassis back on the system it looks like a million bucks.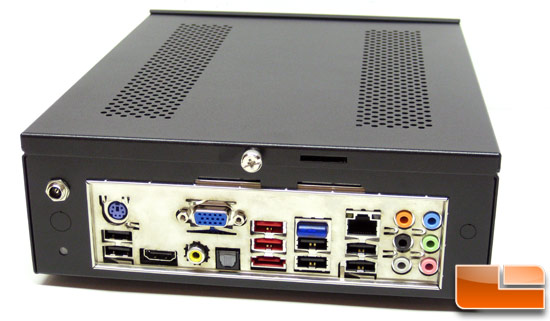 Even the back of it came out looking clean! Let's take a look at some benchmarks and see how well this little system does with Blu-Ray playback among other things.