NVIDIA GeForce GTX 1070 Founders Edition Video Card Review
By
Final Thoughts and Conclusions
The NVIDIA GeForce GTX 1070 Founders Edition at $449 was found to perform faster more times than not when compared to the AMD Radeon R9 Fury X flagship graphics card with HBM memory that costs a whopping $639.99 before rebates. The custom Add-In-Board (AIB) partner cards for the GeForce GTX 1070 will likely be clocked faster than the Founder Edition model that we looked at today and will run just $379. That means the NVIDIA GeForce GTX 1070 is poised to dominate the $400 price point until AMD can come up with something in this price range to put some pressure back on NVIDIA. Right now the NVIDIA GeForce GTX 1080 and GeForce GTX 1070 video cards based on the new Pascal GPU architecture are going to dominate things! The GeForce GTX 1080 Founders Edition sold out in minutes and we have a good feeling that the GeForce GTX 1070 is going to sell like hotcakes as well.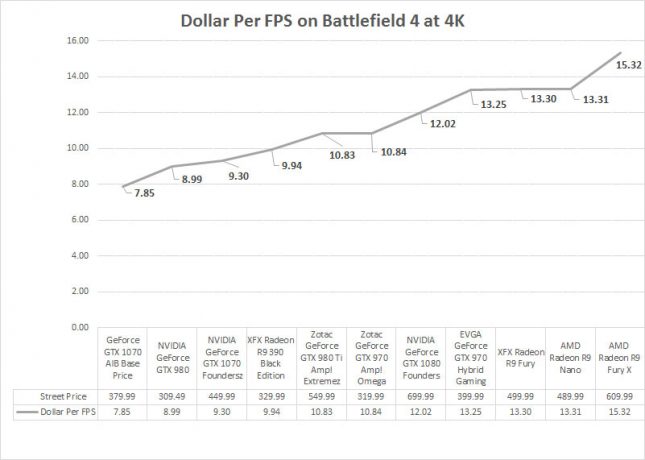 Performance of the NVIDIA GeForce GTX 1070 was amazing for the price point. We took the average FPS from our Battlefield 4 results and found the cost per FPS based on Newegg pricing on May 29th, 2016. The NVIDIA GeForce GTX 980 can be picked up for $309.49 and runs $8.99 per FPS on BF4 at 4K. The NVIDIA GeForce GTX 1070 Founders Edition isn't too far behind at $9.30. The thing you need to keep in mind is that the GeForce GTX 1070 MSRP for third party cards is just $379.99. We charted that for fun with the results from the Founders Edition card and found it to be the best bang for the buck of all the cards at $7.85. The AMD Radeon R9 Fury, R9 Nano and R9 Fury X all proved to have the worst price versus performance ratio on this particular game title. This is bad news for AMD as they are no longer competitive when it comes to price versus performance. AMD's flagship 'Fury' and 'Nano' cards might have the latest HBM memory, but the performance and price tag needs to be adjusted now that NVIDIA has released Pascal GPUs on the GeForce GTX 1070 and GeForce GTX 1080!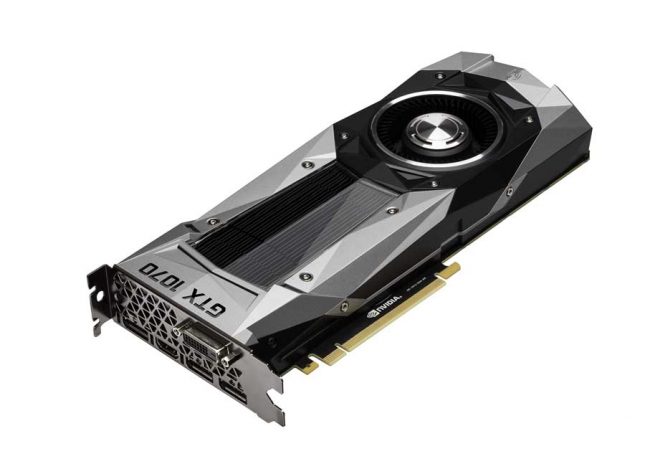 Our NVIDIA GeForce GTX 1070 Founders Edition video card also overclocked really well and we saw the boost clocks hit over 2100MHz while gaming with full stability and that left us pretty damn impressed. NVIDIA really did some great tuning to the Pascal architecture and of course the die shrink helped, but before we learned the details on these cards we didn't think that we'd be running the core clock at 2100 to 2200 MHz! The best part of the GeForce GTX 1070 is that it isn't a power hog. Our test system ran consistently in the 270-280W range while gaming and that is awesome. When we went back to spot check some numbers on the AMD Radeon R9 Fury X right after using the GeForce GTX 1070 the different was night and day. The Radeon R9 Fury X runs around 500 Watts and quickly changes the room temperature if you use it for an extended period of time. The NVIDIA GeForce GTX 1070 is a solid performing card that is very well rounded. We have no complaints on performance, noise, power consumption, temperatures or anything.
If you can't afford the NVIDIA GeForce GTX 1080 at $599-$699 we highly suggest giving the NVIDIA GeForce GTX 1070 a look at $379 to $449. This card is killer at 1080P and 1440 screen resolutions and it isn't a slouch at 4K, but most 4K gamers might be yearning for the power of the GeForce GTX 1080 and we fully understand that! If you have an older GeForce GTX 500 or 600 series card the performance increase will be astonishing and we are looking at putting together an article to show the performance increases for folks with older cards here shortly.
The NVIDIA GeForce GTX 1070 will hit store shelves on June 10th and it easily gets our recommended award!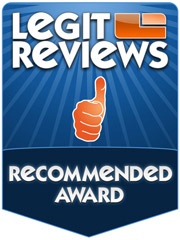 Legit Bottom Line: The GeForce GTX 1070 turned out to be a impressive graphics card that comes at a rather affordable price point for everything it delivers.