NVIDIA GeForce GTX 1070 Founders Edition Video Card Review
By
NVIDIA GeForce GTX 1070 Overclocking
As you saw from the benchmarks on the previous pages, the NVIDIA GeForce GTX 1070 is no slouch at stock speeds! Those looking for even more performance can use an overclocking utility like EVGA Precision X to get even more performance from the GP104 'Pascal' GPU. This is due to the fact that NVIDIA left plenty of overhead with particular GPU for enthusaists and gamers to tap into if they wanted to push the envelope a little bit. The NVIDIA GeForce GTX 1070 is power limited in most game titles and it will often hit the stock temperature target of 83C, so it will also benefit from additional power and a higher temperature target.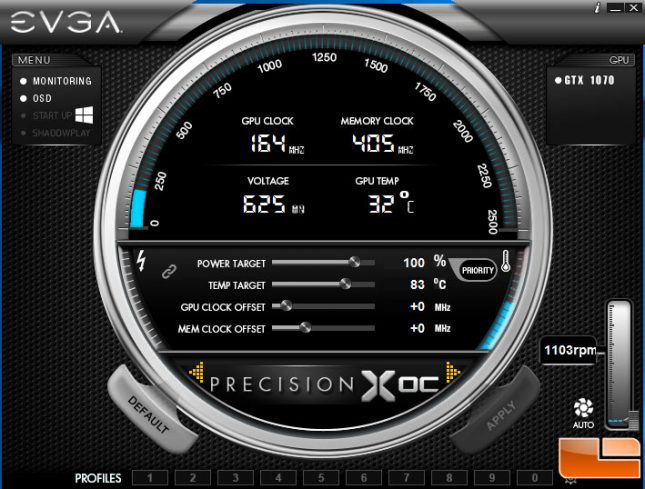 We installed a latest version of the EVGA PrecisionX 16 overclocking utility to overclock the NVIDIA GeForce GTX 1070 video card! You can use whatever software utility you like for overclocking, but this was the only one available that supports the Pascal GPU architecture at the time of testing.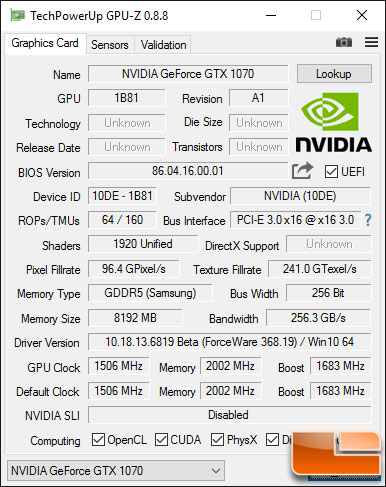 In case you forgot, the NVIDIA GeForce GTX 1070 Founders Edition graphics card is clocked at 1506 MHz base with a boost clock of 1683MHz. The 8GB of GDDR5 memory is clocked at 2002MHz (8008 MHz effective). Let's see how much higher we can get this partially disabled GP104 Pascal GPU with 1920 CUDA cores!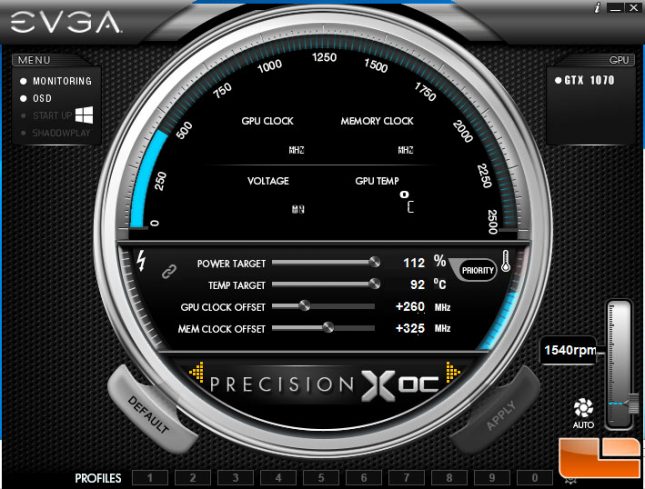 The NVIDIA GeForce GTX 1070 is pretty open when it comes to overclocking. You can increase the power target to 112% and if you leave the GPU Temp Target locked it will automatically increase to 92C. We pushed the GPU Clock offset to +260MHz and the Mem Clock Offset to +325MHz on our card and found it was stable in the game titles that we tested.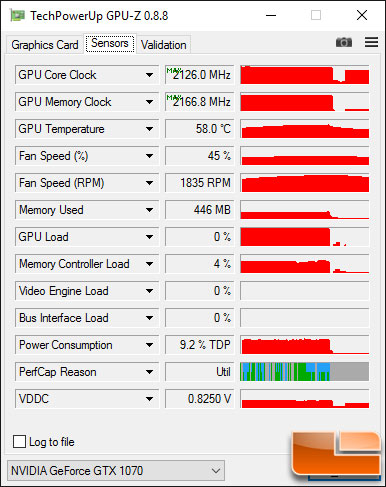 This overclock meant that we were running at up to 2126.0 MHz at times thanks to NVIDIA Boost 3.0 on the core and 2166.8 MHz (8667.2 MHz effective) on the 8GB of GDDR5 memory.
NVIDIA GeForce GTX 1070 Stock: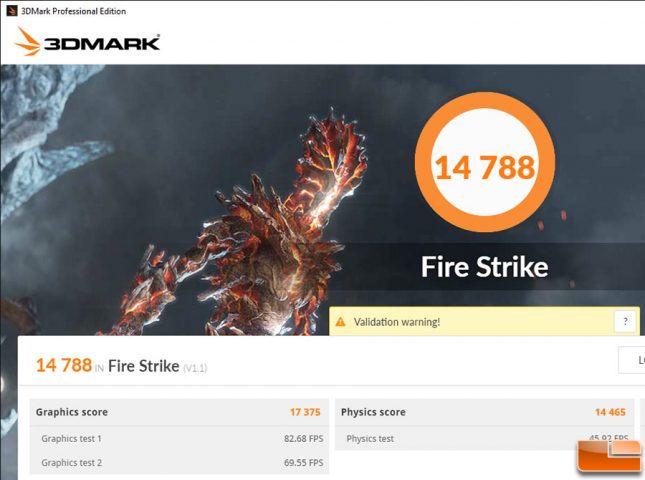 NVIDIA GeForce GTX 1080 Overclocked (+260/+325):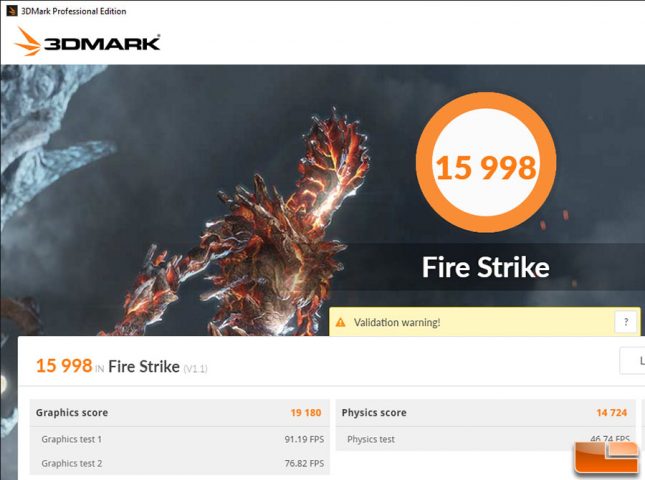 By overclocking the NVIDIA GeForce GTX 1070 8GB Founders Edition graphics card we were able to take the score of 14,788 on 3DMark Fire Strike and raise it up to 15,998. This is a 1,210 point increase in our overall 3DMark score, which represents a performance gain of 8.2 percent. The overal FPS average in Graphics Test 1 went from 82.68 to 91.19, which is a 10.3% performance gain in this particular graphics test.
We benchmarked the GeForce GTX 1070 overclocked to +260MHz core and +325MHz memory in a number of game titles and found that it was rock solid with nice performance gains.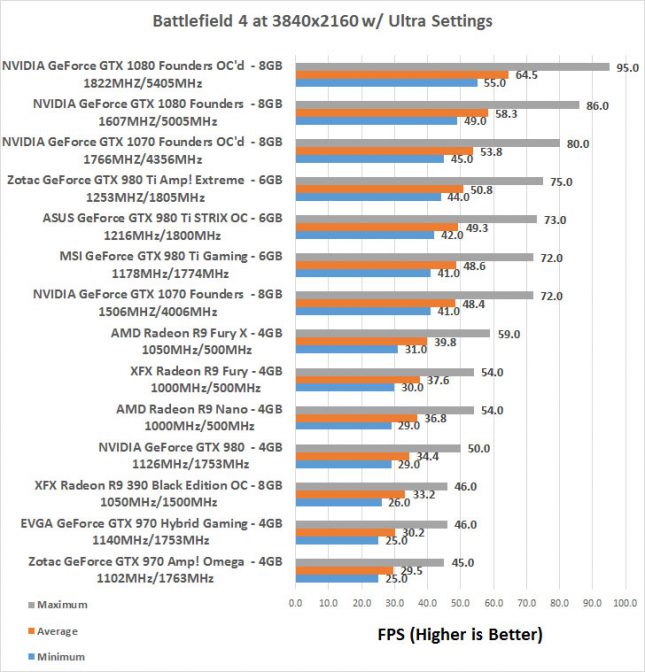 For example in BF4 at 4K resolution we were able to average 48.4 FPS with the stock clocks and then with the GeForce GTX 1070 we were able to average 53.8 FPS. This wasn't enough to catch up to the stock NVIDIA GeForce GTX 1080 Founders Edition video card, but it was enough to pass up the retail GeForce GTX 980 Ti cards and we'll take that for $449 or less if you get a $379 MSRP AIB model!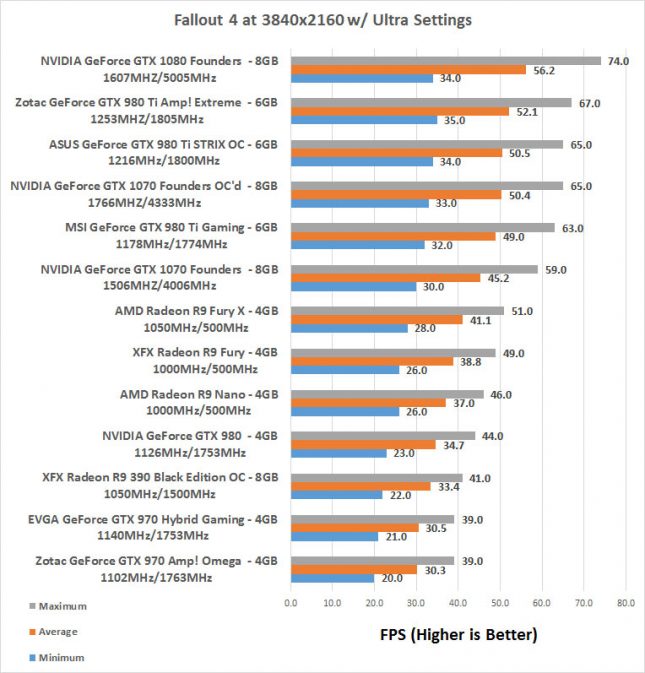 In Fallout 4 the overclock helped the GeForce GTX 1070 get from 48.4 FPS on average up to 53.8 FPS. This 11% performance boost was nice to have, but it wasn't enough to pull ahead of all the GeForce GTX 980 Ti retail cards with their default factory overclocks.
Let's wrap this review up!