NVIDIA GeForce GTX 1070 Founders Edition Video Card Review
By
Will The GeForce GTX 1070 'Pascal' Video Card Win The Hearts of Gamers?
Last week we were impressed by how the NVIDIA GeForce GTX 1080 8GB GDDR5X video card performed when we put to the test, but not everyone can afford a $699 video card and we understand that. If you have an 2-5 year old video card you might be getting the itch to upgrade to something more modern that has the performance you want to have while supporting all the new features that NVIDIA has added over the past couple generations. The NVIDIA GeForce GTX 1070 uses the same GP104 'Pascal' GPU build on the 16nm FinFET process that is used on the GeForce GTX 1080, but costs a fair amount less. When the GeForce GTX 1070 becomes available on June 10th, 2016, the Founders Edition of the card runs $449 whereas the MSRP for third party GTX 1070 cards is just $379.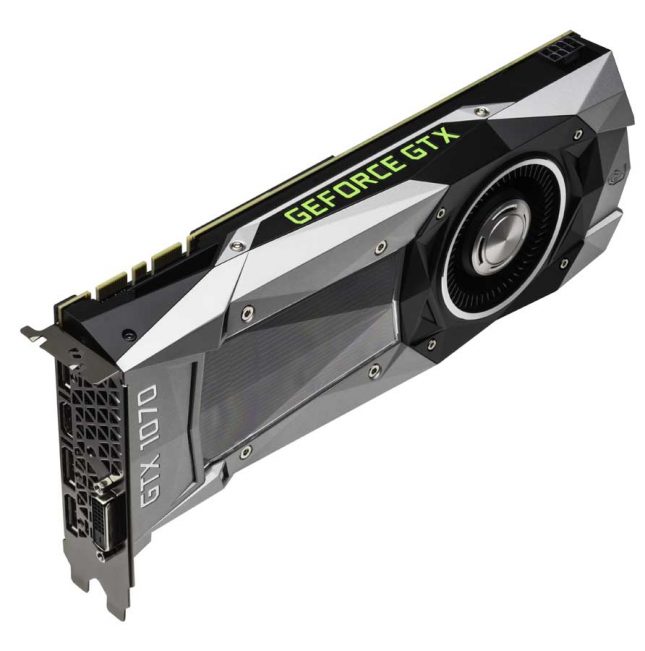 The GeForce GTX 1070 costs less because rather than using 8GB of GDDR5X memory it uses 8GB of GDDR5 memory and NVIDIA essentially disabled a GPC unit. The good news is that the NVIDIA GeForce GTX 1070 still has 1,920 CUDA cores in 15 Stream Multiprocessors, 120 Texture Units and 64 ROPs for a peak texture fill rate of 202 Gigatexels/sec. In comparison, the GeForce GTX 1080 has a fully enabled GP104 GPU with 2,560 CUDA cores in 20 Stream Multiprocessors, 160 Texture Units and 64 ROPs for a a peak texture fill rate of 277.3 Gigatextures/sec. Keep in mind that while the GeForce GTX 1070 has 25% fewer CUDA Cores and Texture Units, the price of the card has been slashed by 36% when compared to the GeForce GTX 1080.
What is nice about the way NVIDIA designed the GP104 GPU is that NVIDIA didn't disable any memory controller channels or ROPs, so the GTX 1070 has the full 64 ROP backend! On the NVIDIA GeForce GTX 970 most all gamers know about 'ramgate' where NVIDIA disabled an L2 segment and impacted memory performance. NVIDIA isn't touching the memory subsystem that the L2 segment is part of and instead is just disabling a single GPC block.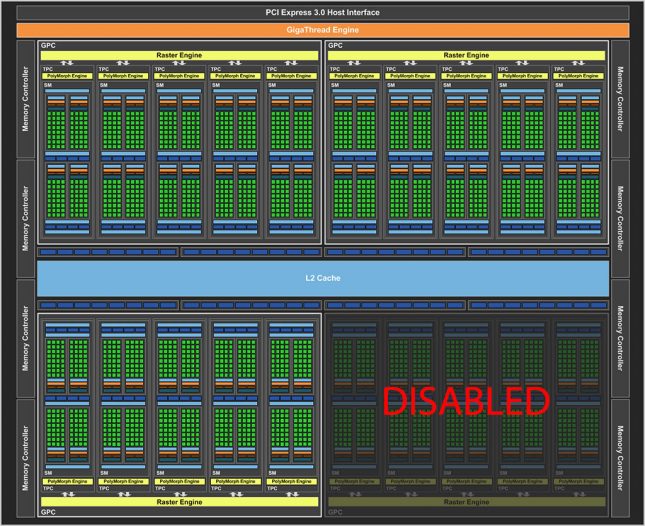 When it comes to clock speeds the NVIDIA GeForce GTX 1070 Founders Edition graphics card has a base clock of 1506MHz with a boost clock speed of 1683MHz. GeForce GTX 1080 are clocked at 1607MHz base and 1733MHz boost of the GeForce GTX 1080 Founders Edition video card. NVIDIA says that the power delivery system of the GeForce GTX 1070 Founders Edition wass designed with a low impedance power delivery network, custom voltage regulators and a 4-phase dualFET power supply that is optimized for clean power delivery. NVIDIA internal testing showed that most GeForce GTX 1070 cards are able to overclock exceptionally well and can hit over 1.9GHz!
The GeForce GTX 1070 might be stuck using older GDDR5 technology on a 256-bit wide bus, but the good news is that NVIDIA is shipping this card with the highest memory speed of any GDDR5 GPU in the world. The 8GB of GDDR5 memory on the GeForce GTX 1070 is clocked at 4,006MHz or 8Gbps! This allows the GeForce GTX 1070 to have 256 GB/s of memory bandwidth, which isn't too far behind (only 20%) the 320 GB/s of memory bandwidth found on the GeForce GTX 1080 that uses the new G5X memory.
With regards to power draw, the GeForce GTX 1070 is a 150W TDP video card, which is 20W less than a GeForce GTX 1080. Due to this the GeForce GTX 1070 doesn't have the vapor chamber cooler used on the GeForce GTX 1080 and will use a GPU cooler with old school heatpipes.
GTX 1080
GTX 1070
GTX 980 Ti
GTX 980
GTX 780
GTX 680
GTX 580
Microarchitecture
Pascal
Pascal
Maxwell
Maxwell
Kepler Refresh
Kepler
Fermi
Stream Processors
2560
1920
2816
2048
2304
1536
512
Texture Units
160
120
176
128
192
128
64
ROPs
64
64
96
64
48
32
48
Core Clock
1607MHz
1506MHz
1000MHz
1126MHz
863MHz
1006MHz
772MHz
Shader Clock
N/A
N/A
N/A
N/A
N/A
N/A
1544MHz
Boost Clock
1733MHz
1683MHz
1075MHz
1216MHz
900MHz
1058MHz
N/A
Frame Buffer
8GB
8GB
6GB
4GB
3GB
2GB
1.5GB
Effective Memory Clock
10,010MHz
GDDR5X
8,012MHz
GDDR5
7,010MHz
GDDR5
7,000MHz
GDDR5
6,008MHz
GDDR5
6,008MHz
GDDR5
4,008MHz
GDDR5
Memory Bus Width
256-bit
256-bit
384-bit
256-bit
384-bit
256-bit
384-bit
Memory Bandwidth
320
256
336.5
224
288
192.3
192.4
FP64
1/32
1/32
1/32
1/32 FP32
1/24 FP32
1/24 FP32
1/8 FP32
TFLOPS
8.9 – Peak
8.2 – Base
6.5 – Peak
5.8 – Base
5.6
5
4
3
1.5
GFLOPS/Watt
49
43
22
30
15
15
6
TDP
180W
150W
250W
165W
250W
195W
244W
Transistor Count
7.2B
7.2B
8.0B
5.2B
7.1B
3.5B
3B
Manufacturing Process
TSMC 16nm
TSMC 16nm
TSMC 28nm
TSMC 28nm
TSMC 28nm
TSMC 28nm
TSMC 40nm
Release Date
05/2016
05/2016
05/2015
09/2014
05/2013
03/2012
11/2010
Launch Price
$699
$449
$649
$549
$649
$499
$499
Here is a table that compares the flagship cards for the four most recent architecture on NVIDIA's flagship graphics cards!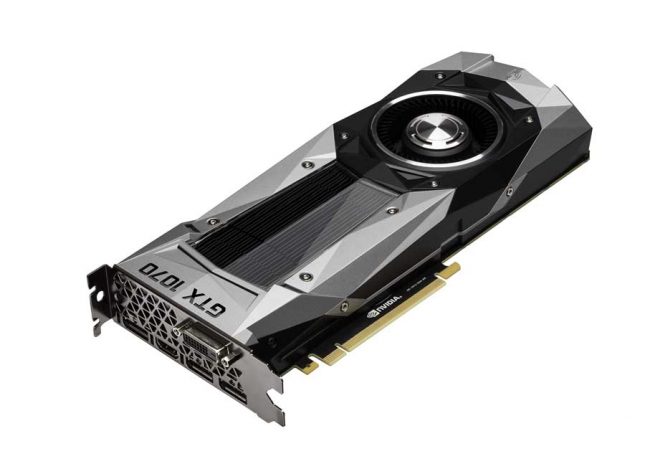 Let's move along and take a look at the GeForce GTX 1070 Founders Edition graphics card!