Nvidia GeForce 8800 GT Video Card Performance Review
By
The Test System
The test system was running Windows Vista Ultimate 64-bit with all available Microsoft updates including the hotefixes required for enthusiast video cards to run correctly. NVIDIA Forceware 196.05 beta video card drivers were used on all of the GeForce series graphics cards. ATI CATALYST 7.11 beta drivers were used on the Radeon HD 2900 XT and HD 2600 XT graphics cards.
The Video Cards:
XFX GeForce 8800 Ultra XXX Edition 768MB (675MHz/2.3GHz )
XFX GeForce 8800 GTX 768MB (575MHz/1.8GHz)
BFG Technologies GeForce 8800 GTS OC2 640MB (580MHz/1.7GHz)
NVIDIA GeForce 8800 GT 512MB (600MHz/1.8GHz)
eVGA 8600 GT 256MB (540MHz/1.4GHz)
ATI Radeon HD 2900 XT (743MHz/2.0GHz)
ATI Radeon HD 2600 XT (800MHz/1.1GHz)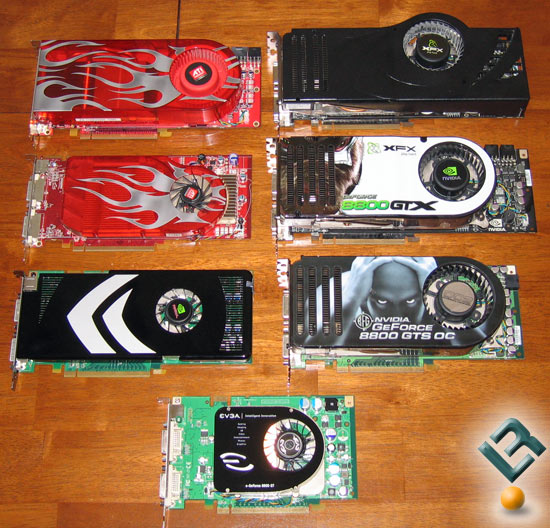 All of the video cards were tested on the Intel X38 Express Test platform, which is loaded with the latest and greatest hardware. The Intel Core 2 Quad QX9650 'Yorkfield' processor was used for testing as it proved to be the best desktop processor when it comes to game performance. The test system was also loaded with 4GB of memory and water cooled to ensure throttling of the processor or memory wouldn't cause any issues.
Intel Test Platform

Component

Brand/Model

Live Pricing

Processor

Intel Core 2 Quad QX9650

Motherboard

Gigabyte X38DQ6

Memory

Corsair PC2-8500 4GB

Video Card

XFX GeForce 8800 Ultra

Hard Drive

Western Digital SATA 250Gb

Cooling

Corsair Nautilus 500

Power Supply

Corsair HX620W

Operating System

Windows Vista Ultimate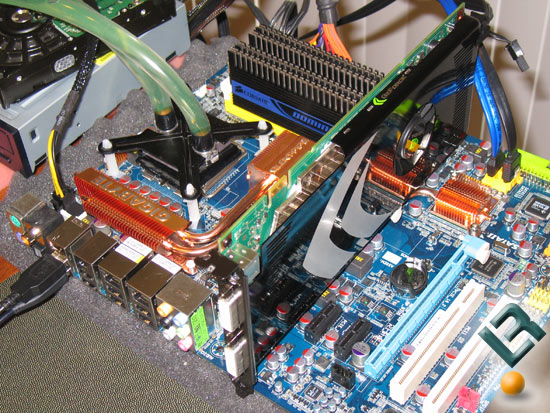 Now that we know exactly what the test system is, we can move along to performance numbers.