Nvidia GeForce 8800 GT Video Card Performance Review
By
Introduction
When NVIDIA released the GeForce 8800 GT video card it rattled the graphics card market like I haven't seen in years. The GeForce 8800 GT is based on the G92 core which combines the shading power of the GeForce 8800 series with the enhanced texturing and video features of the GeForce 8600. The result is a graphics card that performs better than the GeForce 8800 GTS 640MB and costs less! This is thanks to the 112 streaming processors operating at 1.5GHz, 512MB of GDDR3 video memory, a 256-bit memory interface, PCI Express 2.0 and the second generation NVIDIA PureVideo engine with full acceleration and post processing for HD DVD and Blu-ray movies. These are impressive features and we have covered the fundamentals of this card before, so please reference our previous article if you'd like to see the basics. Without further ado, lets take a look at the GeForce 8800 GT that we will be benchmarking today with Forceware 196.05 beta drivers.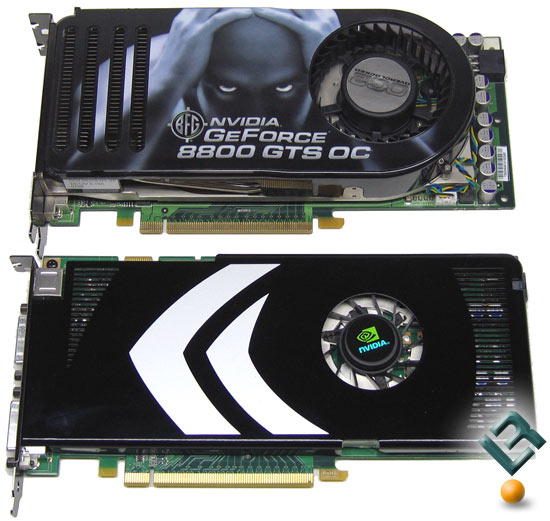 The GeForce 8800 GT doesn't look tougher than the BFG Tech GeForce 8800 GTS OC pictured with it, but trust me, it performs better as you will see in the following pages. One of the nice features of the GeForce 8800 GT is that it doesn't need a dual-slot cooling solution. This means the GeForce 8800 GT will be able to be used in Home Theatre Personal Comupers (HTPCs) as there will be room for it along with a TV Tuner card.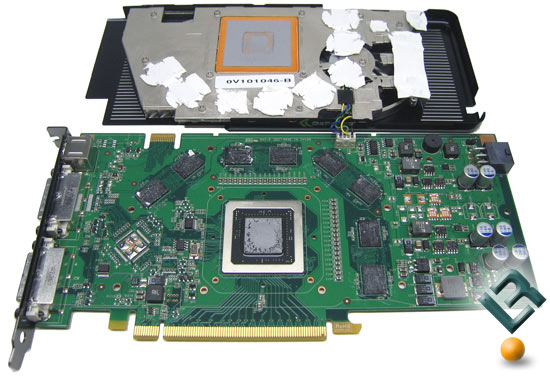 After removing the screws holding on the heat sink and fan, the 'guts' of the GeForce 8800 GT can be seen. Even though the GeForce 8800 GT has more transistors than the GeForce 8800 GTS (754 million versus 681 million), it requires just a single 6-pin PCI Express power header like the GeForce 8800 GTS. This is due to the fact that NVIDIA has built the G92 core on the 65nm process whereas the GeForce 8800 series were all built on the 90nm process. The result of the die shrink means that the GeForce 8800 GT has lower power consumption even though it has more stream processors, faster core/memory/shader clock frequencies and transistors.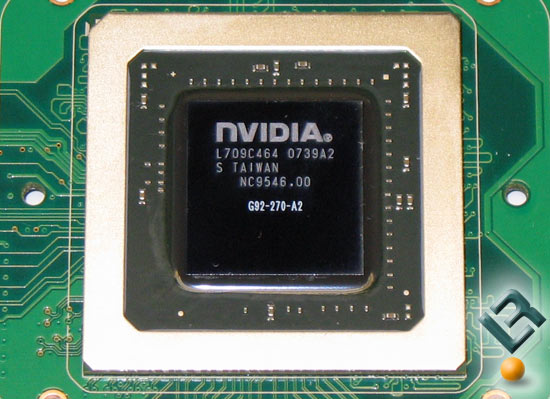 With the thermal paste cleared off the 600MHz G92 core, we can see what powers this beast. The NVIDIA reference card also came equipped with Qimonda HYB18H512321BP-10 GDDR3 memory IC's that operate at 1500MHz, which means the GeForce 8800 GT has a bandwidth throughput of 57.6 GB/s. Enough talk about the details! Lets take a look at the test system and then the benchmarks to see how it performs.