Nvidia GeForce 8800 GT Video Card Performance Review
By
Power Consumption and Conclusion
Power Consumption
For testing power consumption, we took our test system and plugged it into a Seasonic Power Angel. For idle numbers, we allowed the system to idle on the desktop for 15 minutes and took the reading. For load numbers, we measured the peak wattage used by the system while running the game World in Conflict at 1600×1200 with medium graphics quality.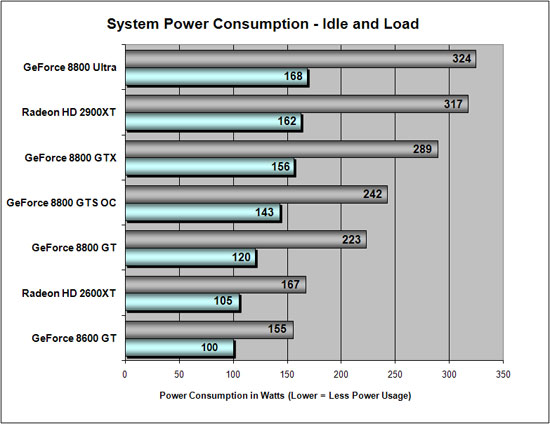 Power Consumption Results: The GeForce 8800 GT consistently placed third in performance testing and this time around. It keeps this position with the third lowest power consumption at idle and load compared to the other six graphics cards. Using 20 Watts less at idle and load than the GeForce 8800 GTS OC and performing better – the GeForce 8800 GT is looking more and more impressive. The lower power consumption numbers can be linked to the 65nm process technology that the GeForce 8800 GT has been built on. If you remember, the older GeForce 8800 GTS, 8800 GTX and 8800 Ultra are all built on the 90nm process, which isn't as energy friendly.
Final Thoughts
We started out talking about how the GeForce 8800 GT has rocked the industry and hopefully you can now see why. The GeForce 8800 GT can be found for around $249.99 and easily outperforms the GeForce 8800 GTS 640MB graphics card that starts at $339 plus shipping. With a lower price tag and higher performance, suggesting the GeForce 8800 GT is an easy thing to do. If the lower price tag and the performance numbers aren't enough to convince you, remember that the GeForce 8800 GT has lower power consumption at idle and load and it takes up just a single slot. NVIDIA really nailed this one out of the ball park and the only people who are are going to be upset with this launch will be those that just recently purchased a GeForce 8800 GTS 640MB graphics card. I wonder what companies like eVGA will do when a customer calls and wants to 'step down' his GeForce 8800 GTS to an 8800 GT within the 90 day 'step up' program that they do.
For now, we have to give a thumbs up to the NVIDIA GeForce 8800 GT and welcome it with open arms to the GeForce 8800 series. This card should be a big hit this holiday season as it offers serious performance at a mainstream price tag that most gamers can afford. If you can't afford it however, this card is worth saving up for. AMD will be releasing the Radeon HD 3850 later this week, and while their card is going to feature a die shrink and performance improvements – much like the ones seen on the GeForce 8800 GT. The question is: will it be enough to catch the 8800 GT?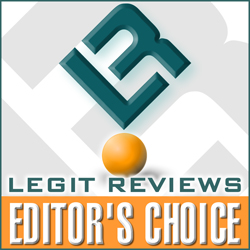 Legit Bottom Line:The GeForce 8800 GT is hands down the best mainstream graphics card we have seen in years from either ATI or NVIDIA. If you've been waiting to get an affordable second generation DirectX 10 graphics card then the wait is over – the GeForce 8800 GT is it!