Intel LGA2011 CPU Cooler Roundup For Sandy Bridge-E Processors
By
Zalman CNPS 11X Performa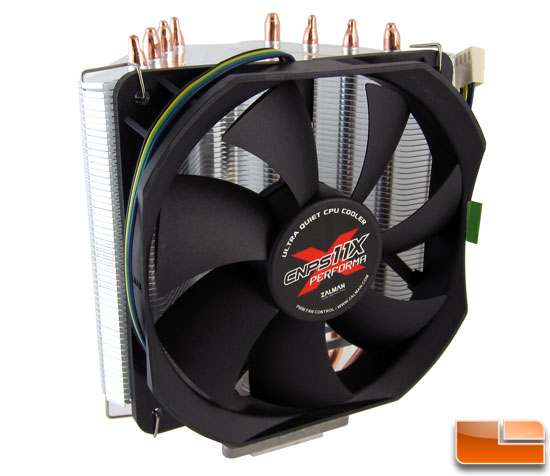 The smallest cooler in the round up is the Zalman CNPS11X Performa. The CNPS11X Performa is a no frills version of the CNPS11X Extreme we looked at back in May. The Performa doesn't have the Black Pearl finish or an LED fan, but this also drops the cost of the cooler.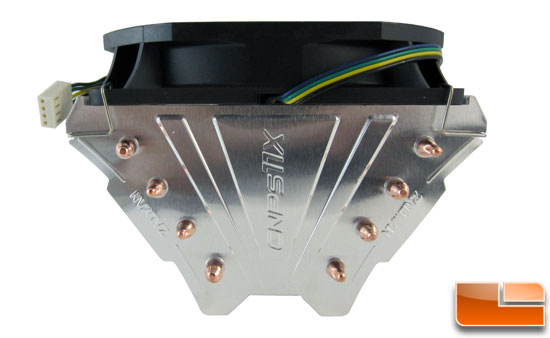 The CNPS11X Performa is a twin tower cooler, but instead of having the towers parallel to one another they are at an angle away from one another. So when you look at the cooler from the top you see a triangle, or V shaped, foot print.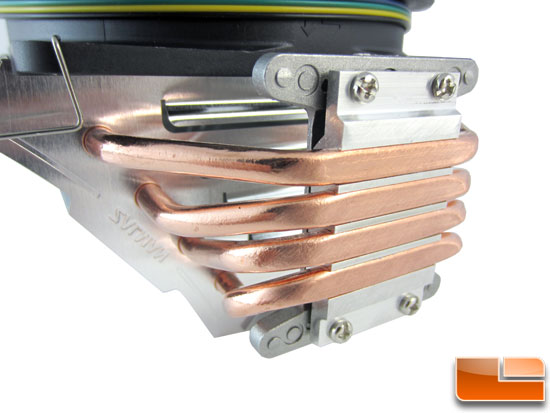 The CNPS11X is an HDT or Heatpipe Direct Touch and is made up of 4 of Zalman's composite heatpipes. The CNPS11X also sports a 120mm PWM fan that operates at 1000~1600 RPM at 17~26 dBA.
Features of the Zalman CNPS 11X Performa
V-Shaped Dual Heatsinks: Two independent heatsinks are designed in V-shape to minimize air resistance and optimize airflow, providing the best cooling Performance.
Powerful Cooling Performance: Two optimally designed heatsinks disperse heat away from the CPU via 4 heatpipes, while high capacity 120mm fan quickly cools the heatsinks for stable operation of high performance CPUs
Latest LGA 2011 Socket Support: CNPS11X Performa accommodates a broad range of sockets including Intels latest LGA 2011 sockets as well as AMDs.
High Performance Super Thermal Grease: ZM-STG2M Provided: The high performance super thermal grease ZM-STG2M maximizes heat transfer from the CPU to the base of CNPS11X Performa for intensified cooling performance.
DTH (Direct Touch Heatpipe) Base As applying DTH (Direct Touch Heatpipes) technology, 4 heatpipes in the Base Cover touch the CPU directly and transfer the CPUs heat directly to heatpipes, thereby minimizing heat resistance and maximizing cooling performance in a short time.
FET Cooling Airflow Guide: CNPS11X Performa's patented FCG (FET Cooling Guide) heatsink effectively cools the peripheral areas of the Motherboard and FET (Filed-Effect Transistor) for stable operation.
Ultra Quiet 120mm PWM Fan: Switching noise eliminated 120mm fan incorporated for ultra quiet operation.
Specifications of the Zalman CNPS 11X Performa
Dimensions: 135(L) x 80(W) x 154(H)mm
Weight: 450g
Materials: Pure Copper and Aluminum
Dissipation Area: 6,000cm2
Heatpipes: 4
Fan Bearing: Long Life Bearing
Fan RPM: 1,000 ~ 1,600rpm 10%
Noise: 17 ~ 26dBA
Input Voltage: 12V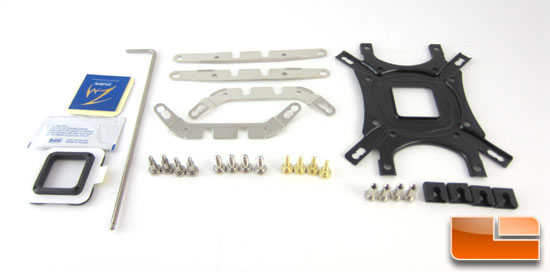 The CNPS11X comes with all that is needed to mount up to all Intel LGA and AMD AM2/3 sockets. Zalman also includes a long Allen key wrench for installing the cooler, because all the screws used are socket screws and not Phillips like most coolers use.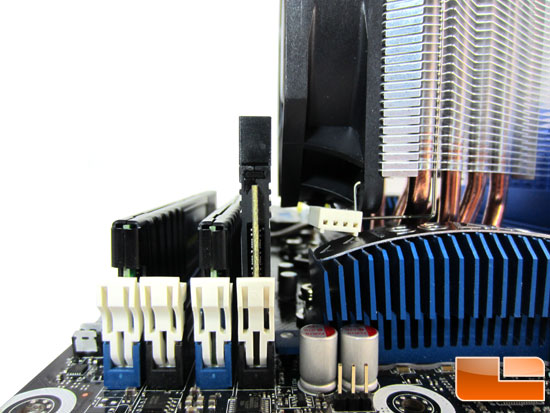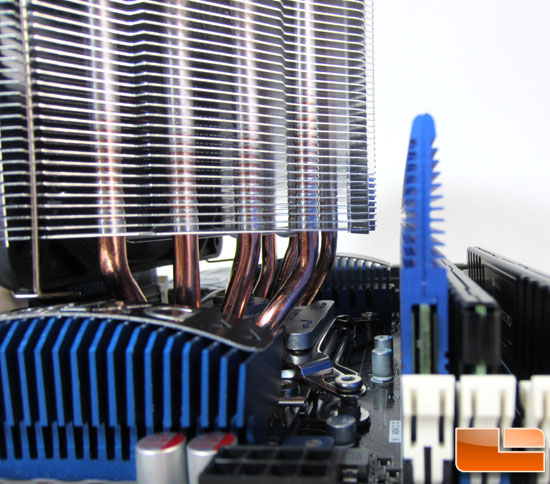 Being the smallest air cooler of the roundup, the CNPS11X is the only one that did not block the RAM slots and allowed for the use of RAM with tall heat spreaders.