Intel LGA2011 CPU Cooler Roundup For Sandy Bridge-E Processors
By
Corsair Hydro Series H80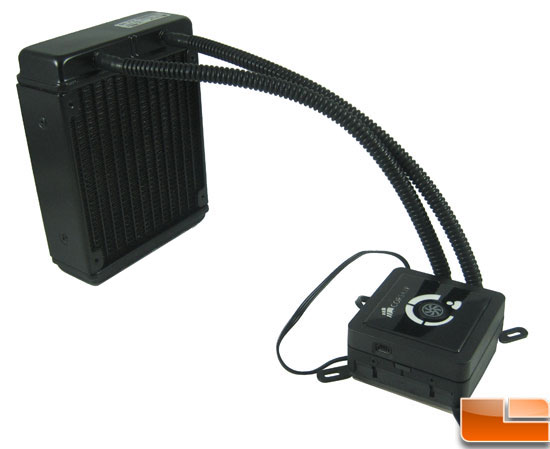 The Corsair Hydro Series H80 is a thick single 120mm radiator that supports twin 120mm fans in a push pull configuration. We first looked at it back in July. The H80 also was the first cooler in the Hydro Series made by CoolIT Systems for Corsair. The previous generation H50 and H70 were made by Asetek. With the H80 being a single 120mm radiator cooler, the unit can be mounted in just about any case with a rear 120mm exhaust port.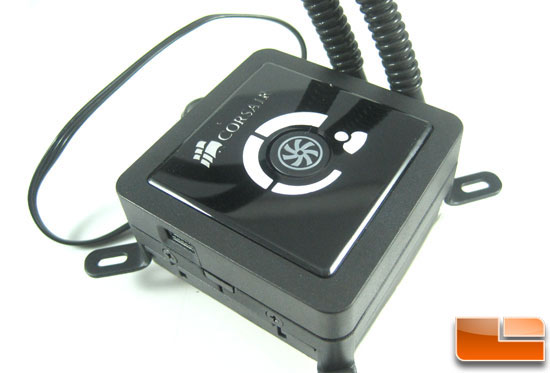 The H80 is powered from a single molex connector. The pump also acts as a fan speed control. Up to two 120mm fans can be powered from the unit and their speed is controlled from the button in the center of the top. This is the mode selector switch. Around the outside of the button is a meter bar. The bar sections light up to show which of the three modes is being selected.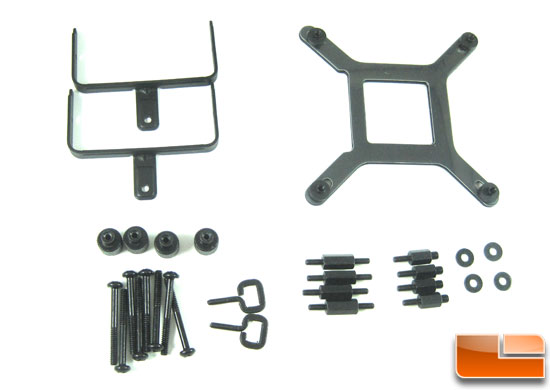 The Corsair H80 comes with all that is needed to mount the H80 to all the Intel LGA sockets and AMD AM2/3 sockets.
Features of the Corsair Hydro Series H80
Pre-filled, closed-loop system is easy to install
Copper CPU cooling plate for maximum cooling performance
Integrated pump and reservoir is sealed for zero maintenance and improved leakage protection
Large, double-thick 120mm radiator for outstanding heat dissipation
High-performance, twin 120mm fans offer outrageous airflow in push-pull configuration
Mode selector switch lets you customize your fan speed for low noise or high performance
Specifications of the Corsair Hydro Series H80
Dimensions: 120mm x 152mm x 38mm
Material: Aluminum
Cold Plate
Tubing:
Low-permeability for near-zero evaporation
Fan
Dimensions: 120mm x 120mm x 25mm
Speeds (+/- 10%):up to 1300 RPM (Low Noise), 2000 RPM (Balanced), and 2500 RPM (High Performance)
Airflow: 46 – 92 CFM
Noise: 22 – 39 dBA
Static pressure: 1.6 – 7.7mm/H20
Compatibility
Intel LGA 775, 1155, 1156, 1366, and 2011
AMD sockets AM2 and AM3
Hydro Series H80 requires a case with a rear or top 120mm fan mount
Warranty: 5 Years