Intel LGA2011 CPU Cooler Roundup For Sandy Bridge-E Processors
By
Price Versus Performance Ratio
Something we have done before in previous CPU cooler reviews is a chart that shows off cost-performance or the price-performance ratio. Basically, it is the cost of the CPU cooler divided by its performance. These results are shown in a number and the lower the number the better "bang for buck," or so to speak. To find performance we needed to get a standard, so we took the Intel Core i7 3960X's TJ Max of 91 and used that. We then subtracted the load temp average across all six cores from the TJ Max to get the temperature difference and obviously the higher the number the better the cooler performed.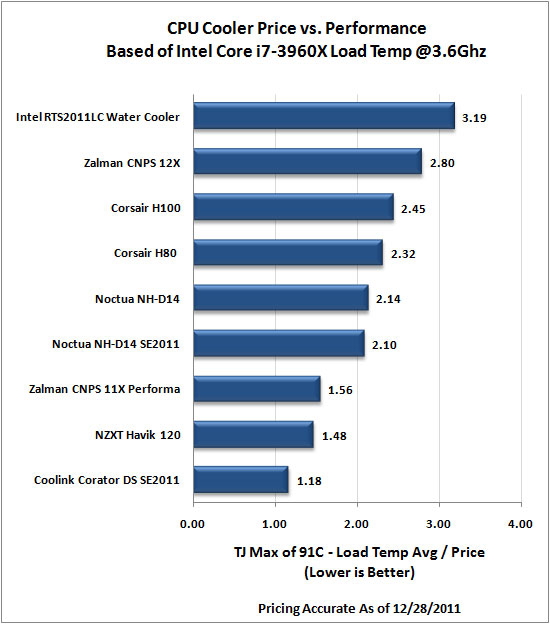 First, let's see how the ratios fell with the system running at stock settings. The Coolink CoratorDS is at the front of the pack thanks to having the lowest price of the group at $44.90. Temperature-wise it fell in the middle of the pack coming in at 52.83*C, a hair over 4 degrees warmer than the Corsair H100 and 2.3 degrees warmer than the Noctua NH-D14 SE2011.
The Noctua NH-D14 SE2011 fell in the middle of the price/performance pack. The Noctua came in second place overall, but first for air coolers at 50.5*C, which is 2.3*C better than the Coolink Corator DS. The bad think is at $84.85 it cost almost twice as much to do so, but you do get better performance and quieter operation with Notua.
The overall first place cooler is the Corsair H100. The H100 come in at 48.67*C, but since it costs $103.74 its cost/performance ratio is not so hot. As you know, you usually have to pay a premium for performance.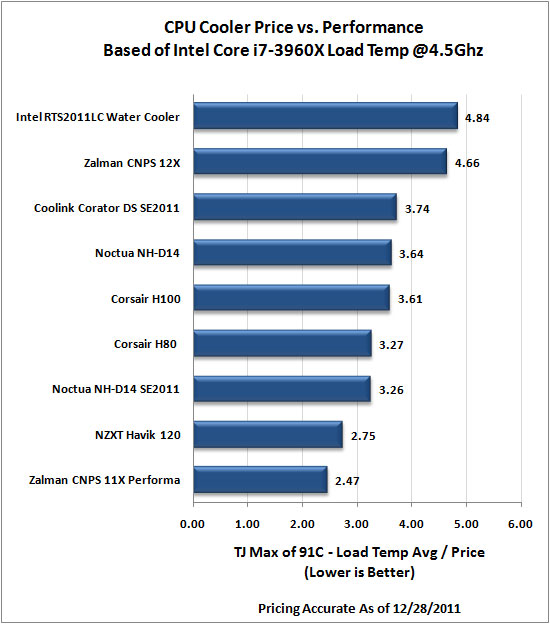 With the system overclocked the ratios shifted. At the front of the pack is the Zalman CNPS11X; the Coolink Corator DS fell back 6 places and the NZXT Havik 120 kept its second place slot. Noctua still holds the middle of the pack well.