Intel LGA2011 CPU Cooler Roundup For Sandy Bridge-E Processors
By
Noctua NH-D14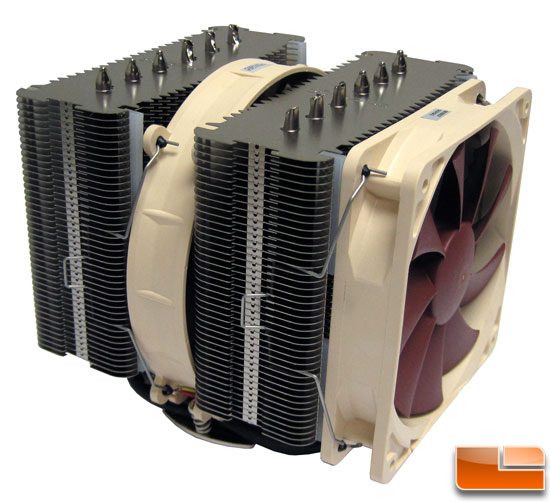 The biggest cooler in our roundup today is the Noctua NH-D14. I first reviewed the NH-D14 back in the first part of 2010, and it has served me nicely and without issue. The NH-D14 is considered one of the best air coolers available today. It is a solid performing cooler that is extremely quiet for an actively cooled cooler. The NH-D14 is a twin tower cooler with dual fans, 120mm front and 140mm center mounted.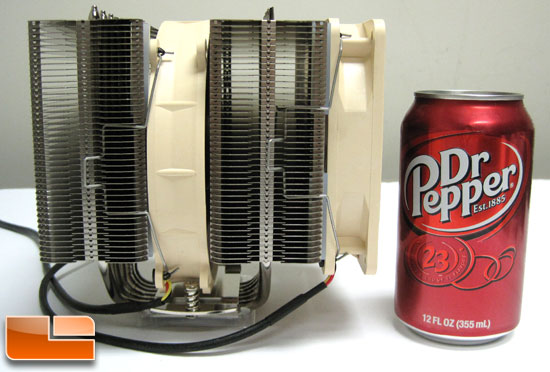 The NH-D14 is not a small cooler. It weighs in at 1,240g and stands 160mm tall, 140mm wide, and 158mm front to back.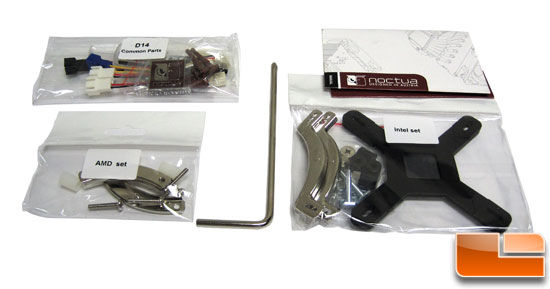 The NH-D14 comes with SecuFirm2 mounting system that allows the cooler to mount to all the Intel LGA sockets and AMD sockets. Since this particular NH-D14 is the same cooler I reviewed back in 2010 we got an updated set of mounts for the LGA2011 socket that any Noctua end user can get for free from Noctua.
Features of the Noctua ND-14
6 heatpipe dual radiator design:

Providing more surface area, better heat-distribution and superior airflow efficiency than conventional tower style heatsinks, the NH-D14s six heatpipe dual radiator design was developed to provide ultimate quiet cooling performance in dual fan mode.

Dual NF-P14/NF-P12 fan setup:

The NH-D14 sports a premium quality dual fan setup consisting of Noctuas award-winning NF-P12 (120mm) and NF-P14 (140mm) fans, both of which feature Vortex-Control Notches, SCD technology and SSO-Bearings in order to achieve a perfect balance of performance and quietness.

Asymmetrical design for high compatibility:

An asymmetrical design that gives more clearance towards the RAM slots ensures good compatibility despite the coolers size. The NF-P12 fan can be moved upward or left off in order to further improve compatibility.

Excellent component cooling:

Hanging out at the bottom of the fin-stacks, the NF-P14 fan doesnt only contribute to the NH-D14s superb CPU cooling capabilities but also provides massive airflow over surrounding motherboard components and heatsinks, thus ensuring excellent component cooling performance.

SecuFirm2 multi-socket mounting system:

Noctuas enthusiast grade SecuFirm2 multi-socket mounting provides broad socket compatibility (LGA1366, LGA1156, LGA1155, LGA775, AM2, AM2+, AM3, AM3+, FM1) and meets the highest demands in safety, contact pressure and ease-of-use.

NT-H1 thermal compound:

Noctua's much-acclaimed NT-H1 is a well proven pro-grade TIM solution that provides minimum thermal resistance, excellent ease-of-use and outstanding reliability.
Specifications of the Noctua ND-14
Intel LGA1366, LGA1156, LGA1155, LGA775, LGA2011 on request
Asus X-socket
AMD AM2, AM2+, AM3, AM3+, FM1 (backplate required)
Height (without fan): 160 mm
Width (without fan): 140 mm
Depth (without fan): 130 mm
Height (with fan): 160 mm
Width (with fan): 140 mm
Depth (with fan): 158 mm
Weight (without fan): 900 g
Weight (with fan): 1240 g
Material: Copper (base and heat-pipes), aluminum (cooling fins), soldered joints & nickel plating
Fan compatibility: 140x140x25 & 120x120x25mm
Scope of Delivery
1x NF-P14 premium fan
1x NF-P12 premium fan
2x Ultra-Low-Noise Adaptor (U.L.N.A.)
Y-Split Cable
4x Vibration-Compensators (for using NF-P12 as case fan)
4x Fan screws (for using NF-P12 as case fan)
NT-H1 high-grade thermal compound
SecuFirm2 Mounting Kits
Noctua Metal Case-Badge
Warranty: 6 Years
Fan specifications
Model: Noctua NF-P14 & Noctua NF-P12
Bearing: SSO-Bearing
Rotational Speed (+/- 10%): 1200 / 1300 RPM
Rotational Speed with U.L.N.A. (+/- 10%): 900 / 900 RPM
Airflow: 110.3 / 92.3 m3/h
Airflow with U.L.N.A.: 83.7 / 63.4 m3/h
Acoustical Noise: 19.6 / 19.8 dB(A)
Acoustical Noise with U.L.N.A.: 13.2 / 12.6 dB(A)
Input Power: 1.2 / 1.08 W
Voltage Range: 12 V
MTBF: > 150.000 h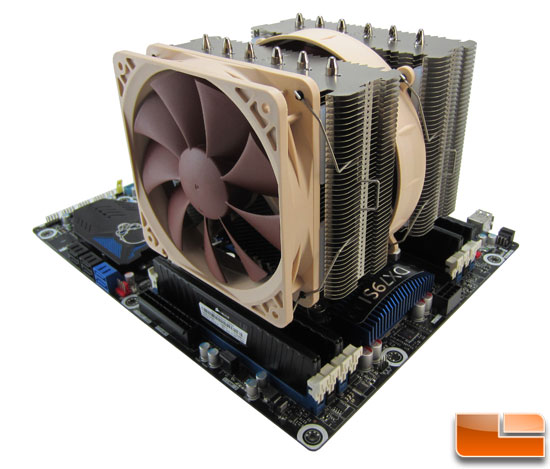 Being so large the NH-D14 covers a very large amount of the motherboard.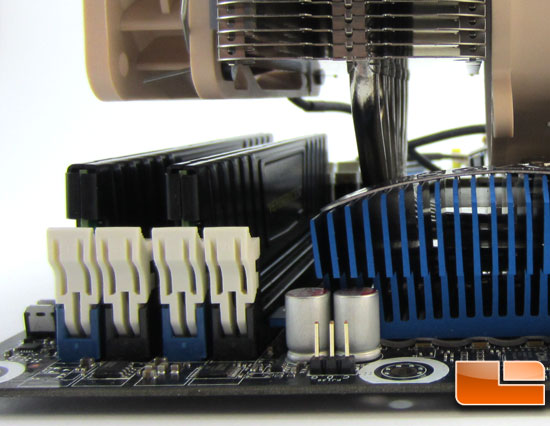 The fins of the NH-D14 cover the first RAM slot on either side of the socket. With the 120mm fan installed all the RAM slots on the front of the motherboard are covered.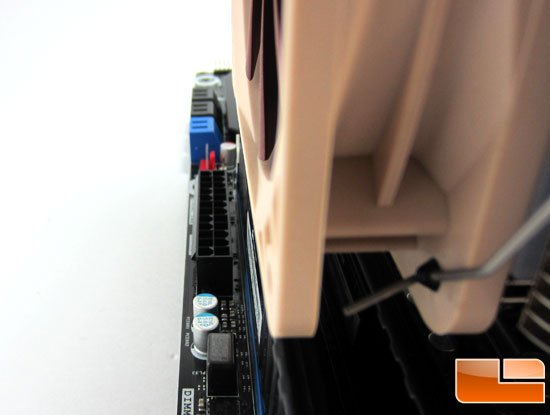 The fan body gets very close to the 24pin main connector. This puts the fan very close to the edge of the board. So, with the NH-D14 on an X79 board in a shallow depth case you could have space issues.