Intel LGA2011 CPU Cooler Roundup For Sandy Bridge-E Processors
By
Zalman CNPS 12X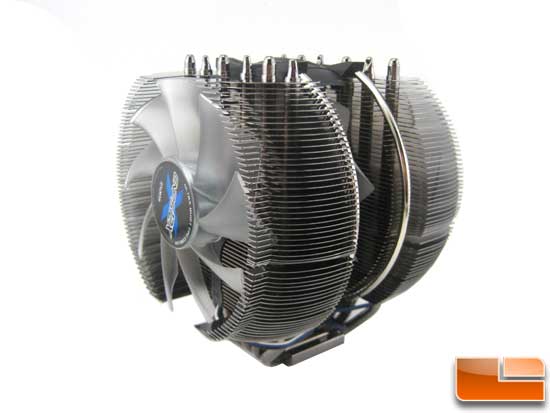 The newest addition to the Zalman CNPS line up is the CNPS12X. It is styled in the traditional barrel shape Zalman is known for, and gets some flair from the Black Pearl finish over the whole cooler and blue LED fans.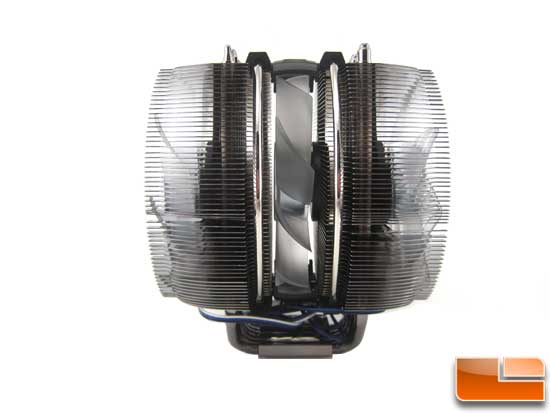 The CNPS12X has three 120mm blue LED fans: front, center, and rear. The fans are all wired together and powered from a single 3 pin fan header.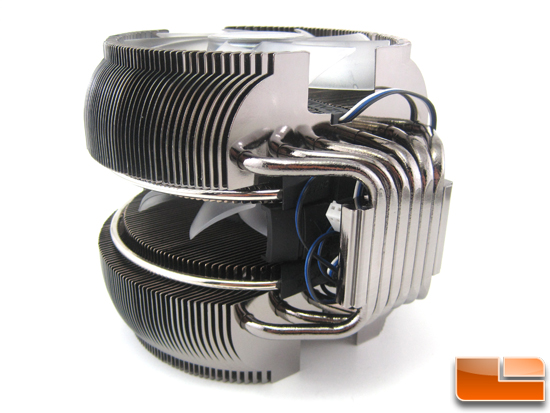 The CNPS12X has an HDT or Heatpipe Direct Touch base made up of 6 of Zalman's Composite Heatpipes. The rings around the center of the cooler are not functional heatpipes; they are decoration only.
Features of the Zalman CNPS 12X
Powerful Cooling Performance: Optimally designed aluminum fins disperse heat away from the CPU via 6 of high performance heatpipes by utilizing I.H.D technology, while the high capacity 120mm Triple fans quickly cools the heatsink for stable operation of high performance CPUs.
Ultra Quiet Triple Blue LED FAN: Switching noise eliminated 120mm Triple Fans incorporated for ultra quiet operation and blue LEDs for cool aesthetics.
VFP Dual Heatsink: Optimized dual heatsink, applying V.F.P. (Variable Fin Profile) technology, maximized its performance through dual air-intake structure that increase Air Flow.
W-DTH Base: With W-DTH (Whole-Direct Touch Heatpipes) technology, heatpipes in the Base Cover touch the CPU directly and transfer the CPUs heat directly to heatpipes, thereby minimizing heat resistance and maximizing cooling performance in a short time.
Composite Heatpipe: By utilizing Composite Heatpipes, the heat transfer capacity enhanced by 50% compared to the ordinary Sintered-type Heatpipes.
Black-Pearl Nickel Plating: The entire heatsink of CNPS12X is plated with Black-Pearl Nickel for a long-term corrosion resistance, while the deep Black-Pearl tone along with the high intensity Blue LEDs reinforce its powerful aesthetics.
Versatile Compatibility: CNPS12X accommodates a broad range of sockets including Intels upcoming socket LGA2011 as well as AMDs sockets.
High Performance Super Thermal Grease ZM-STG2: The included all new high performance thermal grease ZM-STG2 maximizes heat transfer from the CPU to the base of CNPS12X for intensified cooling performance.
Middle Case Support: The coolers height is 154mm, and it can be installed in Middle Cases which measures 180mm in width.
Specifications of the Zalman CNPS 12X
Dimensions: 151(L) x 132(W) x 154(H)mm
Weight: 1,000g
Materials: Pure Copper, Aluminum
Dissipation Area: 9,635cm2
Heatpipes: 6
Fan: Low Noise 120mm Blue LED Fan
Fan Bearing: Long Life Bearing
Fan RPM
Quiet Mode (with RC5): 850 ~ 1,100rpm 10%
Performance Mode (without RC5): 950 ~ 1,200rpm 10%
Noise
Quiet Mode (with RC5): 22dBA 10%
Performance Mode (without RC5): 24dBA 10%
Input Voltage: 12V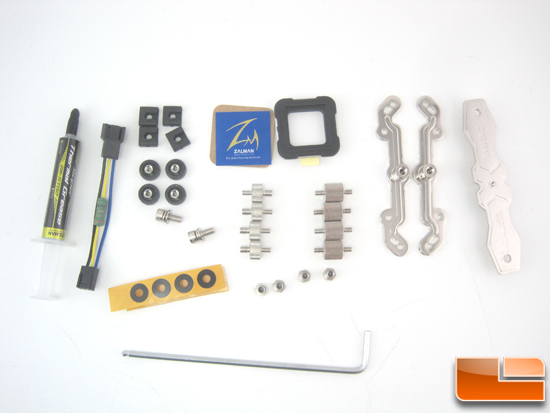 The CNPS12X has all that is needed to mount up to all the Intel LGA and AMD AM2/3. The AM2/3 and Intel LGA 775, 1155, 1156, and 1366 sockets all use an included universal backing plate. Zalman also includes an Allen key wrench for installing the cooler.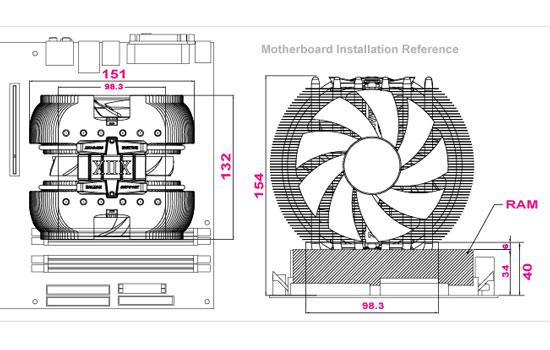 On Zalman's site they had a dimensioned drawing of the CNPS12X installed on a motherboard. As you can see there isn't a lot of headroom for RAM with the CNPS12X.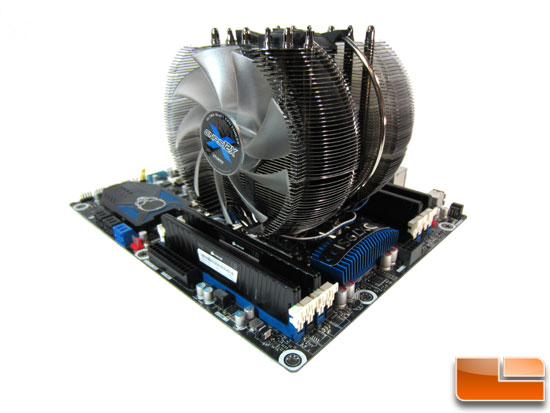 Here we have the CNPS12X installed.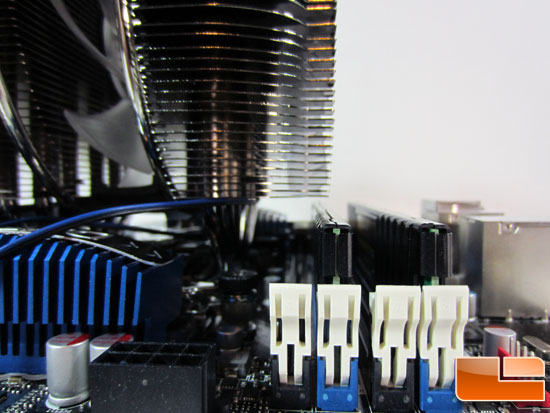 Like the drawing from Zalman showed, there is not a lot of RAM headroom. The first two slots on both sides of the socket are blocked.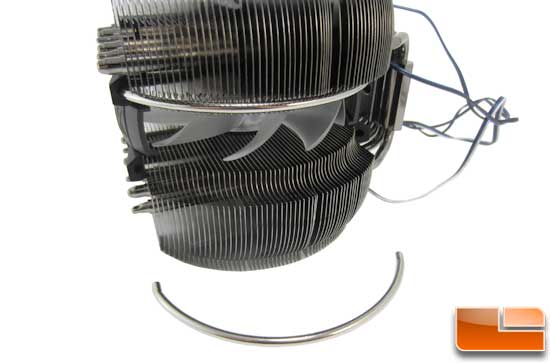 I did experience one issue with the CNPS12X and that was with the decorative ring pieces on the center. In handling the cooler they fell off. They were easy enough to put back on, but if they come off with the system on, that could be VERY bad.